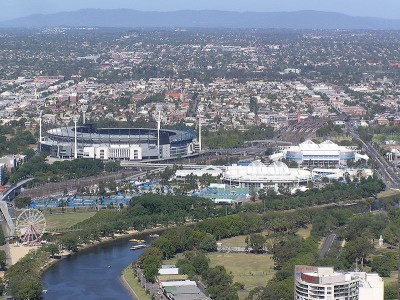 With Wimbledon commencing last Monday, the tennis season is in full swing. But what do Grand Slam tennis tournaments mean for the property market, and what can you get for your money in each of the four contests' home cities? The following should give you an idea of the properties available at each end of the budget.
Roland Garros
The 16th arrondissement of Paris, home to Roland Garros Tennis Tournament – the French Open to us Brits – is one of the most peaceful and conservative areas of the French capital; as a result many wealthy families have chosen to set up home here.
This elegant 4-floor town house, priced at €9 million (about £6.6 million), is part of the Villa Montmorency gated community which has housed such famous tenants as Nicholas Sarkozy, Carla Bruni, and Celine Dion (however footballer Zlatan Ibrahimovic was reportedly put off by a sudden price increase when he moved to the city in 2012).With views over Paris, a library, and – of course – a wine cellar, it would be easy to forget that it's only a five minute drive to the Stade Roland Garros to catch up with the tennis.
When it comes to something further down the property scale, even the cheapest apartments on the market in this location are still around the million euro mark. Of course, if you're feeling a little strapped for cash then a rental is still an option; why not snap up this 2 bedroom flat for just €3,243 a month?
Australian Open
The Australian Open, the first Grand Slam tournament of the year, has been held at Melbourne Park since 1988.
Around the famous sports and entertainment complex are the city's most sought-after properties; this apartment on Clarendon Street is no exception. According to its description, it "encompasses prestige and exclusivity at the highest level" – with a price tag of $10 million+ (around £5 million) one would certainly hope so. With amazing views over the city and ultra modern décor, perhaps most telling is the fact that the four-bedroom apartment comes complete with no fewer than four parking spaces!
Alternatively, still just a 15 minute walk from Melbourne Park is this one-bedroom flat, priced at a very reasonable $160,500 (around £80,000). Although small, it's tastefully decorated and well placed to enjoy the city's other amenities when the tennis season is over.
US Open
The US Open has changed locations a number of times throughout its history but is currently held at Flushing Meadows, Corona Park in New York State. This stretch of land, once described by F. Scott Fitzgerald as a "valley of ashes" in The Great Gatsby has evolved from an industrial wasteland into an enormous complex housing sports and culture events.
Often with the New York property market the sky is quite literally the limit, yet Flushing in Queens is far from being the most expensive of the city's districts, an accolade reserved for the likes of trendier SoHo, Tribeca or Chelsea. But this is still New York, and a property such as this 8-bedroom colonial town house will set you back around $8,800,000 (£5,750,000).
If you prefer the more typical rental approach, there are many small apartments and studios at a stone's throw from Corona Park, such as this studio in Forest Hills (pictured), priced at a mere $1,200 (£785) per month. Cheap for New York, you might think, but with an hour's commute Downtown you might regret it later…
Wimbledon
'House' doesn't begin to describe this luxurious, five-bedroom (all with en-suite, of course) property in Wimbledon's Roedean Crescent. With all of the amenities you would expect from your average £8.5 million mansion – home cinema, bespoke kitchen, and no less than 4 reception rooms – this property is just a short drive by sports car to Wimbledon Tennis Club.
For lesser budgets, this studio is conveniently situated closed to Wimbledon Town Centre and Wimbledon Park underground station, and of course, walking distance to the famous Tennis Club. Set in a modern development, this is a pleasant place to live in a lovely area and at just over 5 by 4 metres in size; it's a cinch at £239,950… maybe.