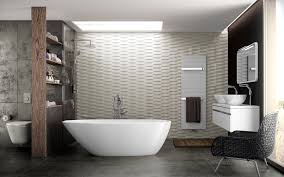 Putting your home on the market?  If your home will be one of many for potential buyers to choose from, it helps to know what will make it stand out from the others and get noticed.  Along with the kitchen, the bathroom is the room that can sell a house or be the reason that it sits on the market for months (or years!) on end.  So how can you make sure that your bathroom is an asset to your home?  Some of the changes that you can make are so simple you'll wonder why you didn't think of them before.
Keep it clean
It might sound like a no brainer, but this isn't only about scrubbing the toilet and wiping down your sink before the open house.  Your bathroom space can often get cluttered up with soaps, bottles and other bathroom essentials, making even a clean room far less appealing.  Clear away absolutely everything on the counter, and reduce the shelf decor by at least half.  This will not only help to make the bathroom look clean, it can also have the effect of making it look bigger.  And don't forget the details; wipe down the baseboards, shelves, windowsills, and those little areas around the base of the toilet when prepping the room for viewings.
Another area that might need attention is the storage space. If you've got a vanity then you'll want to clear out drawers and cupboards, leaving only a minimum of your essentials behind.  Toss or recycle anything that isn't useful, then wipe shelves and drawers out so that they don't contain any dust or debris. If you've got other big fixtures like shower cabins, be sure they also get rigorous scrubbing.
Touch ups
Paint chips or worn paint on the walls, trim or baseboards can make a room look dingy.  Take the time to either touch up or completely repaint the bathroom, giving trim and baseboards a bright white finish.  Choose a light, neutral colour for the walls; you may have loved your dark purple, but a new buyer may take one look and move on.  If it hasn't been long since your last paint job, and the colour choice is already one that appeals to the population at large, a touch up will likely do the trick, but paint fades over time, so if it's been a while, you'll need to give the entire area at least one coat of paint in order to do the job properly.
Fix it up
Small leaks or a running toilet is a definite turn off for potential buyers, and often they're not expensive repairs.  Sometimes all it takes is a wrench and some elbow grease to repair these defects, but even if it means buying a few replacements and supplies or even hiring the professional services of a plumber, it's worth it. No new homeowner wants to invest their heard earned cash into a home with plumbing issues, and often even a small defect can leave them wondering what larger issues may be lurking behind the scenes.
If your taps and faucets have seen better days, this is one way that a little money can make a big statement.  Replace worn or mismatched fixtures so that your bathroom looks modern and maintained.
Hardware
Replacing your entire vanity might not be realistic but have you considered updating just the hardware?  If your vanity is in good shape, a simple hardware replacement can have a big impact on the overall appearance.  Those chipped or outdated knobs or pulls can bring your bathroom down; look for modern ones that are more in line with what's in style today.  A simple matte black door pull or knob can give your vanity a sleek and finished look that appeals to a wide variety of potential buyers.
Towel bars are another simple fix for your bathroom that goes a long way.  Often the metallic finish can become worn or rusted, so replace any that have seen better days.  Ensure that your towel bar, any hooks, and your toilet paper roll holder all match; this is something that will give a better overall flow to the room.
Lights
This is a big one for buyers.  A beautiful bathroom can appear dingy without the right lighting, so replace any fixtures that are dated and get some bright bulbs that light up the space properly.  The bathroom serves as a place to relax but also as a functional room where many of us get ready to face the day.  Task and mood lighting are a plus in any bathroom.
Small updates, repairs, and a clean streamlined appearance that's void of clutter can make your bathroom the room that makes your sale.  Potential buyers will appreciate the ability to see the room to its full potential, and ensuring that your space grabs their attention can mean you're well on your way to putting up that sold sign.