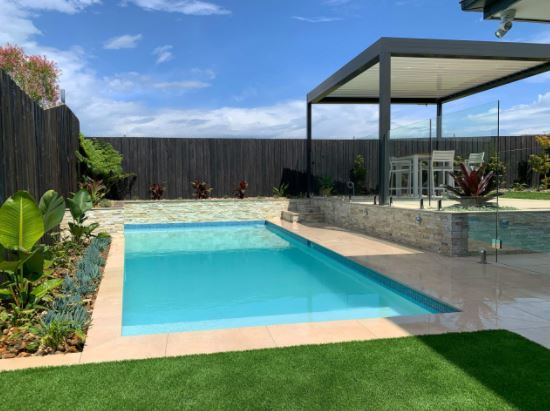 The debate of whether a pool is a worthwhile investment for a property has been on for some time. Most of those who don't rate pools site the construction and maintenance costs as too much. Those who find pools worthy believe it is an investment with returns no matter the costs involved.
Both sides, however, agree on the value of a well-maintained pool for the property. Here are some of the ways the pool adds value to your property.
Provides additional entertainment space
The entertainment value is one of the best selling points for a swimming pool at home. It provides a massive entertainment space for all your parties or relaxation. They are particularly great for families as its perfect for everyone. 
Whether you are looking to host a birthday party, holiday cocktail, or any special celebration, very few places beat a pool.
When you have a pool at home, you don't have to visit hotels or other places for a vacation. Instead, your backyard becomes the ultimate vacation spot and a relaxation point after a day of toiling at work.
Most home videos/photos with pools tend to look more appealing. This appeal will result in many prospects looking into your property hence better chances of sales.
An uncared-for pool when selling your house is a marketing mistake to avoid. Most prospective home buyers will find it an additional cost they have to incur before settling in the new place. You will end up losing potential buyers.
A well-maintained pool, however, is what you need home viewers looking for during the house tour. The visual appeal of the pool makes them want to own it. Instead of wondering about the costs, they would imagine the various ways they could use the pool. Work with companies like Mr Pools to help you build easy-to-maintain pools.
A pool is a value-adding asset to the home due to its likelihood of being in a high-end neighbourhood. In hot areas, the pool will come in handy to help you unwind and cool off. 
Having the pool in a neighbourhood where other homes don't have it also sets you apart. Your home becomes the most high end hence more valuable.
Attract the right customers
Selling a house is a hectic process. It takes time to prepare and renovate the home to look in the perfect shape. It gets even more involving as you have to update both the interior and exterior. You then clean the pool and runway.
Afterwards, you need the right videos and photos for posting on social media sites. Imagine all these only to get clients who won't commit to the property. Some would be asking for ridiculous price reductions while other promising to return and never do.
A house with a pool, however, tends to attract only serious buyers. Most prospective homeowners understand what it means to maintain a pool. They are willing to incur the cost of purchasing and maintaining such a home. Pools are also predominant in high-end neighbourhoods. Most of the prospective buyers in these areas are already a customer to high costs.
Factors that Determine Pool's Value to a Property
While the pools have a beneficial impact on property, not all the time will they be so useful. Some of the things that affect the monetary value of the pool to your home include;
Every seller has a specific target market. If you are looking to sell your house with a pool, you need a buyer who can afford the maintenance costs. However, if you keep attracting the lower calibre buyers, then the pools become less valuable.
Your regional climate determines whether the pool is a necessity or not. You do not need a pool in the colder regions where most months are almost freezing. It is, however, the best of assets in the hotter regions that experience extensive sunshine.
Other than the other value addition effects, the pool itself matters. You need a beautiful pool that is well-maintained for value addition. However, if your pool is dirty and unkempt, then it is more of a liability. Nobody would be willing to invest the initial repair and cleaning costs before settling in the home.
Bottom Line
A pool is a luxury that works well for high-end neighbourhoods and in warmer regions. If you invest in a pool, then be ready to maintain it properly. It is the only way it adds value to your property.
Ref number: THSI-2321