One question often on the mind of people new to having their own woodworking space is just how much space is required. After all, we can quickly look at images of people with so much space and tools galore, but that doesn't always have to be the case.
The truth is that the space you need for a woodworking shop can vary greatly. It depends on what you want to do and the tools you would love to have in there. However, there is a size that is often viewed as the absolute minimum size for a woodworking shop.
But here is an essential point for me. A woodworking shop is a very personal thing. You maybe already know the types of projects you would love to participate in. That alone makes it easier to then determine the space you need.
Understanding Your Projects and Space
This point regarding projects and space is crucial. After all, let's say you want to focus on woodturning as a hobby. You may not require as much space if you only intend to have a small workbench and several mini or benchtop tools, such as a lathe.
But if you intend to work on more large-scale projects involving large boards, you have other things to consider. You may want a large table saw with a 55" capacity sitting next to a workbench. If so, your size needs will be drastically different from those of someone turning out small wooden bowls.
So How Much Space is Recommended?
Most individuals will state that a woodworking shop requires something in the region of 125 square feet of space to make it a workable space. However, there's more to this than just talking about space. Let's face it, what does that size of 125 square feet equate to?
There are several facets to consider when dealing with this space. Do more than just try to squeeze in as many tools or machines as possible. Sure, having a wide range of tools is fantastic, but it's hardly practical.
So, let's work through how you deal with the space and what it means for you from the perspective of the tools and machinery you can have.
What You Can Have in the Space
Now what you can have in this space does vary. It's not about power tools such as circular saws or drills. Instead, when we talk about space for a woodworking shop, it's connected to the more oversized items you can set up in the room.
So, let's go with this 125 square feet space and take you through how your woodworking shop could look with that space.
With that space, you can easily have a couple of workbenches set up and space to move around between them. It also means you have adequate space to store your materials to the side without falling over all of the scraps.
But here is something else to contemplate.
Remember that several benchtop machines exist and can be highly effective at allowing you to work on different projects without them taking up too much space. That's why some people sometimes get on better with having room for two workbenches rather than a workbench, table saw, large lathe, press drills, and a whole host of other valuable tools.
You need to not look at the space and think about what you are missing out on. Instead, look at the available space and imagine how you can adapt and make the best use of the space.
At that point, 125 square feet can quickly take on the feeling of being the biggest woodworking shop in the world.
How to Know the Space You Require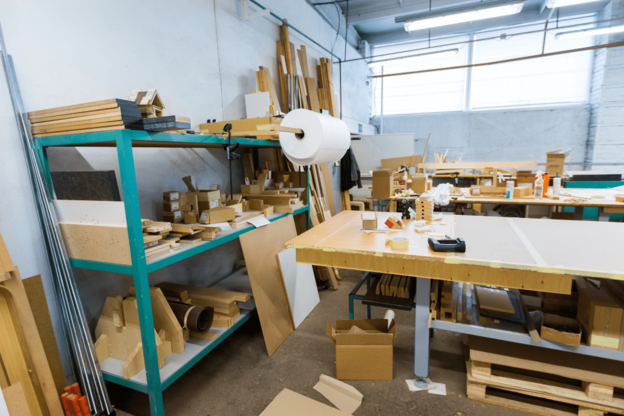 But it's all fine to say you should have a specific size for your woodworking shop, but the problem here is that we all have different ideas of what we want to do. So, the need to know the space you require is pretty essential.
Think carefully about the number of stationary tools you own or intend to own. Then, you need to look at those tools and understand the space each tool requires for both setting up and use. Remember you need to move around, so you cannot have too many stationary tools packed close to one another.
But here are some tips that to help you better understand the size of the woodworking shop you need.
Spacing
Have at least three feet of space between machines. That should be enough to move around to get things and use each machine without problems.
However, with your workbench, have it around four feet away from everything else. Remember that your workbench will be the absolute focal point of most of the things you do, and it will often have so many tools and pieces of wood all over it.
Because of the size and how you will use your workbench, have a bit more space between your workbench and other items.
But if space is tight, then there is one other suggestion. Where possible, fit rolling wheels onto the machines. You can move them around and create additional space when you want to use them. It can be a workable solution for some people.
Yet this space issue changes if you do then go down the path of using benchtop tools rather than standalone ones.
Think of it this way.
Perhaps you have the space for two workbenches sitting back to back. That could sometimes work, giving you the main workspace in the middle of the floor and storage around the edges.
That could prove a better solution than squeezing a standing bench saw, table saw, jointer or planer into one space.
Using the Walls
To help you out with the space issue, use the walls fully. This can be done via a pegboard, which is great for hand tools or uses shelving for your power tools.
So much space is wasted in a woodworking shop when you do not use the walls. They allow you to effectively clear your feet, making it exceptionally easy to organise things. In addition, your tools are there for you to see, so finding something when needed will be more straightforward.
Working out how to best use the walls is the easiest part. Look at the roof space. Can you use up in the rafters for storing longer pieces of wood? If so, it gives you more opportunities to use the available space.
So, don't stop at the machinery and where it could be positioned. Look up and around you to see how you could best utilise the space available to you.
Drawing Up a Plan
Another tip and this is one you need to do before you start anything, is to draw up a plan. Make a list of the tools you either have or want to buy, and also know their size.
Make a scale drawing of the available space, and play around with the locations of different machines.
However, don't simply try to squeeze as many tools in as possible. Instead, look at the different tools or machines and determine which ones you use together. If possible, get them close to one another to prevent you from moving all over your shop to get things done.
Get the dimensions rights of the space that you're starting with. After that, it takes several attempts to correct the potential positioning of the machinery.
But here is the good thing about drawing up a plan. When you do this, it means you know in advance that your layout works. Sure, some of it may be smoother than you would like in the real world, but there should be too many problems when you draw up a plan to scale before doing anything else.
Lighting
People will think that lighting does not impact the space, but it has something to do with how you lay out your woodworking shop.
Natural light is excellent, but you should not place machinery where natural sunlight can come and hit your eyes. That makes it harder to focus and more dangerous to use the tool.
It's easier when you use overhead lights and think of where that lighting is positioned in your shop to line up the machinery. How light affects your ability to use machinery determines where it needs to go and how many machines you can fit into the space.
Storage
A woodworking shop requires more storage space than simply for tools.
You must think about wood, spare machines, or even replacement belts and blades. For wood, I would always look at creating space in a corner. Look at the power supply situation and have the wood in the corner so far away from a power source that it doesn't even make sense for a machine to be there.
But this also comes down to drawing up a plan. You want it to include every aspect so the movement part works without a hitch.
Seriously, dealing with storage is a more giant headache than the actual placement of the machines in this space. The organisation makes a massive difference here, or you need help working on your projects because of the layout and how things are all over the shop.
So, when working out the size of the shop you need, ensure you understand how many tools or items need to be stored there. It may lead to you having to reduce the number of machines, or the size of them, to ensure you can fit everything in without a hitch.
Conclusion
So, the space you need for a woodworking shop does vary, but if you want to work on reasonable-sized projects, go with that 125 square feet. Of course, you could go more significant if you wanted to, but that should be minimal.
With that size, you should have ample space for several extensive tools and your workbench. The rest of your tools, such as hand and power tools, will then have to be dealt with according to storage issues and how you entirely use the space.
But even if you do not have that 125 square feet, don't stress. Some people work in areas of 75 square feet or up to 100 square feet, and they do so quickly. It's all a case of scaling down the projects you can work on depending on the space available.
But as long as you are organised, you should have no problem running your woodworking shop, no matter the size. Be reasonable with your approach, and see how everything else falls into place.
Ref: 3118.27159