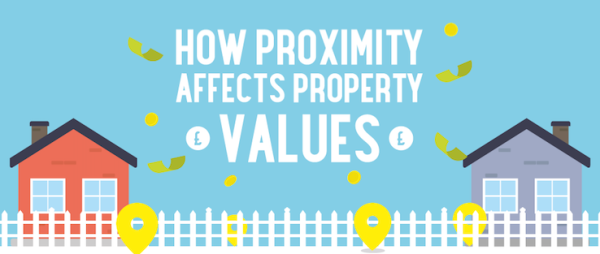 This infographic explores the factors that affects property values and provides useful information on how to both boost and lower your properties values. The experts at Aston James Associates London are extremely experienced in this field and won't let you down with their educational tips.
One of the most important factors regarding property value is its surroundings. A factor that boosts property values immediately is whether or not it is close to a railway station. A property can be worth up to 17% more than similar homes when in walking distance of the station. This is such an important factor for commuters and will have a great impact on their daily lives. On the other hand, a factor that lowers your property value can all be down to the location of power plants. Homes that are close to power plants can be worth 7% less than they would usually be – no one wants the noise pollution and unappealing scenery that comes with power plants.
A factor that will be sure to have an extreme impact on the value of a property is its accessibility to public transportation. A house that is close to any type of public transportation could gain as much as 41% more value than one that is in a desert location. Convenience is key for homeowners and this will be a recurring aspect that they look for when buying a property. So, if there is a local bus stop near your house, you are in luck.
Perhaps one of the more surprising concepts that will boost property value is whether it is near a Starbucks. This may seem like a silly concept but properties that are a quarter of a mile from Starbucks can be around 21% more valuable than homes that are not. It's amazing how a good coffee and chocolate brownie can impact someone's life! Alternatively, something that will lower property value is being located near a recycling centre, which can get between 5% and 7% less than other properties. Recycling is a great process until you are practically living with the last step!
We all know how important presentation is when it comes to making your home stand out to a potential buyer. It is unlikely that you will show them around a cluttered home, but did you know that a messy room could result in you losing £8,000 on the sale?! If you have children, make sure that they tidy their rooms before having visitors or you will be paying the price… literally.
It is no myth that there are likely to be several more factors that can decrease a property value rather than increase it. If you take note of this infographic, then you will gain a further understanding of what to look out for on the market. Buying or selling a property can be a tedious experience and thanks to Aston James, the process has been made slightly easier for you. Don't forget to take a look at the infographic for other factors affecting property values.
Click the image below to view the full size infographic.