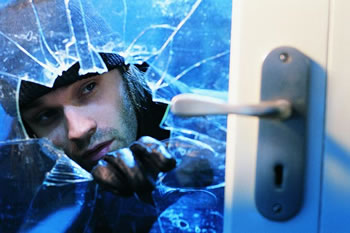 Have you ever been the victim of a burglary in your home, or know someone who has?
If so you can relate to the devastation this particular crime leaves in its wake, and sympathise with the loss of priceless items of jewellry, or work and family photos saved on an electronic device.
The effects are devastating and eerie to say the least, but for me, the worst part was not just the theft of my laptop, but the knowledge that some sinister and strange person, had walked throughout my house and had been into my room without my consent.
After my experience of a house robbery when I was a student, I have always been more wary of security in the home, occasionally at the expense of my current housemate. I will never live down the time she came home a little worse for wear after a party and she couldn't get in because, being alone in the house at the time, not only did I double lock the front door, but I had also left my key in the lock and it had jammed, preventing her to gain entry!
Mishaps aside, not only am I more aware and conscious of the potential of my house being burgled, since my university burglary experience, but I have also been hit with an increased rate for my contents cover insurance after losing my no claims bonus for my old claim.
Being informed about the statistics around burglaries and theft, not only can help you secure your home and prevent break-in's, but also advise you on the level of insurance cover. Be you a landlord or tenant, it's definitely worth finding out how your property can be made safer for your household.
In September this year there were 33,322 recorded burglaries alone and in the year June 2015 – 2016 there was a domestic burglary rate of 20 per 1,000 population.
Top 15 Popular Items Among Domestic Burglars*
Jewellery and watches surprise, surprise –  43%
Purse, wallet or money – 38%
Computers or computer equipment – 34%
Electrical goods, including cameras, TV's, videos, stereos, cameras, MP3 and DVD players – 19%
Mobile Phones – 13%
Other – 10%
Clothes – 9%
Food, toiletries or cigarettes – 8%
Handbag, briefcase or shopping bag – 8%
Household items or furniture – 6%
Documents – 5%
Vehicle or vehicle parts – 5%
House Keys – 5%
Car keys – 4%
Garden furniture – 4%
Not only do you need to be aware of your home's security, but if you have a garden shed on your property, this can also be a burglar's playground. According to the Metropolitan Police these are the top 5 most popular items stolen from people's sheds, Bicycles, Lawn Mowers, Sporting equipment – namely golf clubs, Power tools and Garden equipment (tools).
So now that you know which of your items are the most likely target for an intruder in your home, I imagine you're interested in making your home safer and even more secure. Do you know the difference between a BSI Kitemark approved lock and a normal one? Can't you just mark your valuables with a UV pen? Are you confused by the different types of burgular alarms on the market and the extra assitance that some companies offer?
We have teamed up with Sainsbury's Bank, to help you answer these questions and identify the vulnerable areas within your property, and how to strengthen them up to prevent burglaries in their informative infographic below.
There are many small, simple steps that you can take to help make your home more secure and, in the event of a theft, give yourself a better chance of reclaiming your lost property. For a more in-depth guide and further measures you can take, check out Sanisbury's guide to home security.