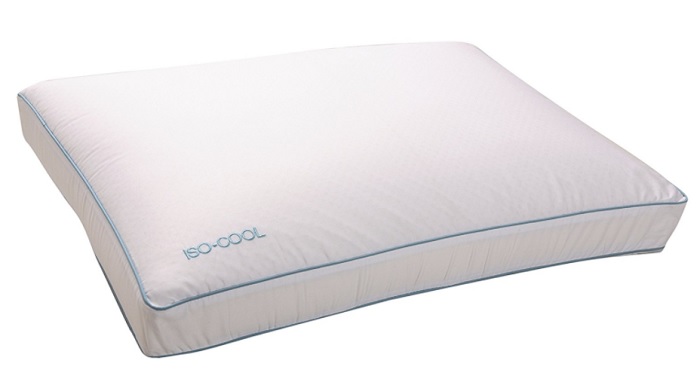 You already know that sleeping is essential to your health. You have everything it takes to have a good night's sleep – you fall asleep fast, try to follow a rest schedule and you've organized your bedroom to encourage relaxation. Yet, those sizzling summer nights make sleep a burden. They made you consider beginning a search for the best cooling pillow.
Sleeping during summer is more of a challenge than a reward. This happens especially for those living in Louisiana, Texas, Florida, Oklahoma and other states where summer temperatures are above the national 81.1 °F (27.3 °C) – 52.3 °F (11.3°C). So, you may turn to solutions and the cooling pillow seems to be a promising one.
Before you decide on the best cooling pillow, research on what other users say. You can find reviews and additional technical info on specialized platforms such as this website. Below we also compiled a list of the features that the best cooling pillow for your needs should include.
The Best Cooling Pillow is Universal
The absolute best cooling pillow should fit all customers, regardless of their sleeping style. So, it should either come in one version which fits all sleeping positions or has different versions. Those who sleep on their stomach need a specific support which differs than the support provided by pillows for side or back sleepers. There are also pillows which contain removable parts for additional comfort.
What we've found: According to customer reviews, the best cooling pillow is the SleepBetter Iso-Cool memory foam pillow. It comes in three versions – contour, standard and for gusseted side sleepers. It contains visco-elastic memory foam, which makes it suitable especially for side sleepers. However, it also uses Outlast Adaptive Comfort technology which absorbs heat and adapts to the room temperature. The pillow can either give you a cool or a warm feeling, depending on surroundings.
The features that the best cooling pillow for your needs should include.
Versatility is Essential
The ideal cooling pillow must be versatile so that it can allow you to use it for the entire year. A pillow cannot work if you have a bedroom which successfully promotes a restful sleep, but you feel cold. Sleep comfort is a long-term investment, so you need to use the pillow all year round. There are cooling pillows which adapt to cold nights and keep your head temperature stable.   
What we've found: We have found the Classic Brands reversible cool gel and memory foam pillow, which customers say you can use year-long. This pillow works on an open-cell system which allows air to flow through the pillow's cells. The self-ventilating foam dissipates body heat by regulating your temperature. Therefore, it allows a comfortable sleep even during cold nights.
What about Allergies?
Allergies are so common that we've got used to searching for a product based on what to avoid, rather than what it should contain. A pillow which conflicts with potential allergies will break your sleep time instead of fixing it. Therefore, materials matter. Compounds are essential, and sometimes ingredients' lists are not available. So, the best cooling pillow should be hypoallergenic.
What we've found: The Sleep Whale memory foam pillow is filled with shredded memory foam and has a cover made of 60% polyester and 40% bamboo. It's durable and the bamboo makes is hypoallergenic. Such a pillow is resistant to mites, dust and bacteria. The material is soft, and contours to the shape you need for sleep.
The Reason Why You Need Support
So many people have issues such as snoring, migraines, insomnia, TMJ, and neck or back pain. They need full support for the head, neck and shoulders. Most of us look for the best cooling pillow which provides us with a solution to a problem. Such a pillow should have two sides which can adapt in terms of firmness. Meanwhile, they should also support your upper side of the body instead of just the head.
What we've found: The Relax Home Life pillow provides relief from the above common sleeping issues. This pillow mixes cooling gel with pressure-relieving memory foam. It supports your head neck and shoulders thanks to its 5-inch thickness. You can switch sides between the memory foam and cooling gel while enjoying all-year comfortable sleep.
Luxurious Feel
There are so many aspects to sleeping which may even ruin a relationship. You began your search for a solution to those issues. Therefore, above all, the best cooling pillow should provide you with comfortable and continuous night sleep. Interruptions harm your rest, so you look for a product which leaves you with a luxurious yet normal feel.
What we've found: The Z Gel-Infused dough memory foam pillow comes in three sizes and two lofts. It combines gel-infused foam with liquid gel packets which balance body temperature. It also has a removable bamboo velour cover which is soft and comfortable. The pillow also works on memory foam, which creates a softer and cooler touch.
The Best Cooling Pillow for Your Sleep
When you receive the pillow, you should note that it will have a fresh foam smell. This is entirely natural, and it vanishes after 72 hours in open air. The smell is your guarantee that you've bought an original pillow, which contains active foam.
The best cooling pillow for your needs should contain any or even all the above. We have outlined these features as we know that clients discover easier if a pillow is unfit than if it's the best for them. You feel when the pillow makes you have trouble sleeping. However, you can have a good sleep, away from these feelings, even during those hot summer nights. Make sure you find the best cooling pillow and use it for your new home!
Images source: Amazon.com.