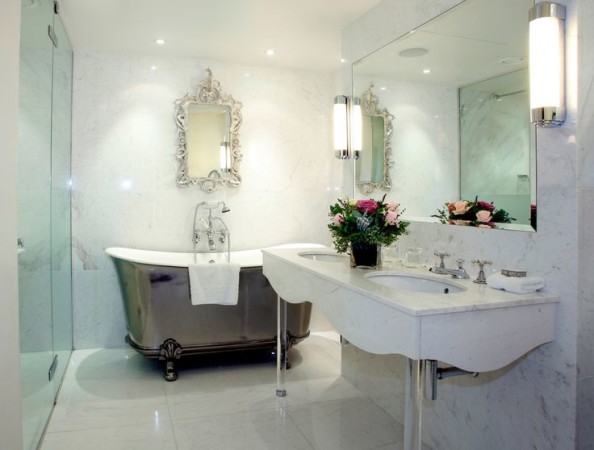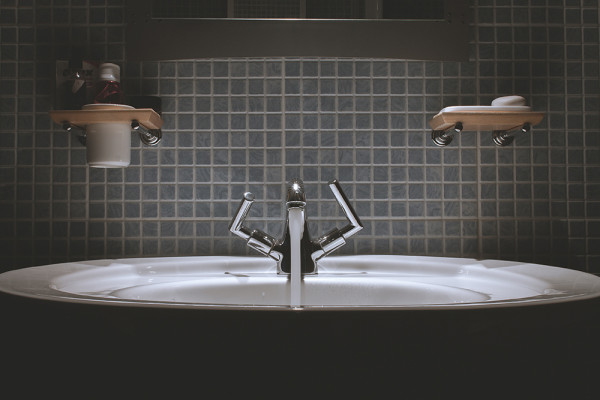 Is your bathroom dark and dingy or bright and airy? There may not be much you can do about the size or orientation of the room itself, but when it comes to lighting design there are plenty of options available.
Same as anywhere else in your home, bathroom lights should do more than simply provide adequate levels of illumination. Of course, practicality is key but a room designed for pampering and relaxation must offer a conducive ambience. Bathroom lighting, then, is all about creating the right atmosphere.
To achieve the best overall lighting scheme for your bathroom, you need to mix different types of light. Ceiling lights are great for providing much needed bright light, while soft light can be added via downlights, mirror lighting and other types of mood lighting. If you're looking for inspiration to achieve the right lighting design for your bathroom, take a look at these bathroom lighting solutions from Universal Lighting.
Ceiling mounted lights
Let's start with the most obvious place: the ceiling, one of the most important light fittings to get right. Your bathroom may be one of the smallest rooms in your house and may not even have a window, so great ambient lighting is essential.
Good overall illumination can be provided by modern and traditional flush and semi-flush ceiling lights in a wide range of styles. For greater impact, why not choose a chrome and crystal bathroom chandelier or a contemporary spot bar to add target lighting where needed.
Make sure that all ceiling fittings have a minimum IP rating of IP44, making them suitable for bathroom zones 1 ad 2.
Recessed downlights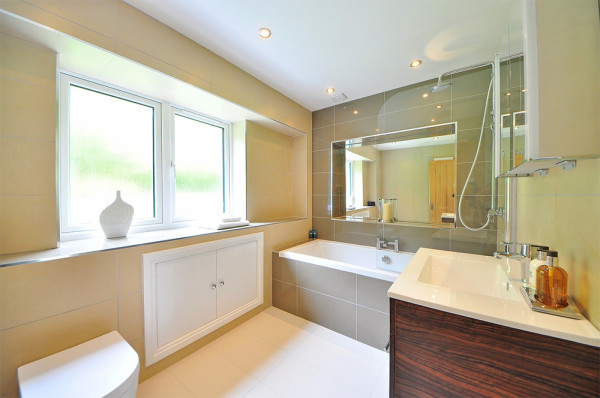 For a more streamlined, smart and space saving aesthetic in the bathroom, downlights are hard to beat. Available in a wide range of designs and finishes including white, black, metallic (chrome, brushed chrome, brass and nickel), they are easy to fit and give plenty of illumination. Fixed and adjustable recessed fittings are available
Downlights can be installed as low voltage or mains voltage options. Low voltage downlights will require a transformer, making the purchase of the fitting and bulbs a little more expensive. However, they tend to have a brighter light and longer bulb life. Mains voltage downlights and bulbs are slightly cheaper, and energy saving dimmable LED replacement bulbs can be used.
Jet proof shower lights can be used above a shower. These consist of sealed units behind a glass front which protects from water and steam ingress. An IP65 rating is required for shower lights.
Bathroom mirror lights
Mirrors are a great way to maximise the existing light in your bathroom while giving the illusion of extra space. Combine your bathroom mirror with over mirror lighting or choose an integrated design to deliver a powerful and very practical feature.
Whether you use your mirror for shaving, putting on make-up or just general everyday use, good lighting will illuminate your face to ensure there are no shadows, making the task 10 times easier. Alternatively, why not switch of all other lights except the mirror to create a lovely background ambience for a relaxing soak in the bath?
For added energy efficiency, go for the latest LED mirror lights and enjoy low running costs, high light output and excellent bulb longevity.
Wall mounted lights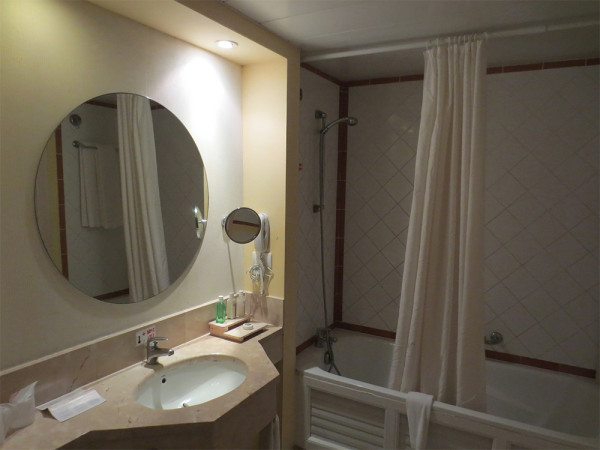 Wall lights can play an important part in bathroom lighting design, particularly if there is no ceiling light fitting to work with. They are a great solution for getting rid of shadows and gloomy corners in the room, and useful for illuminating bathroom mirrors.
Wall mounted bathroom spotlights are usually adjustable, meaning you can direct them to the exact point where light is needed. Use them as target lighting or point upwards to add soft lighting to your bathroom. That said, if you are using halogen bulbs, do bear in mind that these can get very hot – so keep them well out of reach.
It should go without saying that you should always get a qualified electrician to check and carry out any installations for you, particularly in the bathroom. Electrics and water don't mix and the combination can be life threatening. An experienced and qualified electrician will be able to perform the work to conform to specific regulations to keep you safe.