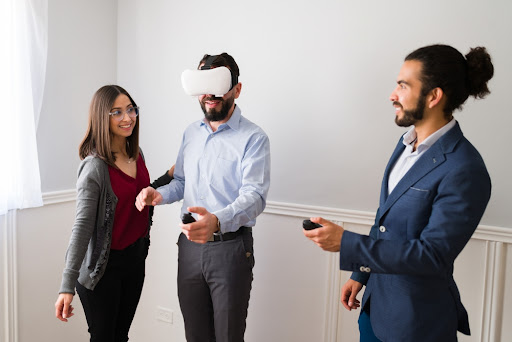 Innovation works in all areas of life, from cutting costs to using new and advanced technology. Therefore, real estate is also impacted by it. There is no formal education required to become a virtual real estate agent. However, one must familiarize themselves with the property's state, mortgage, and housing laws.
What is a Virtual Real Estate Agent?
The new and emerging business model is a virtual brokerage, where agents and teams can operate without a brick-and-mortar central office and get everything they need through virtual means.
Nowadays, brokers idealize the concept of the virtual model for many reasons, like that it costs less than operating the office; they can scale up at a faster rate, build more significant tech operations, and implement brokerage-wide changes among the agents. However, you need to know how one can become a virtual real estate agent. Here are some tips to follow:
Education and Expertise:
There are two scenarios for you as a virtual real estate agent. First, you can use your regular degree, either a master's or MBA, to become a virtual agent. The second scenario is that you can enrol in online classes and take different courses. However, the course hours are additional from state to state. Once you finish your lesson, you must get your certificate and transcripts to apply for your license. 
After getting the license, and as you have decided to become a virtual real estate agent, you now have to set up a website, acquire the domain name and link it to your social media accounts like Facebook, Instagram, LinkedIn, and others. Now to the next step in your home setup. 
Working from Home: 
You first need to set up a space in your home suitable for working late hours. Because, as a virtual real estate agent, you would have to give home tours to your clients from time to time. You can save money by avoiding setting up a physical office that would cost you utilities, office space, and a license. 
Along with these, you need to excel in some skills; for example, these are;
Good sales experience 

Excellent communication strategy, 

Strong interpersonal silk 

Practical knowledge and expertise in the real estate business. 
After getting adequate house space to work, you need the right set of technologies or equipment like a laptop or a computer and a strong Wi-Fi connection 24/7. The technology will help you to get commands on Google Apps, which would be easier for you to share. 
The Creation of a Successful Real Estate Agency as a Virtual Agent 
Four essential characteristics are needed to build your virtual real estate agency; these C's are as follows:
Virtual Communication: The success of every organization is dependent upon communication, and it becomes more significant in the case of virtual real estate, where admins, agents, team leads, and transaction coordinators are all associated with each other through communication. Virtual real estate agents need transparent communication practices to rely on clear plans or messages, strategize, give feedback, provide support, and inspire others. 
Because a lack of communication can fill the environment with negativity; for example, if you are a team lead in a real estate agency, then you would be unable to inspire and lead your agent; if you are an agent, then you would be unable to coordinate with your team head and lead-generated prospects. 
Virtual Consistency: The consistency of work, procedures, and communication is another trait needed to become a virtual estate agent. For example, if you are training your employees, then you need to be consistent with it so that your employees know when to jump on in case they need your assistance. Becoming a virtual real estate agent means you need to put extra effort, to be accountable, level up your engagement, and try to replicate everything with consistency to earn a place in a virtual world, as people now search for a home online instead of visiting the real estate office. 
Virtual Culture of Caring: Prepare to adopt the culture of caring virtually because you need to develop an attachment to your customers online. A culture of caring needs to be adopted. If you are opening up your real estate agency shortly, then you have to use this culture for your team and the effectiveness of brokerages. You need to keep checking in with your customers and junior agents working under you so that your customer care culture can be enhanced. 
Virtual Connection: to create a setup of a virtual office for a real estate business, there are some tools required, including It would be best if you got interoffice communication platforms involving; Workplace by Facebook, Slack, etc. 
Marketing and automation software, CRM, and transaction management systems must be interconnected and integrated.

You

can get commands on a virtual 3D like Zoom and FaceTim to see the listing. 

Accounting office and digital platforms at the back end. 
You need to integrate all of these virtual tools steps by step. This will help in your smooth operation as a virtual real estate agent. 
How Does Virtual House Viewing Work?
Zoom and FaceTime are the most common client communication software working efficiently in the market. However, as a virtual real estate agent, you must get command of other communication software. One of which is BombBomb, which is widely known as a Dotloop integration partner. You can interact face-to-face with your client and help them with virtual house viewing. 
You can send videos of houses for viewing according to their needs and get their response immediately. This app also has a screen recorder through which you can bind the client with the contract, as a client can walk through the pivotal parts of the contract instead of letting out any information. 
Additionally, virtual viewing can be done through cameras that could capture 3D pictures, which could be quickly and impeccably edited and sent to clients easily. 
Can You Be a Virtual Real Estate Agent?
Many real estate agencies have adopted the virtual model. So, it is a more straightforward process, so you can also become a virtual real estate agent. You don't have to pay the high cost of a brick-and-mortar office, its expenses, utilities, hiring of agents, etc. You can hire freelancers to do the job or do all the chores by yourself at your convenience. So, all you need is a car, a mobile phone, a laptop, and access to a printer/copier/scanner/fax, and there you go, you are a virtual realtor.  
The Pros and Cons of Becoming a Virtual Real Estate Agent: 
Pros: one of the practical advantages is that you can work from home and spend more time with your family and loved ones. Not only that, you can work with flexibility as well. 
Virtual tours are readily accepted by your clients nowadays, as not everyone has the time to go to different locations physically. So not you nor your client need to give up the comfort of leaving home for house viewing. 
You can save money efficiently as you don't have to pay for your office space, utilities, and licenses. As a result, the client will also get cost-effective services as a lower cost is passed down to them. 
Cons: Some rigid clients are only willing to deal with a real estate agent with a proper office and a physical setup under the company name. If you approach them, they will deny your services and think you may be a fraud.
Sometimes it can be challenging to work from home, and fewer people would want to work virtually and prefer the actual office setting to explore their skills and for a seamless working environment. 
Credit to the Author: Adele Smith is a content writer. She has studied BS in Mass Communication from the Zayed University of Dubai.
Ref ZD.26090