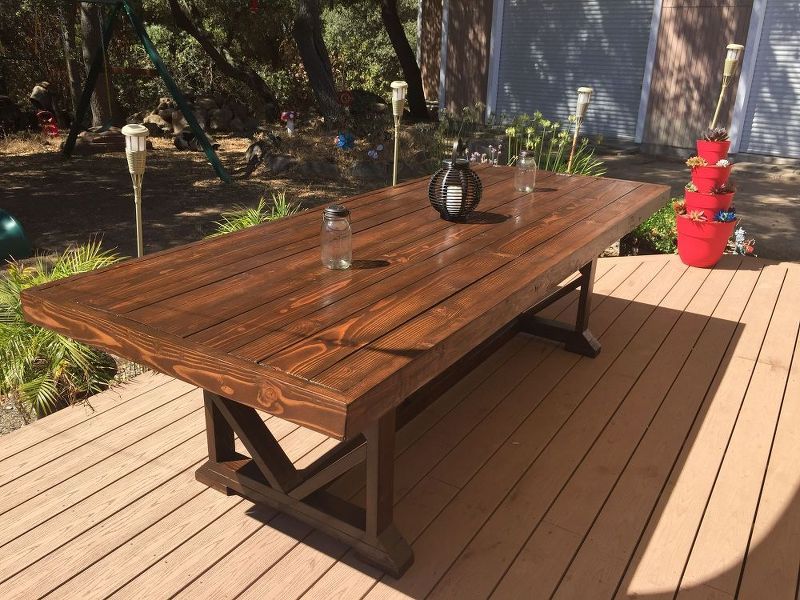 Have you recently decided to add a wood table to your outdoors area? This is definitely a good choice. It is entirely possible to spruce up your home's appearance by decorating the yard. Just remember that a lot of decorative items require maintenance. If you do not take care of your outdoor wood table, you can guarantee that something is going to go awry. The wood will be destroyed by the elements and all of your money will be wasted. Within this guide, you're going to find out how to protect your table to ensure that it lasts as long as humanly possible.
Choose An Outdoor Table
First and foremost, you should know that some tables are built for indoor use and some for outdoor use. If you attempt to place an indoor table outside, you can almost guarantee that something is going to go wrong. A table that been specifically designed for outdoor use will already be protected with a special coat. This will probably be enough to protect the table from the sun and whatever else Mother Nature can throw its way.
Go With Hardwood
While you're at it, you'll want to choose hardwood. Softwood is fine for some things, but not everything. This is definitely the case if you're going to be placing the wood decoration outside. You need to make sure that the wood is going to last and hardwood will do just that. However, you may need to protect it. It is generally advisable that you apply a new coat of finish every single. Hardwood tends to be a better choice though because it can withstand Mother Nature much better. It resists decay, insects and will last much longer in general. The only downside is that it is slightly more expensive.
Use Covers
If you bought a gorgeous Live Edge Table, you'll definitely want it to last. The good news is that there are plenty of great ways to protect your furniture. One of the best ways to do this is by using furniture covers. These covers are designed to protect the furniture from UV rays and other elements. Just remember to buy a cover that fits your furniture perfectly. Otherwise, it might be blown away by the wind and that could result in your furniture getting destroyed anyway. The cover will slip over the chair and that makes it very easy to use.
Clean Often
It is absolutely pertinent to understand that your furniture is going to get a lot dirtier outside. This is true for wood tables. Therefore, you'll need to clean the table much more frequently. The good news is that cleaning it won't be too difficult. You just need a mild soapy solution. Apply this to the table and wipe it down with a cloth. This should remove all of the pollen and other residue. If you haven't cleaned the table in a little while, you'll need to perform a deeper cleaning. It is advisable that you do this every year anyway. You just need to use a soft scrub brush and some dish washing detergent.
Be sure to scrub with the grain. If you cannot get rid of a stain, you may need to use a sanding block or an electric sander. Either way, you need to make sure that you sand carefully and do not permanently damage the wood.
Applying Oil
Most people don't think about applying oil to wood furniture to preserve it, but a little lubrication can go a long way. This is especially true when it comes to outdoor wood tables. Once the table is completely dry, apply the wood oil to the surface of the table. Make sure that you take the extra time to ensure that you get the oil deep in the cracks. Once you have applied an ample amount of oil to the table, you can let it soak in for several hours and the table will be given an extra added layer of protection.
Proper Location
Location is also key when you are placing your table. You want to make sure that you are not placing the table where it is going to be overexposed to the elements. The table will already be in direct sunlight, wind, rain, snow, and sleet; you don't want to expose it any more dangers than you have to. Keeping the table away from the grass in an excellent place to start because the moisture from the ground can rot and erode untreated wood when exposed for prolonged periods of time.