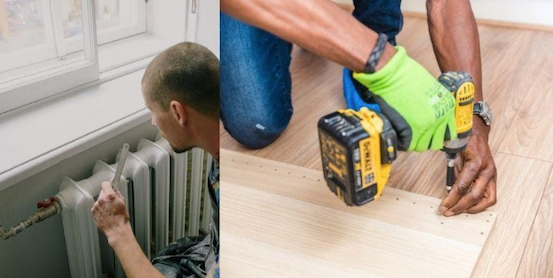 The hunt for a respected and trustworthy handyman can be risky. You never know what you'll find via the classifieds or online.
That's why you should always be thorough when choosing a good handyman. Don't rush into the decision or try to take any shortcuts. 
Now, there's no set order for steps when looking for a local tradesperson. You can go about it any number of ways. Online resources are incredibly accessible for research, too, so you have no excuse not to be thorough.
With 8 quick steps, you can easily choose a good handyman for your next job.
1. Look at Online Review Sites
Online reviews are a crucial part of any businesses' success these days. From a sole operator through to the biggest organisations in town, reviews and customer feedback are influential. It's firsthand experience from past customers.
The best part is that you can scroll through any online review site while sitting on your couch. You don't have to feel rushed as though you're browsing a physical store. No salesperson is hovering over your shoulder, nudging you towards the most expensive handyman in town.
No. You can take your time to compare ratings and reviews. There's also plenty of time to look at how a handyman interacts and responds to past customers. Websites such as Yelp, Who's Best and Trustpilot are just a few popular UK-based customer review sites.
2. Word of Mouth: Ask Your Friends
Real-life experiences from friends and family are equally as important. And we're talking more than just the tall tales your uncle has from one dodgy plumber in 1989.
One of the simplest ways to collect recommendations is via Facebook. There's actually a simple option to create a recommendations post on Facebook to gather specific information for your local area.
Expect to hear a range of perspectives, with most trending to positive feedback. That's because you're asking for a good handyman and the positive spin will inspire them to promote local workers. 
Just remember, this could be your first step in the process. Still, be sure to take the time to research any handyman recommendations in more detail.
3. Check Their Licence
There's no official handyman licence or qualification in the United Kingdom. However, you do want to hire someone who is experienced and preferably licensed for specific and specialised trades.
Tasks such as painting, furniture repairs or gardening are not of major concern, unlike electrical or plumbing jobs. If unlicensed repairs go wrong in either area you could be at risk in the future. You might not be able to claim any damage through your insurance provider.
Be sure to check for appropriate licenses online, or ask the handyman directly when you make a call. Feel free to ask about their own personal insurance, too. That could be the difference in case something happens to the handyman while they're on your property.
Ultimately, if they're not licensed, you can easily thank them for their time and go make your final decision. This offers extra time to make some other phone calls without committing to the first handyman you contact.
4. Look for the Right Experience
If you're after someone who can fix your fence and add a new flick of paint to the bedroom, you wouldn't call a plumber. An all-rounder handyman is a perfect choice! Alternatively, a handyman might not be the perfect choice for a full kitchen plumbing renovation.
It's important to select the best person for the job. Most handymen are generalists rather than specialists. So you may or may not have the right person. Feel free to ask them about their strengths. Outline exactly what you want so you can both be sure it's the right decision.
A fresh-faced, youthful handyman might not be the right fit, but you could Book a Plumber Online to find the perfect option. 

5. Source Upfront Pricing
There should never be any mystery when hiring a good handyman. A tradesperson that's vague on details and pricing is not the right person.
Now, you can't necessarily expect an upfront quote over the phone to be exactly what you'll pay. Usually, this first price point is an estimate. Any reputable handyman will want to inspect the job first before officially providing a final quote.
Still, if you provide thorough details, your handyman will present a solid estimate based on past work. If they remain clear and concise it will help you make additional comparisons and research.
6. Compare Quotes
Once you have sourced a handful of quotes, compare them. This is a great way to see if your handymen are evenly priced, or if someone's pulling your leg.
Although this might sound like an inside trick, don't go for the cheapest quote. At least not straight away. You do pay for quality and a lowball quote could be a sign of sub-standard work. 
Consider the mid-range quotes as your best option. It's generally a safe zone. You can clearly see that your handyman in that field doesn't overcharge, while they understand the full scope of work required.
7. Get Everything in Writing
Your initial estimate over the phone likely won't be in writing, nor will it be binding. That's why it can help to either email or text for an upfront quote. Otherwise, be sure to have your local handyman present a final written quote.
Official quotes such as this help to avoid unexpected charges popping up during the course of work. Yes, a hidden problem might raise the price if additional work is required. But if the job goes to plan, and you end up being asked to pay more, something fishy's going on.
A written quote is an ideal way to hold your handyman to their word. It's a clear cut price you both signed off on. The expectation to meet it gives you a leg to stand on if anything does go wrong.
8. Make Sure You're Comfortable
Above all else, you want to feel comfortable when choosing a good handyman. Your conversations should feel easy and relaxed. There should never be pressure on you to uphold any demands they might make.
Take time in selecting the right person. They will be coming into your home and working on your property. You have every right to say no to a quote or pass on an unreliable communicator. 
If the handyman you're enquiring with is reluctant to answer questions, that's fine. Move along to the next expert on your list. You've done the research and that means you're the one-armed with all the tools to pick the best possible handyman.
Ref number: THSI-2399