Image Source: http://www.loverslane.notts.sch.uk/menu2/School_Holidays/School_Holidays.html
The first couple of weeks of the summer holiday are always a blast. Just broken up from school, kids get the chance to run wild, play outside, and sleep in late. But as the six weeks draw on, it can start to get a little bit boring. To help out any parents with kids full of energy, we have compiled a small guide on how to keep your little ones entertained during these last few weeks of the school holidays.
The Great Outdoors
Day Trips
Image Source: http://www.cuhwc.org.uk/albums/2010/mar/malverns-day-trip_david-pettit
Up and down the entirety of the UK there are hundreds of places to spend the day. Whether its to a theme park likeAlton Towers or Drayton Manor, or to a heritage site for some history, it will get the kids out of the house and having fun. If you don't have your own transport, most train or coach company websites have information about upcoming day trips and they might even have some deals going. It doesn't even have to be to a particular site that you visit; just taking a long walk in the hills can be rewarding, particularly when tiring out the kids for bedtime!
Checkout the Guardians list of great day trips across the UK for some ideas.
Garden fun
Image Source: http://www.vouchercodes.co.uk/most-wanted/kids-diy-garden-games-16148.html
Unless your garden is the size of an ordinary paving slab there is plenty of fun to be found out there. Granted you'll have to place your faith in the weather; a risky deal here in England!
If your garden is big enough for ball games why not look out for cheap sports sets like badminton and cricket?You could always invite the neighbours kids round to make up the numbers or adjust the rules for more fun. With the use of random household objects it's easy to set up a mini assault course, even in a small space. Or better yet,take a little bit of time to create a treasure hunt with a few cryptic clues and hidden treats.
Fun Indoors
Baking
Image Source: http://blog.bigjigstoys.co.uk/ready-set-baaaaaaake/
Some of the best activities are the ones that are fun with a bit of hidden education and getting your kids in the kitchen is top of that list. By letting your children get involved in making something everyone can enjoy, they can get messy and have fun while also learning new skills. Plus, theres nothing quite like the satisfaction of eating your own home-baked goodies!
Crafts
Image Source: http://lajollamom.com/category/kids/fun-activities/
Much like baking, getting crafty with your kids will entail plenty of sticky hands and perhaps a bit of a cleanup afterwards, but its well worth it. Plenty of shops sell a variety of craft items from different types of paper to sequins and feathers. With a bit of glue and creativity, you'll be amazed at what your kids can come up with. 
Sites like Pinterest can provide a huge amount of inspiration for things to make.
For some added learning, you couldintroduce your children to the art of origami and download some guides on theInternet for creating all sorts of paper shapes.
Film Night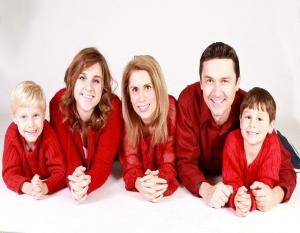 Image Source: http://www.sunstoneonline.com/family-movie-night-how-to-do-it-right
Just after dinner, when you'd like your kids to start settling down seems to be when another burst of energy comes through, so how about suggesting a family film night? Keep it light and something that everyone will enjoy, make up some popcorn and settle in. For a little extra fun and comfort, why not try making a blanket fort from which to enjoy the film?
While you may be a grown up now it's always fun to relish in childish activities and embrace that immature side we all have somewhere inside. Its fine to set your kids up with an activity and leave them to it but don't be afraid to join in, too. After all, you'll probably be needing a bit of care-free fun after enduring the first few high-energy weeks of the summer holidays!
For more tips on how to keep your kids entertained during the summer holidays,click here.