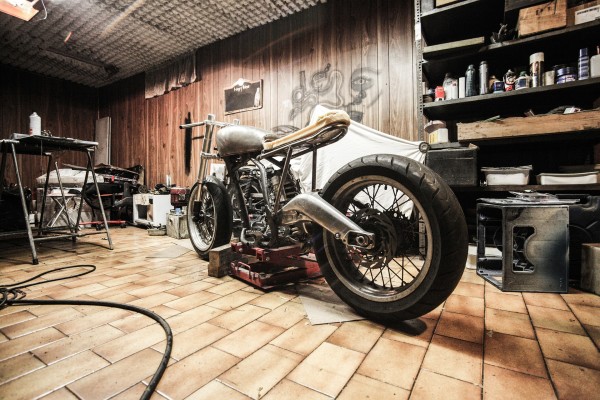 Garages tend to be pretty high on the priority list when buyers are looking for a new home, and yet, the number of people using them to store a car has steadily dropped by a third in the last decade.
According to analysis conducted by the RAC foundation, only 19% of the UK's cars are stored in a garage overnight, despite almost 40% of households having access to one. More than half of us keep our cars on driveways (53%), while a quarter of us leave them parked on the street.
The reasons for this vary, but the fact remains that garages are a valuable asset for your home and vehicle. If you are one of the 8 million homeowners guilty of keeping your car anywhere other than your garage, it's time to stop making excuses and help that garage to help you. Dakota Murphey shows you how.
1.    Use it
Unsurprisingly, the best use for your garage is the job it was intended for. The everyday benefits of parking inside your garage include lower insurance premiums, never worrying about finding a space when you get home and enjoying a clean car for longer – no more parking under trees! Plus, when the time comes to sell your home, being able to show off your useable garage will make it that much more appealing to house-hunters.
Most garages start getting neglected once the opening mechanism gets stiff or the door starts getting heavy to open. Both of these are common symptoms of an ageing door that needs repairing or replacing. The process of buying a new door is much simpler than you might think, and certain styles, like sectional garage doors, are easily fitted with automation systems meaning you may never have to manually open your garage again.
2.    Organise it
In some cases, using your garage for its intended purpose is off the cards, possibly because your vehicle is simply too big to fit inside (a common problem with modern cars), or maybe the storage space is too precious to lose. If that's the case, you owe it to your home (and your sanity) to at least keep the space clean and organised.
Decluttering should only take a day. Grab some friends or family members and empty the contents of your garage onto the drive or lawn, sorting it into piles of "keep", "sell" "donate" and "bin", as you go. The rule of thumb is that if you haven't used it in a year, you don't need it. Deal with charity shop offerings and rubbish on the same afternoon, and photograph items to list them online in the evening.
Next is a trip to the DIY store for some sturdy shelving, stackable boxes, peg boards and wall hooks. The goal is to move everything off your garage floor and relocate it to the walls or ceiling, to create the illusion of more space. Switch soggy cardboard boxes for labelled plastic ones (keeping out damp and pests), and use your peg boards to neatly organise tools and garden equipment. At the end of the weekend your garage should be a clean, functional and inviting space again.
3.    Convert it
Garage conversion is a growing trend in the UK, as the uncertain economy encourages homeowners to improve what they have, rather than look for somewhere new. While attics and basements still enjoy their own transformations, the generous proportions of a garage make it an ideal solution for quickly and inexpensively adding a whole new room to your house.
Depending on what you intend to use the space for, a high-quality conversion starts at around £850 per square metre, providing no structural work needs to be completed. Converting a standard single garage should cost upwards of £17,000, while for a double garage you're looking at £30,000 plus – which compares favourably to the cost of stamp duty when moving to a bigger home.
Popular additions include home offices, fitness studios and second living rooms, but the fun part is working out how the space can work uniquely for your home. Just don't forget to check what planning permission you need, and any building regulations you need to adhere to.
However you choose to use your new garage space, there are a few essentials you will need to take care of to make it a welcoming, liveable space which ultimately adds value to your property.
Roof:The main thing is that the roof is watertight and insulated. 150mm thick glass fibre quilting is ideal for pitched roofs (use two layers), and PUR insulation board is best for flat roofs – just make sure to maintain a 50mm ventilation gap for flat joists. If your tiles need an upgrade, match materials to your main roof to keep the exterior coherent.
Walls and Floors: Firstly, make sure that insulation is brought up to building regulations. As a minimum, walls should be dry-lined and finished with plasterboard, while a layer of polystyrene on the floor (while checking the damp proof course is intact) should be enough for occasional use. For home offices or bedrooms, you may want to choose more substantial insulation.
Ventilation: Make sure the space can still breathe; keep any existing air bricks free from obstruction, and install at least one opening window if possible. For kitchens or bathrooms, you will need a dedicated extractor fan to keep the building free from damp.
Windows: Most garages are window-free for security, but you'll want to change this as part of the conversion. New frames should be installed by a BSI, CERTASS or FENSA certified contractor, and will need to reach energy-efficiency and fire-safety standards. a style that complements the windows in the rest of your home.
Doors: Replacing your current door with a wall will require structural reinforcement, either with new foundations, or a supporting lintel installed just below the ground. New doors will need to meet the same building regulations as your windows.
Power: Even if you're building a distraction-free meditation room, installing plenty of power points, a TV aerial and modem port will allow the space to flexible in the future. Consult with an electrician to ensure you don't overload your mains circuits, and remember any work must be signed off by your council's building control department.
Heat: Don't forget to take measures that will keep you cosy in winter – adding a radiator is one option, but if your boiler can't handle the strain, consider electric radiators or underfloor heating.
Stop letting your garage space go to waste, and start making it provide the same value to your car, home or family as any other room in your house.