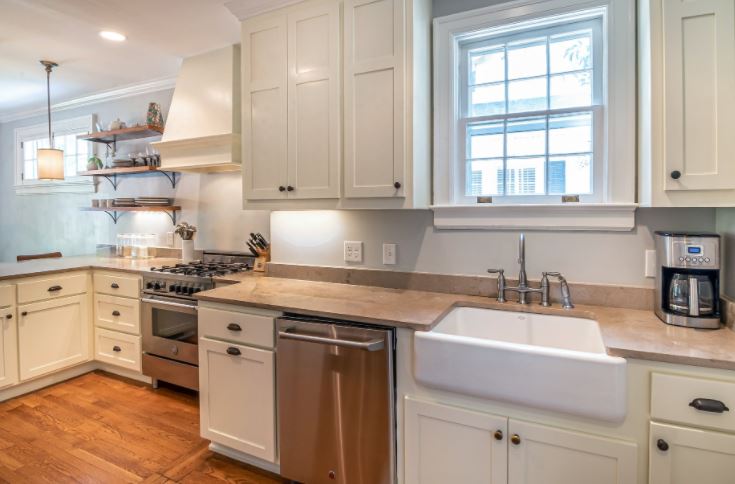 Most of the time, we are eager to remodel and repaint our bedrooms, that we almost forget about how important refurbishing the kitchen is. Even if we think about it, we roam for the proper instructions for painting kitchen cabinets. And I'm sure that's pretty much what led you to here.
Thank goodness you've landed in the perfect place. I'll give you all the information you need on how to paint and even distress your kitchen cabinets for a more vintage look. And I promise these instructions will save you a lot of bucks from the involvement of professionals. Now, let's get to business!
Do I Need to Paint My Kitchen Cabinets?
It's not even wise to invest in something that is halfway to death. If your kitchen cabinets are aged, fragile, and worn out to the point you cannot revive them with paint, then you shouldn't paint your kitchen cabinets in the first place. 
So before you rush to get your hands on a bucket of cabinet paint, check if cabinet shelves or doors are breaking, sagging, check for possible peeling of thin veneers, rails loosening, too many pits and holes in the cabinets, etc. If that's the case, you better replace them rather than repainting.
For those who still have a pretty well-functioning set of kitchen cabinets, let's begin the panting procedure! 
How to Paint Kitchen Cabinets
Before we get to the actual procedure, you must have the right tools in hand. So, here goes.
The materials you'll need-
Enamel paint or enamel spray specified for use on cabinets and furniture. 

4-inches wide square brush

6-inches wide foam roller

Angular brush

Primer

Liquid deglosser

Gloves

Rosin paper

Plastic sheets
Step-by-step procedure 
1.Cabinets being the most vital part of your kitchen; you need to think about where you'd put your kitchen stuff when you are repainting the cabinets. Move your utensils, cooler, toaster, oven, etc., to another room or use alternatives.
2. Take rosin paper and tape it over the floor and countertop. Use plastic sheets to cover windows, doorways, bigger appliances, and even the walls.
3. Make a DIY workstation to paint and dry the cabinet doors, shelves, drawers, etc.
4. Remove the hinges and screws from the frames to take out the cabinet doors, shelves, and drawers.
5. While you remove the doors, shelves, and drawers, don't forget to label them with a numbered tape. Otherwise, putting them back on would be a turmoil!
6. Before you apply paint, you need to make sure you have a fresh surface to paint. Hence, use a household cleaner or a tough TSP to remove the dirt, dust, and grime. Then wash them off with water and leave them to dry completely.
7. Take a clean abrasive pad and soak in deglosser to scrub on the surfaces.
8. If you need to fill the holes on the surfaces, use some polyester wood or filler to fill the gaps.
9. Don't forget to sand all the wooden surfaces with 100-grit sandpaper. Use a clean cloth or vacuum to take out all the dust from the surfaces of the boxes.
10. Apply the primer with even strokes.
11. When the primer coat is dry, it's time for another session of sanding, but this time with 220-grit sandpaper.
12. Use vinyl spackle to fill in, fix or smoothen the scratches, dents, scuffs, etc.
13. After the spackle dries, do the sanding again with the 220-grit paper. Clean off the dust, and now for the final steps!
14. Take your bucket of paint and brushes. Apply the paint from top to bottom in even strokes. Remember to sand the surfaces in between applying the coats. Don't forget to clean up the mess after you are done sanding!
15. Give the pieces ample time to dry off and then reattach the doors, hinges, knobs and reinstall the drawers. Voila! Your kitchen cabinets look good as new!
If you are puzzled between the hundreds of paint options, take my piece of advice and look into the blogs of painting expert Kevin Carter who knows all the ins and outs about countertop paints. Head to Paintersvilla without further ado!
Distressing The Kitchen Cabinets:
You might have applied a nice coat of paint on your kitchen cabinets, but is that enough?  Why not create a vintage look like one of those old farmhouses or cottage kitchens? That's when you need to distress the kitchen cabinets. 
What does distressing kitchen cabinets mean? 
The term 'distressing' or 'weathered' is ideal for the aesthetic ones or those craving some vintage touch. Distressing furniture or kitchen cabinet means giving it a more aged look. Perfect for the vintage hearts!
How to distress kitchen cabinets 
So after a lot of research, you've finally made your mind to distress your kitchen cabinets. But, what's the easiest and best way to do it? Let's start with the-
Materials:
Plastic sheet or tablecloth

Basic mechanical tools

Sanding paper 

Sponge

Household cleaner 

Dark Wax 

Soft-bristled brush
Procedure:
What if you want to distress your painted kitchen cabinets? How to start?
Well, this procedure will make a mess, so you better protect your kitchen: use painter's cloth or plastic sheets to cover the floors and walls.

Grab your toolbox and remove all the hardware including, hinges, knobs, handles, screws, etc. Store them carefully in a box, so you don't lose these tiny vital things.

Take 100-grit sandpaper and sand the surfaces. Move your hands in a flicking motion, and don't stop till some raw wood is visible. It doesn't have to be uniform because irregularity is what uniqueness is about.

Take a finer sanding sponge and blend the rougher weathering with it. I love this part because I can slowly see the different textures it starts to create.

After you are done with the sanding part, don't forget to clean up with a dry cloth or, even better, with a vacuum cleaner. Wipe the whole mess on the cabinets with a damp piece of clothing.

Now for the fun part! Take some dark-coloured wax on a foam sponge or a clean, soft fabric. Apply it over the sanded areas. When doing this, your priority should be the edges and cracks that collect more dirt. It adds a touch of protection as well.

For the final step, take some furniture wax on a medium or large-sized, short-bristled brush. Circularly move the brush gently as if to spread the wax over the whole surface. Don't take too much wax on the brush; a little is enough.

As we are done with the distressing, put back your hardware in place, and voila! It seems like you've entered a renaissance age kitchen!
Even if you were blasting your heads off with the thoughts of how you'd carry out the painting and distressing on your kitchen cabinets, now you know it's a piece of cake! It's time to DIY those boring-looking cabinets, fellas!
Ref number: THSI-2300