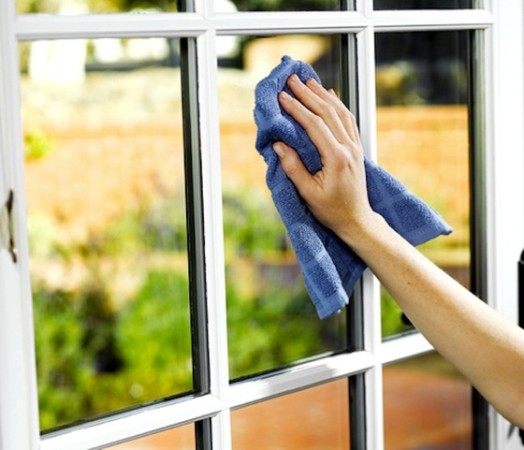 When the time comes to give your home a through clean, many people focus on the interiors of their home and forget to work on the exterior. The outside of your house is the first thing people see and it instantly sets the tone for what the rest of your home is like. This is why it is so important to make sure you give your homes exterior the TLC it deserves, as not only will it feel warm and welcoming to those who live there and visit you, but it will also enable your home to stand out from the rest of the houses on your street.
Tackle the Paths and Driveway
One of the toughest areas to clean on the outside of your home is by far the path or driveway. From awkward moss and weeds growing in between the paving cracks, to the dirt and mud that clings to the slabs, it can result in your driveway or path looking dull and dirty. Start by pulling all of the weeds that you can see from the outskirts and cracks of the paving slabs. You can then apply some strong weed killer to those areas to try and prevent them from sneaking back later in the year. When it comes to cleaning the concrete or paving slabs, it's time to turn to your trusty pressure washer. If you don't currently own one, there are plenty of places that rent them out so you can still get the work done. Not only will the pressure washer help to remove any stubborn dirt from the driveway or path, but it will also freshen up the whole area and make it look much brighter and fresh.
Wash the Walls
It doesn't matter whether you have rendered walls, tiled walls or even textured walls, you can still wash them down and remove any dirt that has gathered over the months. It's important to be gentle with this however, as you don't want to mark the walls or scratch any of the materials used there. Hose down your walls to remove any loose dirt and then you can focus on sponging down the areas that seem to have obvious dirt patches that weren't removed by the hose. This task will really help to brighten your home and make the walls stand out properly.
Refresh the Roof
For many, this task can seem quite daunting, especially if you're scared of heights, but it's a step you really can't afford to skip. Your roof will gather hundreds of leaves in the gutters throughout the year, which could potentially cause damage to other areas of your home if they became blocked. Similarly, you can't tell from the ground, but tiles can become loose or start to break, and if this is the case it's really important to be aware of this so that you can fix them before they fall, potentially hurting someone! Get out your triple extension ladder and start work to refresh your roof. You'll notice that the gutters suddenly work better and you'll also have that piece of mind that everything is as it should be up there!
Make Your Windows Sparkle
It may not seem like it, but the state of your windows plays a huge part in the overall look and feel of your home. The moment you look at a house your eyes are drawn to the bold areas, which are often the windows. If you're greeted with dull, dirty windows then you'll instantly think of the rest of the house as dirty and untidy. Having fresh, sparkling windows will show just how clean and fresh the home really is and will also make the house look pristine from the outside! Not to mention that cleaning your windows really helps to allow plenty of natural light to flow through your home and create a welcoming, positive atmosphere.
Trim the Garden
Over the months, your garden can become overgrown, weedy and often start to look really messy. By simply going around with some secateurs you can trim back any overgrown plants, cut down any unwanted weeds and neaten up the bushes that feature in your garden. This is only a small step, but it does make a big difference, as every step taken to make your home look fresh and inviting works together to create a beautiful end product. Try to focus on maintaining your garden to ensure that it looks it's best all year around.