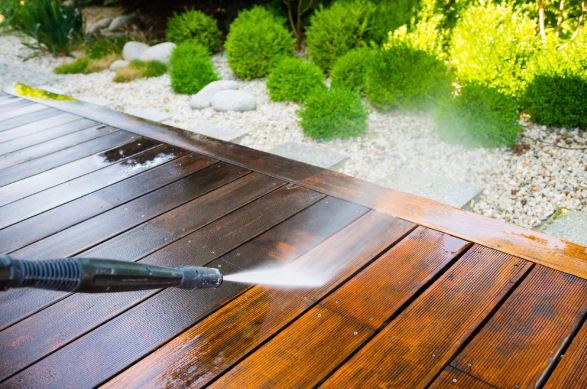 After a heavy winter with lots of strong weather conditions, you'll find that certain areas of the garden are slightly worse for wear. Your decking is one of the areas that is guaranteed to need a little TLC, as not only will it look dull and dirty, but it will also be dangerous too.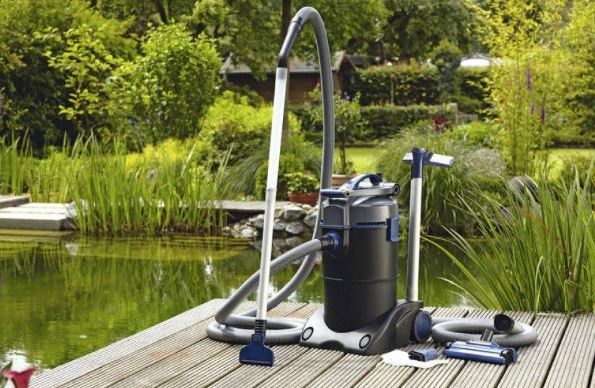 Image Source: https://www.bradshawsdirect.co.uk/
Throughout the wintertime, your decking will experience rain, snow, sleet and ice, as well as dirt and leaves that will gather and stick to the surface. This can all make the surface of your decking extremely slippery, which could result in potential danger if you didn't realise. This is why it's so important to give your decking a thorough power wash and ensure it's in the best condition for the spring/summer months.
Before you get your jet wash out from the garage, you need to do a few things to your decking to prepare it. Start by removing any items that live on your decking to a safe space for the meantime, whether that's your BBQ or some garden furniture, as you need to have a clear space to work with. You then need to use a hard-bristled brush to remove any loose debris from the surface of your decking, as this will help make sure you're cleaning straight onto the wood and not just moving dirt from corner to corner. You'll be surprised how much dirt will have gathered on the decking, from leaves to general rubbish and it's really important to get rid before you start the hard work.
Once your decking is clear and well swept, you can start to protect your plants and bushes that surround the decking. Jet washes are extremely powerful and if you don't cover your plants, you may find yourself uprooting them or snapping them by mistake. Use a plastic sheet or old cloths to protect the plants from any direct touch with the water.
Mixing the solution for your jet wash is really important as you want to ensure you're using the right product on your wooden decking. The most common cleaning solution for decking is a commercial deck cleaner, however, if you head to your local garden centre you'll be able to speak to someone to advise you on which product is going to be the best for you. One of the main reasons for it being so important to check your using the right product is that different woods will react differently to certain products. You don't want to damage the surface, remove the stain or discolour your decking by using the wrong product.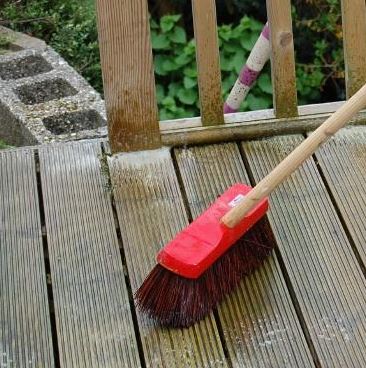 Image Source: http://www.floorpaintexpress.co.uk
Give your decking a quick rinse down first to remove any loose dirt from when you swept and then grab your jet wash. Using your jet wash, power clean the surface slowly and evenly until you notice the dirt starting to loosen. Try to focus on any areas of the decking that look particularly dirty or messy, as these areas will take longer to clean. Once your decking is back to the original colour and you're confident you've power washed the dirt away, you should give your decking one final rinse to remove any dirty water.
It's important to give your decking a good 12 hours to dry properly before you stand on it or try to put any of your furniture back on. If you skip the drying stage, you'll notice that the water will just gather and stay underneath the furniture pieces and cause the decking to stay slippery.