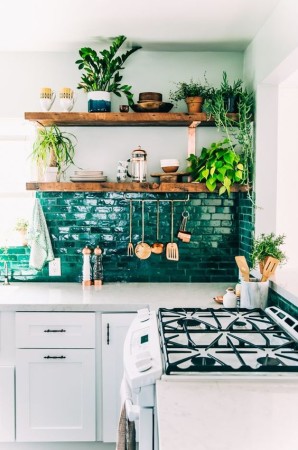 When it comes to renovating your house, the costs involved can be very off-putting. However, this shouldn't stop you from achieving your dream visions! Renovating your home does not have to be expensive – here are a few ideas to get you started:
DIY Storage
Running low on storage space? Don't want to spend a fortune on more shelves and cupboards? You will be pleased to know that you can create storage for free! Wrap unused cardboard boxes in a wrapping paper of your choosing and voila… unique new storage space. Of course, you will have to be careful when choosing what to put in these boxes, but they will be perfect for things such as magazines, accessories or lightweight clothing.
Plastic Sheets
Transform your kitchen in an instant by purchasing a new splashback. Doing this on a budget has never been easier, thanks to plastic sheets. Simply choose the size and colour you want and the rest is done for you. With prices starting from £1, your new kitchen renovation will certainly be something to be proud of. These sheets aren't just limited to your kitchen; they have their own purpose in just about any room. You will be sure to get your moneys worth.
Up-Cycling
Although renovating your home may make you want to replace every single object, it is worth taking the time to consider what can be re-used, or in other words, up-cycled. Up-cycling is becoming vey popular in the UK and there are many tutorials and guides to show you just how you can get the most out of old objects. Your furniture will be unrecognizable!
Painting Feature Walls
A fresh coat of natural, lightly coloured paint immediately gives the illusion of a larger room and also brightens up a once dull space. To save money, only paint the areas that desperately need it. Alternatively, paint one wall in each room and use it as a feature wall. This will make the room more appealing and give it a personality.
Lighting
It can be easy to overlook lighting when renovating your house, but do not forget just how important it is – it really can make or break a room. Even table lamps can create a huge impact. Take a look in your local high street shops and you will be sure to find modern light fittings at very reasonable prices. Or, if you splash out on a large light, you can minimize costs on the rest of the features in the room.
Stair Runners
Stairs are often the first thing that visitors see when they come into your house. Why not look in to purchasing a stair runner rather than stripping the carpet and spending a ridiculous amount of money? Whether you want to add a splash of colour or keep it minimalistic, you will be sure to find a design perfect for your home.
Take these tips in to consideration and your bank account will be thanking you!