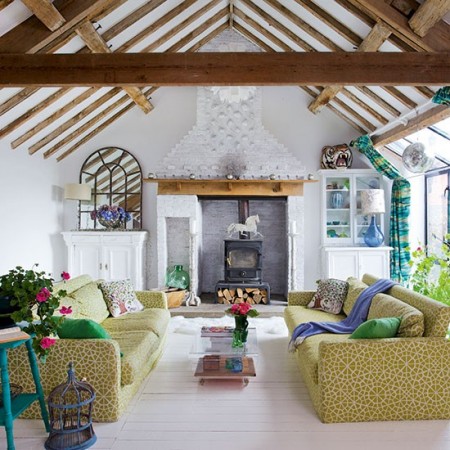 Are you thinking of putting your property on the market? Well, there are a few things you should do before you let the estate agent start showing prospective buyers around. Improve your chances of selling by smartening up your home with these bits of advice…
Tidy up outside
You've heard of the term 'kerb appeal', haven't you? This refers to making the exterior of your house look desirable and inviting, so to improve your 'kerb appeal' you'll need to do some tidying. Start by mowing the lawn, trimming back greenery and removing weeds. Remove debris from the driveway, fix broken fences and tuck your bins out of sight. And, if you have children, make sure you've tidied away their garden toys, and if you have pets, double check that they've not left a 'mess' anywhere. This will set the scene for buyers and indicate that the interior of your home is as appealing as the exterior.
Clean the windows
Squeaky clean windows will reinforce the idea that your house is in really good repair, and allow plenty of natural light to flood in! So, make sure you clean all of them… including the ones up high. Velux windows are generally positioned in hard to reach situations, such as in the roof space or high above a stairway, and for this reason you might be best off hiring a window cleaner. However, if you're able to reach the window from the inside, all you'll need to do is rotate the sash fully and pull the top of the window down towards you. This will position the exterior glass on the inside and you can secure it in place by pushing in the bolt of the frame while you clean it.
Refresh the paintwork
When we've lived somewhere for a while, we can become accustomed to ignoring the bits that look a bit rough around the edges, not noticing what needs a little TLC. So, try to see your property with fresh eyes by pretending you're a viewer… does the paint on the walls need freshening up? Are the skirting boards scuffed? Are the kitchen cupboards looking grubby? Address all these things with a lick of paint and see what a big difference it makes.
Declutter
Viewers will expect to see your belongings in your home – in fact, existing furniture can really help prospective buyers get their heads around the space available in each room, and a few personal touches can really help to make your property feel warm and inviting. However, there's a fine line between showing off your home's personality and it looking like a jumble sale… and clutter is a real turn-off!
So, get rid of everything that's broken, gathering dust or not used any more. This will help to reveal more of the floor and surface space available which will give the impression that your property is bigger than viewers might otherwise think. If you're not willing to part with particular items but can't find a tidy home for them, consider moving things into temporary storage until your house is under offer.
Hire a professional cleaner
Finally, a deep clean could help you to sell your house, freshening up each room from top to bottom and getting rid of stains, smells and other off-putting things. If a thorough scrub is something you're going to struggle to do on your own, consider calling in the professionals for help. It will make your home feel much more 'ready' to move in to, and you'll get to enjoy it in its refreshed state until you move out!