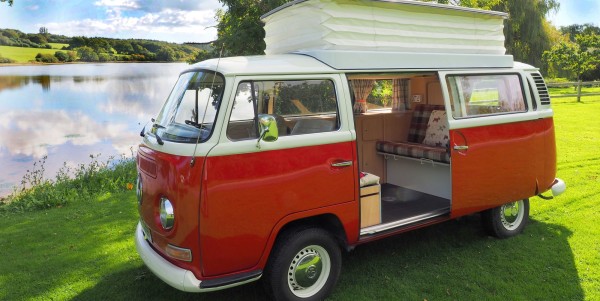 As it's getting towards the end of summer, it's all too easy to start thinking of autumn approaching and planning your trips ahead of time. If you've fallen in love with campervanning, it's so tempting to want to do it all year round, especially if it's a relatively new hobby that you've recently got interested in. As anyone who lives in a country with a variety of seasons will know, the transition from warmer to cooler temperatures can be a drastic change! If you're already thinking of going camping this autumn or winter, this can be an even trickier challenge – the colder temperatures can make campervanning very difficult and can present challenges when travelling. Here are some things to think about to ensure you survive your first autumn or winter camping trip…
Fail to Prepare, Prepare to Fail
As the well-known saying indicates, the key to the success of your trip will be planning ahead of time to ensure you've thought of everything. Make sure you start thinking about your trip a month in advance so you have time to order or purchase anything that you may need! Packing for the worst-case scenario may sound completely drastic, but knowing how unpredictable Mother Nature can be, it's not worth taking the risk of needing emergency supplies. Think of things like taking extra clothes, food and water. Luckily, campervanning means you never have to end up carrying around any of your belongings, so take advantage of this and make sure you're not caught out! Whilst it isn't sensible to overpack, it's more essential to ensure that you have all you need when travelling in unpredictable conditions.
Not planning your route may seem exciting, but in winter with its early sunsets and frost, it's much more sensible to plan your route and know exactly where you're going. Once you've decided on your chosen locations, get planning an itinerary for all weather situations. Make sure you always have something to do every day and you're never too far from civilisation should anything occur. If you research your areas thoroughly, you should never have a problem on your trip. Taking a paper map and torches are always a good idea too – never rely solely on GPS, even in this day and age!
Keep Warm
This may sound obvious, but it's very easy to overlook if you're planning your trip at the end of summer in your t-shirt and shorts! You can never think about things too much when you're packing to go on a trip in autumn/winter, and being warm will be the key to being comfortable.
Clothes will be the most important things to think about in day time – layers will be the key to being warm and dry, so make sure you take plenty to cover all days and spares in case you get caught in some adverse weather. Layers are much more effective than one huge coat for trapping the heat and keeping you warm. Be wary of cotton materials as these absorb moisture and will mean you get cold quicker! Stick to fleeces, wools and synthetic materials to keep you toasty and warm on your winter walks. Don't forget your extremities either – these will get cold the quickest in the freezing temperatures. Bring hats, gloves, and extra thick socks you can layer up to keep your feet and hands warm. Spare socks will be essential in case you ruin yours or someone else in your party needs to borrow some! If you're planning on walking a lot, gaiters are also useful and will act as a barrier between the elements and your feet – perfect for snow or rain.
Night time will be the coldest time of day so make sure you don't overlook this just because you are in a campervan! There are so many tricks and tips you can do to your campervan to keep it toasty for the autumn/winter time. Make sure you pack a high tog of duvet cover and plenty of blankets for everyone to keep the chill out at night. Concerning the build of your campervan, consider your electrics and how these could improve your standard of living in your campervan. Good quality electrics such as CBE can make a huge difference to your camping experience. Whilst not everyone can afford all the electrics that it's possible to have nowadays for campervans, investing in some electric windows can be a great way to trap the heat in and make life much easier for yourself and your camping companions. High quality sockets with a modular system mean you will be able to have a more practical layout for all your electrics in your campervan, and everyone knows how important having a kettle, toaster, and a hairdryer will be on those cold nights and mornings!
Setting Up
Before you even get there, check online so you can ensure you end up in a reputable campsite with plenty of amenities. These will be even more essential in winter time, as you will need water and electricity hook-ups and a gas supply that won't fail you and leave you stranded.  Check on camping forums and read reviews from fellow campers to ensure you get the best possible campsite for your money. Making sure you get the right spot in the campsite can also be very important! Make sure you get there early to avoid disappointment, and also to avoid setting up in the dark which will be very impractical. Whilst you may try and avoid this, it may happen at one time or another, so bring plenty of torches and keep your van organised so you can go to sleep that night without too many issues that can't be sorted in the morning. Parking next to a tree can be a lifesaver with wet ground as this will be the driest ground and will prevent your campervan from sinking. Take four driving mats to park your wheels on to stop this happening – this will be invaluable if you end up in a downpour! Consider where you will get wind protection, and take a wind breaker to help you when cooking.
Whether this has put you off or inspired you to travel this winter in your campervan, you can be sure every eventuality and possibility will have crossed your mind to prepare you for your trip!