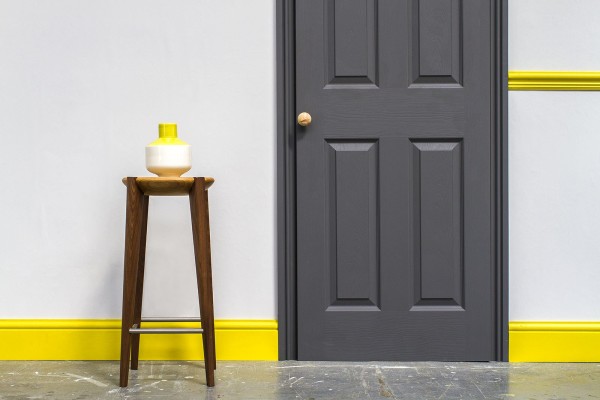 Home Improvement Tips:
How to use paint and colour to really make your skirting boards and architraves work for you!
For decades (if not longer) we've been told that the only colour for skirting boards, architraves and all the other internal mouldings in a house is white. What's more, most of us have slavishly followed this flawed wisdom, never even giving a thought to using another colour, no matter what else we do with the rest of the place.
Thankfully, people are realising that white isn't always right and they're looking for ways to paint their mouldings that will really stand out, or indeed blend in if that's what they're after.
If you feel inspired by looking at the wide selection of skirting boards out there nowadays, then you may well want to try one of these decorating ideas once you've got them in place.
Pairing light-coloured walls with a darker trim
Although using a darker colour on skirtings and architraves is a modern trend, it can fit in quite well with more traditional décor plans, too. Using contrasting colours can create the illusion of more space by drawing the eye along the expanse of wall; it also serves to frame the larger areas of lighter wall and this makes them seem larger than they actually are.
Using a darker colour on skirting boards also helps to minimise the appearance of scuffs and grime. Bright white paint, especially gloss, really shows up dirt and dust and while a darker colour will still gather the dust, it'll be less obvious, especially if you use a matt paint.
If you're a contrast newbie, think about a soft dark grey first, as this colour works well with pretty much any colour you care to pair it with. Once you feel more confident, you can swap over to a more vibrant colour further on down the line if you fancy it.
Painting the mouldings in the same colour as the walls
This is actually an old-fashioned idea from the Georgian era that's making a real comeback. This technique works particularly well in smaller spaces as there's no contrasting lines to demarcate walls, doors and floors. It's also brilliant when it's used in a room where there's a real statement colour – otherwise you have a bold hue on the walls and then…good old white gloss to bring us right back to 1984.
Use different shades of white
If using dark grey or orange or any other colour just isn't going to work for you, your taste and the overarching theme in your house, then you don't have to do it, you know! You can choose from a rather staggering number of whites – Dulux alone sells more than 30 different shades and hues – to complement the rest of your décor.
The various whites available have undertones of different colours, so if you've opted for a soft yellow along your walls, you can match your off-white mouldings perfectly. Not everyone wants strong contrasts and dividing lines, so this is the ideal compromise.