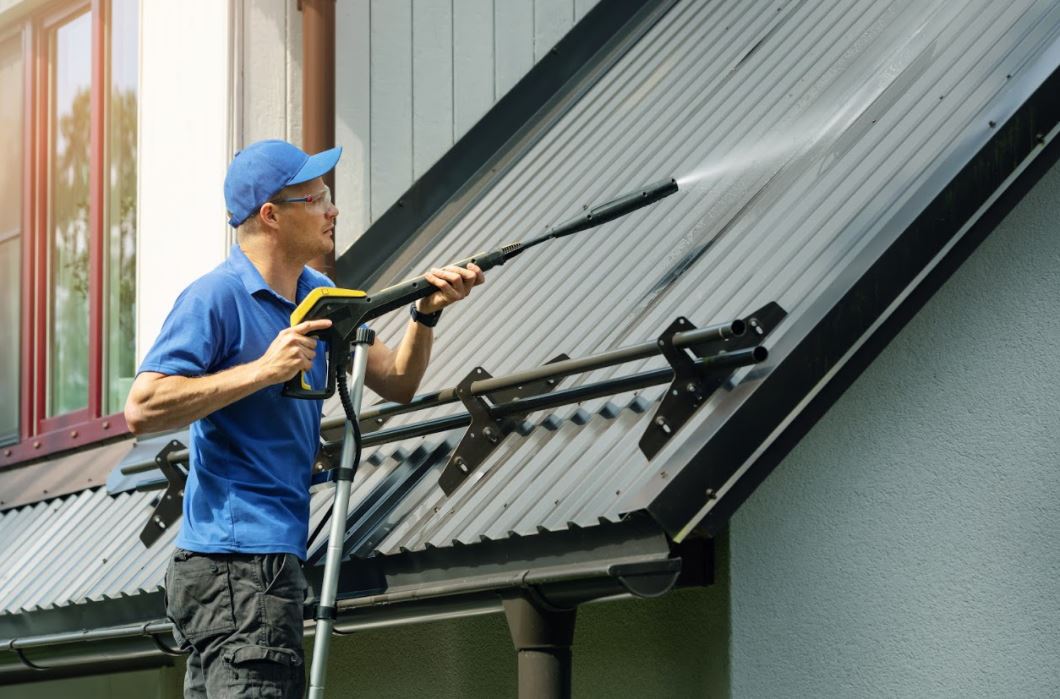 Most homeowners spend their time thinking about keeping the house clean, often so much that they overlook the outside of the house, which is the most visible to the public eye.  
Cleaning your yard and driveway area should be a regular task. Remember that the exterior is a key factor in the first impression your house makes. Aside from the aesthetic factor, there are some important maintenance benefits which the cleaning job provides. The exterior of your house is subject to the elements throughout every day of the year. Such factors make your house prone to the formation of rust, mildew and many others. Once you start to ignore the buildup for long periods of time, it can result in significant damage to your home.   
When it comes to exterior cleaning, you're usually talking about pressure washing. Look for the best pressure washing in Sarasota to make your home's exterior really stand out among the others on your road. Your house will be clean and free from any unwanted debris or dirt that mars its overall appearance.
Always consider pressure washing as an investment for your house to save money in the long-run. Although the service involves a price that some homeowners cannot afford, the cost is later counterbalanced by the value that it brings to your house, and how homeowners can benefit financially.
Let us take a look at some of the ways in which exterior cleaning can save you money as a homeowner.  
Preserving The Paint
Painting your house after a few years can be an expensive ordeal. However, with pressure washing, you avoid the build-up of dirt or anything else that could complicate painting, so you no longer need to spend an excessive amount whenever this requirement rolls around.   
It will make your house's paint look brand new, and provide a nice and clean look while easing the future task of giving a fresh coat of paint.
The best part about pressure washing is that it effectively eliminates any buildup of dirt, mildew, debris or mould which will sooner or later eat away at the paint. It helps to keep the paint fresh and looking new for years to come.   
Enjoy Savings On Algae Or Mold Removal  
Once mildew, mould, and algae seep into your house from the outside due to poor outdoor maintenance of your house, it will require a costly removal service, as well as putting the health of family members at risk.   
If you are in this situation, you'll find that the process of eliminating mould from within your house can be complex.
A simple solution is pressure washing. Eliminating the mildew and mould from the outside of your house prevents the spores from moving inside. This approach will help to save money from costly mould or mildew removal services, and more importantly, ensure better health for your family.   
Maintaining The Integrity Of The Roof  
Debris on the roof will destroy its shingles, adhesive and integrity. Pressure washing can remove any potential elements that could damage your roof, while at the same time keeping the shingles and the adhesive intact.
Save Decks And Other Outside Surfaces 
Regular pressure washing of outdoor areas in your house, such as decks or fences, can help to keep them in good shape while getting rid of any buildup of mildew or mould. It ensures longer-lasting surfaces on your property.
The buildup of algae and mould on the brick pavers of the patio or paved walkway can make them slippery, especially during wet weather. A good exterior cleaning job will keep these surfaces clean, and provide better grip once dry to ensure that nobody has an accident.
Cleaning The Driveway
In most driveways, there are usually oil marks from leaky vehicles. Pressure washing can effectively remove these stains to provide a fresh, clean finish. It is also vital before a resealing job since this requires as clean a surface as possible.   
Improving The Overall Value Of Your House  
For those who intend to auction or sell their house soon, a power wash can boost its overall value and increase the probability of a quick sale. When a house is thoroughly cleaned and free from any mildew or mould, it stands a much better chance of enticing potential buyers and automatically becomes much more valuable.   
As a part of exterior cleaning for your house, pressure washing will surely come in handy in keeping everything sparkling clean, while also helping you to save money in various ways. If the surfaces and outside of your house need cleaning, then make sure to include pressure washing when you finally tackle the job.
Ref number: THSI-2068