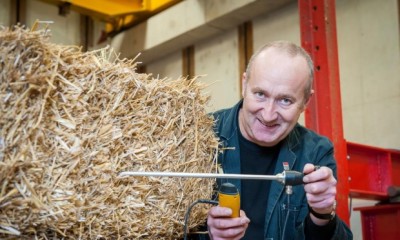 With the rising demand of housing, the construction for straw buildings is becoming more popular than ever, especially with the first straw homes on sale to the open market in Shirehampton, Bristol. According to Building with Awareness, by bailing the straw, it becomes a new material in which the farmer can create a trade for profit by selling the bales to a homebuilder who gains an excellent insulation and building material.
With conventional thick walls being very expensive, straw bale can be just as thick which adds aesthetic value to your home, as well as reflecting sunlight throughout the room. Straw bales also have a low-embodied energy which means significant lower energy consumption and ultra-low carbon emission, which means a 20% lower building cost and the potential of a 90% cut in bills for residents. As well as its attractive cost cuts, straw bale is also 100% biodegradable which means its homes can last up to 100 years if properly maintained.
However, straw bale homes also come with disadvantages:
1. Since it is not a conventional building material, the contractor or do-it-yourselfer will need to learn new construction techniques. Although not difficult, they are different.
2. If straw bale building codes are not part of your local codes, it may be a bit more work to get your plans approved. Contact others in your area and see if they can suggest local architects or engineers that are used to working with natural materials and see they can stamp your plans and help with the approval process.
3. Straw bale walls need to be kept dry as moisture is detrimental to not only straw, but to many building materials. Moisture entering the bales from the roof above is to be avoided at all cost. If the walls of your straw bale home are kept dry, they will last for the life of the building.
4. Areas of extreme humidity and rain may not be appropriate for straw bale construction.
5. Due to the thickness of the walls (usually around 18-20 inches), more of your overall square footage will be unusable due to it being within the wall space.
6. If straw bales are not available within a few hundred miles of your construction site, the cost of shipping them, along with the potential pollution from the transportation, must be taken into account.
(Ted Owens, Building with Awareness)
Even with its disadvantages, Prof Pete Walker (who led the Bristol straw home project) states in his interview with The Guardian that his straw homes have shown remarkable success with proven results: "Two that particularly come to mind as concerns or apprehension from potential users of straw are fire-resistance and weather-resistance. We have conducted a number of fire tests that have demonstrated that fire resistance from straw bale construction is remarkably good and better than many contemporary forms of construction. In terms of durability, we have undertaken laboratory tests and undertaken monitoring of existing buildings and we have also done accelerated weather tests. The results of all these tests suggest that straw is a very durable construction solution."
With straw homes underway in Cornwall, the once considered waste product can now be seen as the saviour to Britain's out of control housing demand.