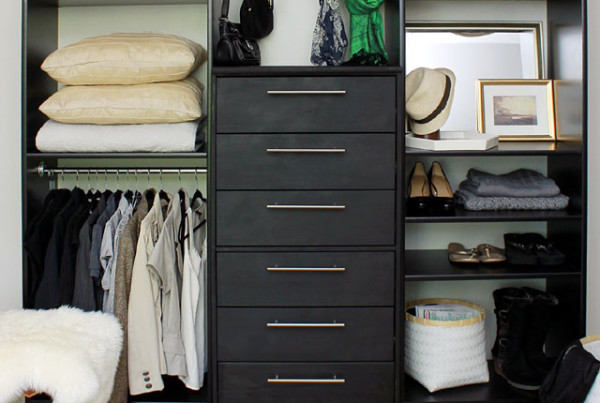 Many of us would like bedrooms as big as an entire house, but that isn't practical – unless of course you're a rock star or fabulously rich footballer. Since that doesn't apply to most of us, we'll have to make do with what we have. In this article, you'll find some of our favourite bedroom storage hacks that anyone can try.
Build yourself a wardrobe from scratch…
Disappointed by the high prices of wardrobes she wanted for her bedroom, Ursula (of Homemade by Carmona) decided to make herself a brilliant free-standing wardrobe, using cheaper IKEA products. She was able to build her own DIY custom wardrobe for less than $200, using two IKEA RAST Dressers and a couple of melamine boards.
You can make your own twist on this particular hack, taking into consideration the nature of your space and the items you would like to store. As an important first step, be sure to make a list of everything you'd like to store in the wardrobe and then sketch a simple plan for where you'd like your shelves positioned. You'll have to measure how high your tallest shoes are, as well as the height of any hanging items, so you don't end up with compartments that are too small.
You can customise this hack however you like. For example, use one bookshelf instead of two, if your space is limited. You can also add a dressing area to the wardrobe by mounting a mirror on one of the shelves, so you'll then have a multipurpose wardrobe! Also, feel free to add other extras, such as pull-out hanging bars and hooks, for even more space to store your things.
Rolling storage box for under the bed
This project was completed by Faith Towers to create a simple and functional storage option that anyone can do themselves in a few hours. It is great for storing magazines, photo albums, books and whatever else you might like to store, providing it isn't too large or tall.
For this project, you'll need two 16 x 20″ IKEA RIBBA frames, a 16″ ribbon, two thumbtacks, a 16×20″ sheet of gift wrap, two 1″ narrow utility hinges, four swivel top plate casters, a 2″ wheel diameter, E6000 glue, a hook and staple, a drill, a hammer, as well as some scissors.
Frame the gift-wrap paper to the top of the case and attach hinges to join the frames so that they create a box. The hook and staple will serve to fasten the case and you'll need to affix the casters to the bottom of the case, using the glue. Further details on how to make this can be found on Curbly, but the finished product looks great and will work even with a bed that doesn't have much room underneath.
Meanwhile, if you think your bed is too low and would like it raised, consider buying furniture legs. Check out the Legheads.com collection, as they can add a brilliant dash of colour to any room. If you decide to purchase a set of legs any time soon, you're in luck, because Legheads are currently running a giveaway.
Also, check Legheads.com for awesome furniture hacks.
Window seat with storage
We love this project, because it serves more than one purpose while being a cute and cosy addition to the bedroom. Kate Riley of CentsationalStyle.com embarked on this project when she wanted to make a window seat for her playroom that was being converted to a study.
If you don't have enough room for a study in your house, you can borrow this idea. However, if you don't want to crowd your bedroom with a table, you can simply attach a shelf to one side of the wall that can serve as a reading table – if you don't mind sitting cross-legged, that is.
This particular hack uses 15" tall x 36" wide AKURUM cabinets, but you can find something else that fits the width of your room if this doesn't work for you. This is a project you can complete in just a single weekend.
You will have to construct the base, install the doors and sew a long cushion to be placed on top of the bench, plus a few pillows. If you don't like the colour of the cabinet frames, you will also have to prime and paint them. Also, if you are not comfortable with the height of the bench, purchase Legheads furniture legs with which to raise it. Check out the Legheads Hacks page for other IKEA hack suggestions.
By the way, Kate's window-seat included a vent, so if you need yours to include this feature as well, then this hack could work for you.
Platform bed with storage
Platform beds are the ultimate for small bedroom storage. We certainly think this one is anyway. Noraelli (of Oh Yes Blog) was tired of having to pile stuff high, but also desired a raised bed – and so this impressive project was born.
This hack is definitely appealing to anyone who lives in a one-room apartment, especially if they are not a fan of crowded closets. For a project like this, you will need to create a basic sketch, but you don't really need to be able to draw properly. Once you have the basic idea, you'll be fine.
The IKEA items you'll be using will be kitchen cabinets and doors. There are many options, so choose whatever works for you, though the cabinets will mainly be used to build a base for your bed.
For this project, the hacker used a total of nine cabinets, including four 40cm-wide cabinets, one 60cm-wide cabinet in the back, and four 80cm-wide ones. That's a lot of cabinets, but also a lot of storage!
You don't need to attach any of the units to the floor or walls, because the bed will likely stay in place due to its weight. However, to prevent it from scratching the floor, you can use large felt pads.
If your bed is of the box spring-type variety, then you won't have to build a frame to hold the mattress over the storage space, as it would already come with a built-in wooden frame.
A simpler cabinet bed
From IKEA Hackers, this project is a much simpler version of the platform bed, made using a couple of EXPEDIT shelving units and Sultan Lade twin-size bed slats. The hacker used no more than five EXPEDIT shelves to serve as the bed's base.
Of course, you have to be careful to leave no gaps along the two exposed sides and you'll need a bed box on which to place the bed. You can build that yourself by cutting planks into the size of board you require and by holding them together using screws. The screws should go through the corner and end braces on the inside.
You can assume that the bed and mattress will likely move around if they are not fastened to the shelves somehow. To prevent that from happening, you can use the wall fasteners that come with the EXPEDIT to secure them to the bed where possible.
For support, lay the bed slats across. To support the slats in the gap between the shelves, you'll need two flat metal bars. The hacker used the leftover ones they had from a previous project, but you can go with whatever works for you. Meanwhile, are you wondering about the wasted storage in the back? Don't anchor the shelf in front, so you can get to the back whenever you need to.