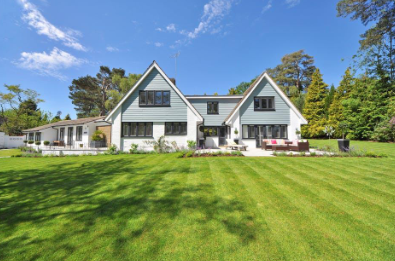 Matt Stevens is the Director at online mortgage and insurance broker The Mortgage Genie. Here, he discusses three types of insurance that could help you pay off your mortgage if something unexpected comes up.
Your mortgage is likely to be one of, if not the biggest, expense you have in your lifetime. And, while you're likely to have the payment schedule and affordability of things figured out, some extenuating circumstances may make it hard for you to pay off your mortgage. Here, I will be sharing the types of insurance you should consider when taking out a mortgage.
Buildings insurance

Buildings insurance is usually part of a home insurance policy alongside contents cover, however, it is possible to get this separately. In general, buildings insurance will cover the rebuild costs in case something happens to the structure of your house, whether it's from a fire or a natural disaster like a storm or earthquake. In most cases, this type of insurance is compulsory if you have a mortgage and will act as a financial safety net should anything damage your home.
You should always sort this type of insurance before the contracts for the house are exchanged, particularly if you're also getting contents insurance as this will cover anything that might get damaged or lost in transit. At the point of getting buildings insurance, you'll be asked to give a rebuild value figure — which is the estimated cost of completely rebuilding the house — as well as the cost of your possessions. Covering your home in this way will ensure you have a back-up plan in case of any accidents, damages or losses within your home. This means you will still be able to pay off your mortgage, as well as being able to rely on the insurance to replace or rebuild damaged areas of your home. Just be sure to check the terms and conditions of any policy you consider, as each can differ with the monetary limits they impose.
Critical illness cover

Preparing for life's unexpected twists and turns is a good idea when taking out something as big as a mortgage, and this can include having a back-up in place in the case of illness. When your condition is particularly serious, you might have to take a prolonged period of time off work which can see you struggling to make your repayments. To avoid this, critical illness cover exists to give you a lump sum if you are diagnosed with debilitating illnesses such as cancer or if you have a stroke.
Critical illness cover comes in three different types:
Increasing cover:

The lump sum paid to you and the premiums attached will rise with the rate of inflation annually.

Level cover:

The pay-out and premiums stay constant throughout your policy.

Decreasing cover:

The premiums are typically lower with this type of cover, but the pay-out also reduces monthly.
All policies will have different lists of serious conditions that their individual policy covers, so be sure that you're happy with them before committing to a policy and provider. Critical illness cover can be used as a financial lifeline and can be spent however you wish, including clearing mortgage repayments or paying for medical bills and equipment. However, be aware that most policies will only do a single pay-out, so you will need to be sensible with what you use this for. Additionally, you'll need to ensure you keep up with the premium payments as the cover will stop if not.
Income protection cover

An income protection policy could pay you up to a set percentage of your income or up to a set monthly amount if you become ill or are made redundant. This will ensure you are still able to cover your living costs, including your mortgage repayments, until you're back at work. When choosing an income protection policy, you'll be faced with a range of covers that last different time periods. For example, you could choose one that lasts a year, or one that'll cover you until you retire — just be aware that the longer the policy, the more expensive it's likely to be.
There are two main types of income protection policy to choose from:
Permanent health insurance (PHI):

This will protect a portion of your income (usually up to 50% of your salary before tax) in the event of illness or accidents that'll prevent you from working for a while. This can pay-out until you reach retirement age.

Accident, sickness and unemployment (ASU) cover:

As stated in the policy title, this will protect you against any accidents, illnesses or if you become unemployed. As well as being able to pay off your mortgage and rent, it can also act as extra income, so you can still afford essentials.
The cost of your policy will depend on a number of factors including your age and job, as well as the percentage of income you'd like to cover and the waiting period before the policy pays out.
Keeping up with your mortgage repayments isn't always easy, especially when something unexpected happens. But, with these helpful insurance policies and some forward planning you can cover yourself against accumulating debts. Just be sure to shop around for the best deals and policy conditions before settling!