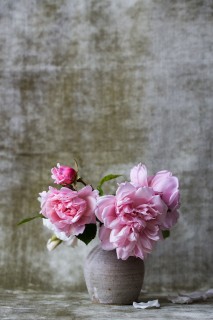 Summer is finally here, so just in case you aren't spending all of your time in the garden, why not bring a little of the great outdoors into your home in the form of some nature inspired interior design?
There are many ways to incorporate a natural theme into your décor, and you can be as bold or as subtle as you like when it comes to prints, colours and motifs. Perhaps the most obvious place to start is with florals; there are various styles to choose from, ranging from chintzy vintage prints to modernist designs. Floral styles will usually match any room as different sizes and colour schemes can be used to suit every size and style of home.
Similarly, leaf designs work in a variety of ways; try palm or banana leaf designs contrasted with metallic accessories for a stylish retro feel which is refreshingly different, particularly for bathrooms. Don't forget that with floral and leaf motifs, lots of real plants around the room can really bring the look to life.
Wallpaper is a great way to explore nature-themed prints, and is something that can be adapted to fit the purpose of any room. Vintage prints could be perfect for a study or even a children's bedroom, such as this adorable paper which could have come straight from a story book!
Sticking with the animal theme, consider choosing your designs according to which room you're decorating, or even where you live. In rural cottages, prints with forest animals such as foxes and pheasants might be the best match for your surroundings; if you're near the seaside then keep décor light and go for a coastal themed look.
Whatever you choose, just remember that even the smallest pieces can inject a sense of fun into your interior design; whether you choose a bold statement piece or tiny embellishments, with a little imagination you'll be sure to find something that's right for your home.