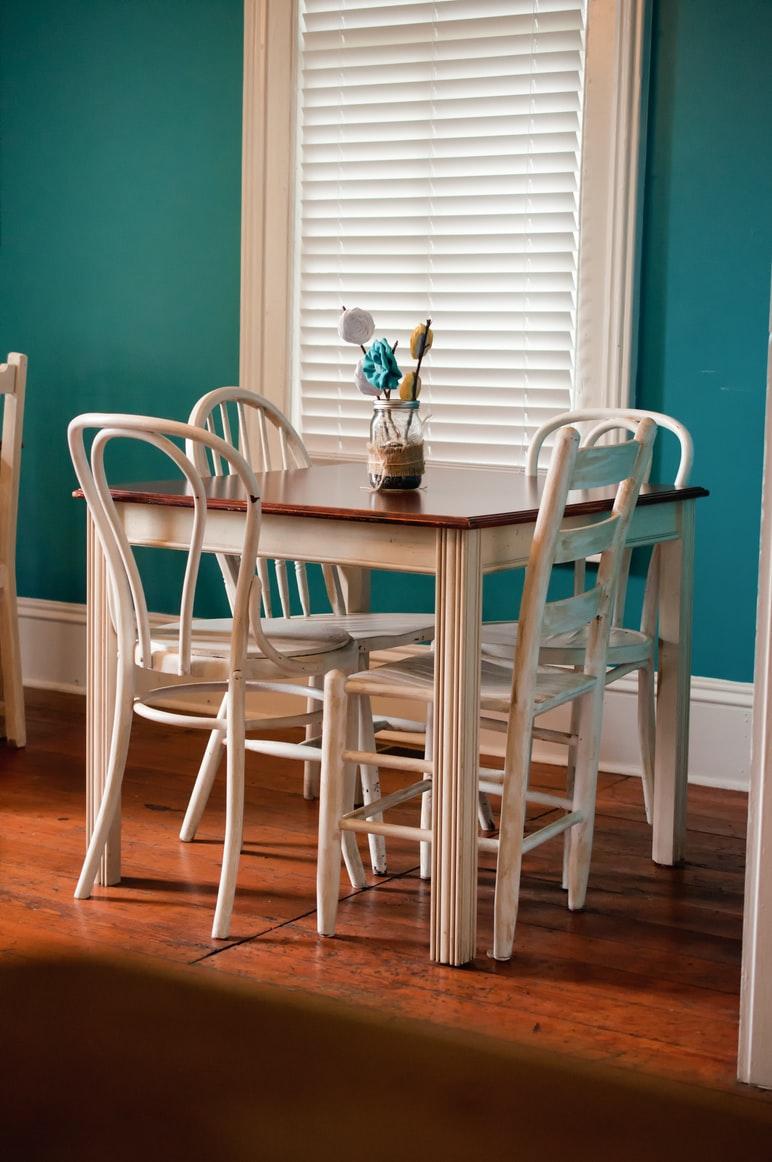 Have an eclectic style? Or maybe you can't make your mind up when it comes to choosing the perfect dining chair, and you want to mix it up a bit. Well, gone are the days when everything has to match! We'll teach you how to get that maximalist style without your home mimicking a junkyard.
Multiple styles, one space
First things first – before you even think of the design of the chairs – you need to work out the practical basics. Have small children? Then it would help if you had something easy to clean – banish any thought of costly velvet or suede that stains easily. Stick to wipe clean fabrics such as leather or durable materials like wood. Back problems? Stay away from complex vintage models – it'll make dinner a supremely uncomfortable experience, and no one wants that. Padding is your best friend here – but you could always add a pillow if necessary.
Now, time to think about what design you want. If you love retro or vintage style, multiple different chairs are heaven for you – hit up your local flea market or antique store, and you're bound to find loads of chairs that will look great together. We're huge fans of that farmhouse, country look – and old church chairs are great for this! New, designer dining chairs can get pretty expensive. So buy just a few – one or two. Replenish the rest with great second-hand pieces. If you're lucky, you'll find some natural treasures here, like chairs from the 1930s or 1960s. If they have scratched paintwork, sand them down and repaint them. An experienced upholsterer can handle the upholstery.
Think colour
Whichever style you're after, avoid a hectic effect by coordinating the colour scheme as much as possible. Stick to one wood finish (dark, untreated, and so on) within the space, and no more than two accent colours. If your dining table is white, it gives you more room to play – you could even stand to have four chairs of a different colour here, but avoid anything too bright if you have colourful patterns elsewhere, such as on the wallpaper, curtains, or tiled floors. Remember that you are going for a peaceful, compelling ensemble of various furnishings. You do not want your dining set-up to end up looking like a chaotic mess of colours that becomes too unpleasing or uncomfortable to your senses.
Bench it
If you don't want to buy too many chairs, a great tip is to buy a dining bench. Add this to one side of the table and a few chairs to the other. You can get benches with extra storage for crockery or cookbooks, and they are good options for fitting slightly more people around the table! They're stylish too – very Scandinavian feeling. Add a cute faux fur rug or a few squishy pillows, and you will have yourself a modern yet convenient dining set-up.
Head of the table
Make the two chairs at the head of the table the 'grandest'. Think wingbacks or chairs with arms. If they both match, you have the license to play around with the other chairs, and the space will still feel cohesive. In a way, you can think of the chairs at the head of the table as your pièce de résistance, go ahead and take your pick accordingly.
Never forget the basics.
Whatever combination of dining chairs you choose, stick to the basic principles. Above all, chairs should be comfortable, safe, and durable. If you're combining multiple styles, they should not affect the efficiency or purpose of the chairs. So, make sure that along with various types, the chairs should also be of the same height so that some guests don't sit higher and others sit lower and correspond nicely with the size of the dining table – nothing worse than being too low down whilst eating your dinner! Bear this in mind, especially if shopping vintage or second-hand. The best thing to do here is to measure the height and width of your dining table and use it as a reference while you are shopping for your chairs.
Words to take away
While it is true that you may feel lost or overwhelmed by the variety of choices while mixing your dinings up, treat these pieces of advice as to your guidelines, and you can very well get the job done. The best thing to do at this point is to have fun and go with a set-up that will uplift your spirit. Dining tables are the heart of a household, and no matter what style you go with, it all comes down to how well it contributes to the environment and vibe of your house. So, let your creative senses tingle to their hearts' content and get your very own unique styled dining set up!
Ref : ZD23633 / 

THSI-2627