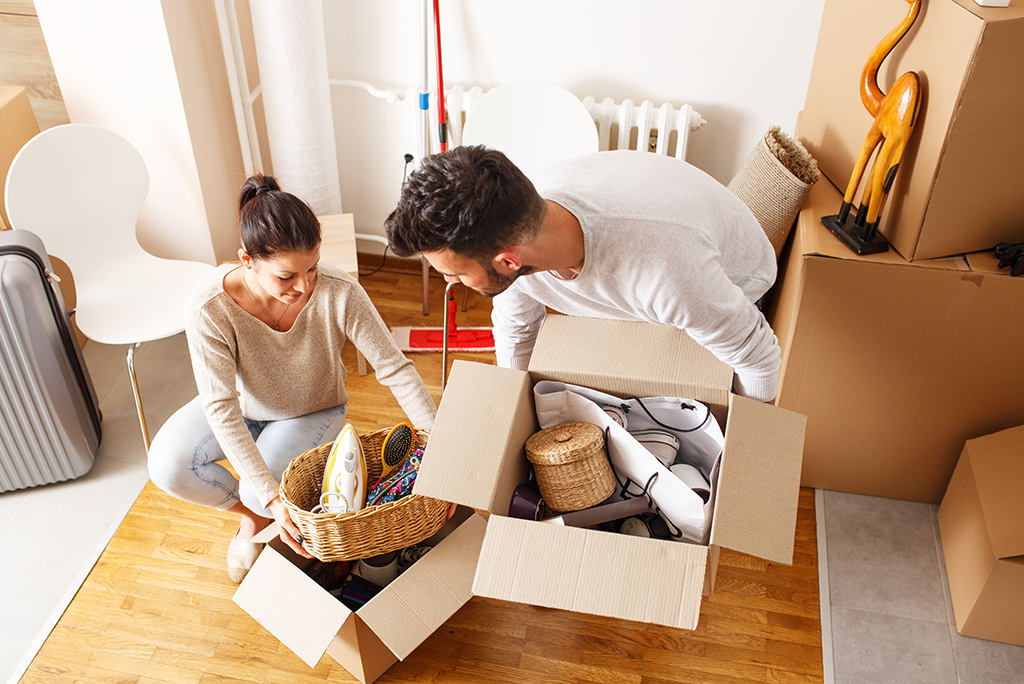 There are always plenty of things to buy when you're moving to a new home. New blinds or curtains are a must, and you may also need some new items of furniture. You'll find that old pieces either don't fit, or just don't look right in the new space.
At the same time you'll probably notice that trusty household items (like that old kettle and toaster) suddenly look rather tired. So it's out with the old, in with the new, and before you know it, your moving in costs have skyrocketed.
Given all the things you'll need to pay for when you start living in your new home, wouldn't it be great to save on removal costs?
Here are five smart ideas to help you cut back:
Channel Marie Kondo
The less that goes on the removal van, the less you'll have to pay. If you're the sort of person who lets things accumulate (not just empty pizza boxes), it's time to clear up. Take a few tips from decluttering Queen Marie Kondo and get rid of possessions you no longer need.
If you can't decide what to keep and what to throw away, the three-pile system helps. Make one pile of things to keep, one to discard and another to recycle or take to a charity shop.
Get several removal quotes
Don't just go for one removal quote. Using websites like The House Shop, you can invite companies to give you their best price.  
Ideally the removal company should visit your home to estimate the amount of stuff to be moved. A professional estimate means you'll get a van of the correct size and the right number of staff for the job. Be aware, however, that some companies may ask you to provide your own estimate.  Get it wrong and you may be charged more on the day, or be forced to hire an extra vehicle.
Don't pay extra for packaging
Some removal companies charge a lot to provide boxes and bubble wrap to pack your things. You can save money buying your own packaging online, but do make sure you get high quality boxes. Cheap doesn't always mean good and if the boxes aren't strong enough you could end up with breakages.
You can also use fabric items such as throws, duvet covers and towels instead of bubble wrap. Why waste money on plastic wrapping when you can simply use what you've got?
Empty your freezer
Costly frozen food items won't survive the trip between your old home and your new property, so you need to get cooking.  It will probably take a while to use everything up, so start several weeks before you're due to leave. If your freezer is still full close to moving day, consider Olio.com, a website dedicated to sharing food with needy neighbours.
Free up your cash with deposit free renting
If you are renting your new property, you'll have more than moving costs to consider. The average five-week rental deposit is currently over £1,000, and that sum will be locked away in a deposit protection scheme.
Canny tenants are now using no deposit renting instead of paying a cash deposit. This involves buying a deposit replacement product to protect the landlord against unpaid rent or damage at the end of the tenancy. There are a number of no deposit schemes for tenants available. The most popular is the Zero Deposit™ Guarantee, which provides cover through a non-returnable fee based on one week's rent. Signing up is a simple, online process and no other charges are involved. If you choose to stay on at the property, the only additional cost will be a £26 admin fee, payable annually. 
If you owe rent or you've caused any damage by the time you move out, you'll need to settle with the landlord directly. In the event of a formal dispute, the case will be handled by The Dispute Service (TDS), a government approved scheme for resolving disputes about tenancy deposit. But the good news is, if you've left the property exactly as you found it, there'll be nothing to pay. 
Moving house may be stressful but it doesn't have to leave you out of pocket. Follow the tips above and you may even find yourself with more cash to splash out on those must-have decor items. Welcome to your new home!