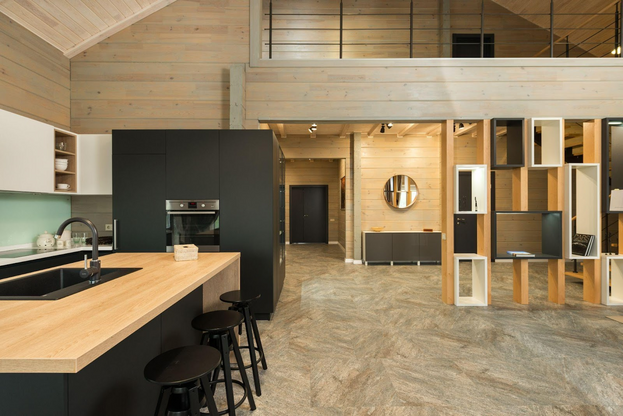 Did you know that modular homes are ordinary among growing families? Not just because they are more affordable than traditional homes but also because of the endless customisation possibilities.
When you purchase a regular home, you need more control over the floor plan and layout. Although, you could always get an extension…
However, only some have that type of money lying around! Especially when trying to raise a family.
This article will teach five tips for picking a modular home floor plan. This article is catered explicitly toward growing families.
1. Consider An Open Floor Plan
Your primary concern when picking a modular home floor plan should be space. You and your family need enough space to feel comfortable.
That's where an open floor plan can help growing families!
A modular house with an open floor plan has closed-off private areas, such as bathrooms and bedrooms. However, the living area, kitchen, and dining room are all open, providing more space for the kids to enjoy!
The large open areas also mean it won't be cramped if you decide to have more children in the future. In some cases, open-floor plan homes also have high ceilings, adding to the already large space.
2. Option For Expansion Later On
Your final floor plan should have enough space; However, we recommend choosing a home you can expand on. The good news is that most modular homes allow you to add additional modules.
Here are some standard modules you can add:
A second floor
Bedrooms
Living space
Bathrooms
And here's the best part…
Because off-site contractors build modular homes, your children won't experience disturbance when it's being built. The only time there will be any disturbance is when the modules get attached to your existing home.
3. Include An Attic
You're probably scratching your head wondering…
"Why should I bother to add an attic to my modular home plan?"
Here's why…
As your family grows, clutter will start accumulating. Old children's toys, documents, and furniture will start piling up. Unless you have ample storage space, there will be nowhere to keep everything.
An attic provides a large enough space to store most old possessions. It's also out of sight, so it doesn't take away from the spacious feel of your home.
Storage rooms are a great alternative if you can't afford to pay for an attic. That said, make sure they are big enough to hold everything.
4. Consider Energy Efficiency
If there's one thing that will increase when growing a family – it's energy costs! When you compare the cost in 2022 to 2021, there has been a 27% increase!
That's why we recommend making sure your modular home is energy efficient.
Here are some things to include in your floor plan:
Energy efficient windows: These types of windows are coated with low emissivity. Low emissivity reflects the sunlight so that you can stay cool in the Summer months. Energy-efficient windows are also fitted with super-tight seals, so air cannot creep in when cold outside.
Insulation: Insulation is placed in your modular home's walls, floors, and ceiling. Its purpose is to prevent heat transfer from the exterior to the interior of your home.
High-efficiency heating and cooling systems: A high-efficiency heating and cooling system uses less energy to keep your home warm or cool (depending on the season!). In turn, this saves you money to help raise a family.
5. Include An Outdoor Area
A large spacious interior is great when you have a growing family; however, most children get frustrated being indoors when it's hot all day.
That's why we recommend including a large patio in your floor plan. Your children can enjoy some time outside when the weather warms up.
An outdoor area is also great when you have pets – especially dogs.
It can also be used to host barbecues in the Summer. As your family grows, you will inevitably meet more people. Your children's parents, partners, and family are all on the list.
Why not have a beautiful patio where you can host gatherings, cook meals, and relax in the sunshine? Even if you're not going to be hosting gatherings regularly, studies have shown that spending time outdoors is great for your well-being and mental health.
Summary
With 143 homebuilding facilities across the US, there is no better time to purchase a Modular home. The option for expansion combined with complete customisation makes modular homes perfect for raising a family. The fact that Modular homes can also be built off-site means your children won't be disturbed when it's being built
Ref: 3161.27488