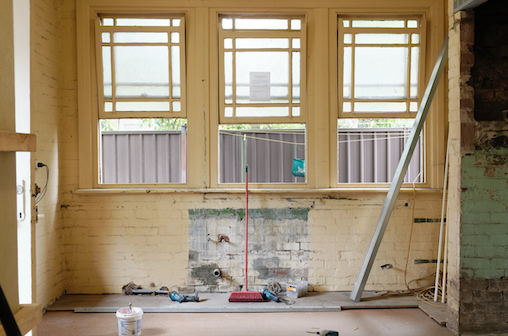 With the current property boom in the UK, there aren't too many properties that will be sold at a loss. However, for most people looking to sell their property in the next few weeks, months, or even in the next few years, there are a few renovations both big and small that they can do to ensure they get the maximum profit. 
Some projects, such as extensions, will be time-consuming and more complex, so you need to decide whether the value that it will potentially add is worth the added stress. However, there are some smaller renovation projects that you can do yourself, without having to pay any extra to get someone in. 
We've spoken to three property experts for ideas on how you can add value to your property. Some of these may be larger, for example, an extension, but some of these you can do yourself using a budget that suits you and a timeframe that suits you:
"If your boiler is in a large bedroom cupboard, or even taking up half of the utility room, then it would make more sense to move the boiler to a smaller cupboard and utilize the current space that it's in. Not only that, but boilers aren't the prettiest of things, so getting it out of sight and into something such as the kitchen cupboard would make the area far more appealing to new buyers.
"Moving a boiler is different for everyone, but it can cost approximately between £400 and £800 depending on the complexity of moving it, and also, how far you want the boiler moved. However, if this means that it could give you a larger utility space or an extra bedroom cupboard, then this could add a few thousand to your home, so it's worth weighing up whether it's worth the hassle and the upfront cost."
"If you want to pick one room to renovate before selling up, then make it the kitchen. It's the place that is going to add the most value to a property, actually around 6% according to a study I read fairly recently. 
"It's no surprise as everyone does love a spacious kitchen, and the kitchen really is the heart of the home and where most families spend most of their time. It's a key room to show off when you're selling a property and it should definitely be the first room that you decide to upgrade. Also, the kitchen is the room that most guests will see and spend time in, which again, is what buyers will think when they're speculating properties."
"Adding an extension to your home will most likely add value to your property, as long as planning permission approval is sought together with building regulations. However, if you are planning on selling your property soon after the extension is complete, the cost of creating an extension must be less than the increase in the sale price, otherwise, you will make a loss on all your hard work and defeat the object of the exercise by trying to add further value to your home by the addition of an extension.
"These types of works can be funded in any way. It is vitally important that you consider your funding options carefully to ensure that the interest rates applicable to your funding option and the amount you borrow will not exceed the value that you have added to your property. This sounds like common sense, however, this happens time and time again."
If you are renovating your house ready to sell and move on, then avoid common moving-day mishaps by being prepared. This Happy Beds blog talks about really common mishaps that could go wrong on moving in a day, for example, misplacing the keys or having furniture that doesn't necessarily fit through the door of the new home. It also does include some handy advice on what to do if these things do happen, so it's worth giving it a read before move-in day!
Ref number: THSI-2364