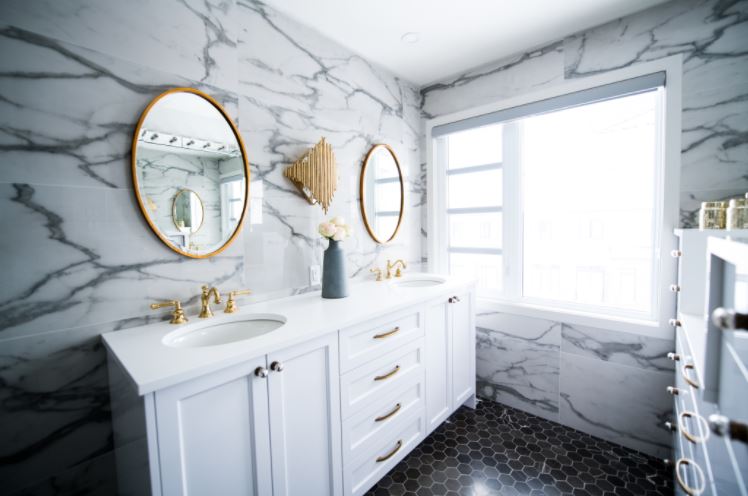 When looking for a contractor to do your bathroom remodel, it's important that you ask plenty of important questions. Not only will this give you an idea of how the contractor works, but you'll also be able to narrow down your choices. To help you find a reputable contractor that does quality work, we've put together 10 things you should ask about before hiring.
Past Work Examples
First, it's a good idea to ask the contractor to see past work examples. Not only will this let you see some of the actual work the contractor has done, but you'll also get an idea of whether or not you like their style. In addition, if you have a design in mind that's a little more complicated than the average bathroom, you'll be able to see if they've done work like that before. Make sure you're asking every contractor you're considering for examples of their work, so you'll have a better idea of what to expect.
License/Insurance/Bonded
It's also important to ensure that any contractor you consider is licensed, insured, and bonded. Not only does this protect them, but it'll protect you too. The contractor should be adequately licensed in the state they'll be working in and insurance will ensure that everyone will be protected if something happens to your home or if someone gets hurt while the remodel is being done. The contractor should also be bonded in case they don't pay their employees, don't get the correct or required permits, or don't actually finish the job.
Experience/Training
Another question to ask is what kind of experience and training they have. Some contractors will have academic training, while others will have hands-on training. As for the experience, you want to make sure your contractor has done plenty of jobs and has experience doing the style you're interested in. Once you initiate a conversation, this will be one of the first things you'll want to ask. There shouldn't be any issues with them showing this information, but if they won't, it might be a good idea to look at other options.
Cost
This might not be an important aspect for some, but the majority of people will have a certain amount of money they can spend. When considering different contractors, you'll want to make sure you ask about their prices and see how much the final cost will be. Once you know this information, you'll be able to narrow down your choices and focus on the contractors that charge within your budget. If you can't find one, you might need to look at your budget and see if you can add in any more money for the remodel.
References
You'll also want to make sure you ask for references. There are a few reasons for this. To begin with, you'll get experiences from past customers to see how well the contractor did and if they have any complaints about the remodel. Another reason is so you can ask the customers how the work is holding up. If it's been several years and the remodel is still going strong, then there's a good chance that the contractor does high-quality work. On the other hand, you might want to look at other options if past customers don't recommend them, have work that looks horrible, or have a remodels that's falling apart.
Warranty
You never know what could happen or when an unexpected accident might happen, so it's important that the contractor offers an extended limited warranty. The exact warranty will differ from contractor to contractor, but it can protect you in the event that something needs to be replaced or repaired. They should be able to provide this information before you ever make a payment and you can always look for other options if they don't provide an adequate warranty.
Completion Time
The exact completion time will differ from contractor to contractor and remodel to remodel, but you'll want to make sure it's not going to take an abnormal amount of time to finish. Once you've talked to the contractor about what exactly you want, they should be able to give you a rough estimate on how long it'll take to complete. Keep in mind, this time frame might be extended or cut short, depending on how work goes and whether or not unforeseen circumstances arise.
Contractors or In-House Employees
Most of the time, issues tend to come up when a contractor uses another contractor instead of in-house employees. When they hire a different contractor, they'll have to work around their schedule and the time frame could be extended quite a bit. On the other hand, in-house employees have a set schedule and the remodel should get done much quicker. 
Bid Itemization
An itemized bid can take a lot of the guesswork out of a remodel. This list will have everything you're being charged for and how much each item will cost. Most will have a range and you'll probably get an estimate that's between two amounts. In addition to figuring out if you're being charged fairly, you'll also be able to make any adjustments within your budget.
Needed Permits
Finally, you'll want to ask the contractor about any needed permits for the remodel. You'll also want to find out if they'll get them or if that'll be something you'll need to do before work starts. The exact permits needed will differ from place to place, so make sure you know exactly what permits are required for your area and specific remodel.
Regardless of whether you want simple and understated or affordable luxury, you'll want to get all of the information you can. You'll also want to remember that different areas have different requirements. For example, a bathroom remodels that's done in Houston will need different things than one done in New Orleans. Use these things to start your bathroom remodelling journey and find the best contractor for the job.
Ref number: THSI-2102