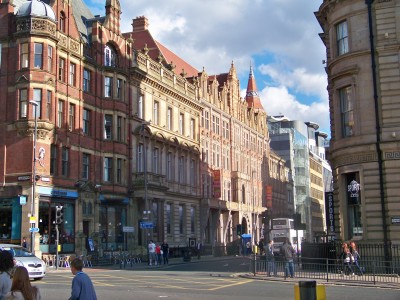 West Yorkshire is a fairly understated county, people who live in the south have preconceived perceptions of Yorkshire, such as "it's all countryside" and "you can't move for sheep". Granted, there are a lot of sheep in Yorkshire, but there is also a perfect blend of town, city and countryside.
The big cities such as Leeds and Bradford are no different to the cities in the south, the same hustle and bustle, easy access and what not. The thing that differs between cities in West Yorkshire and say, Essex, is that while Leeds is in every respect a city, it is still close to natural beauty. There are a lot of abandoned mills along the canals, which are all broken down and empty, but ivy has grown over the machinery and up the walls, which is beautiful. Even the big cities are completely surrounded by the natural world. The lost and forgotten industries still make up a huge part of the county, Yorkshire embraces both its old and new, creating a space where simply anything is possible. It truly is gorgeous to behold.
Even if you're not suited to city life, the towns in Yorkshire are the perfect middle ground between busy city and tranquil country. Yorkshire towns include the best of both worlds, the town centres are crowded with life, plenty of shops on the high street and enough entertainment for everyone but within walking distance there is art and culture and little places, like ponds and waterfalls that you could overlook if you simply drove past. Yes, it's true that it rains more in the north, but while rain in a city makes everything sombre, rain in nature makes everything thrive. Plus it's likely to be less than five minutes from your house.
One thing that makes Yorkshire stand out in particular, is the viaducts. All over Yorkshire and Humberside, you can see great bridges, some aqueducts and others for trains. It brings amazing culture to the county. Viaducts are the most prominent thing present in both the countryside and the populated cities. You could say that is what draws the place together as one county and perfectly balances it through one piece of astounding culture.
Hopefully, this has altered your view on West Yorkshire, maybe you could love it as much as the residents do!
Are you looking for a home in Leeds or West Yorkshire? CLICK HERE