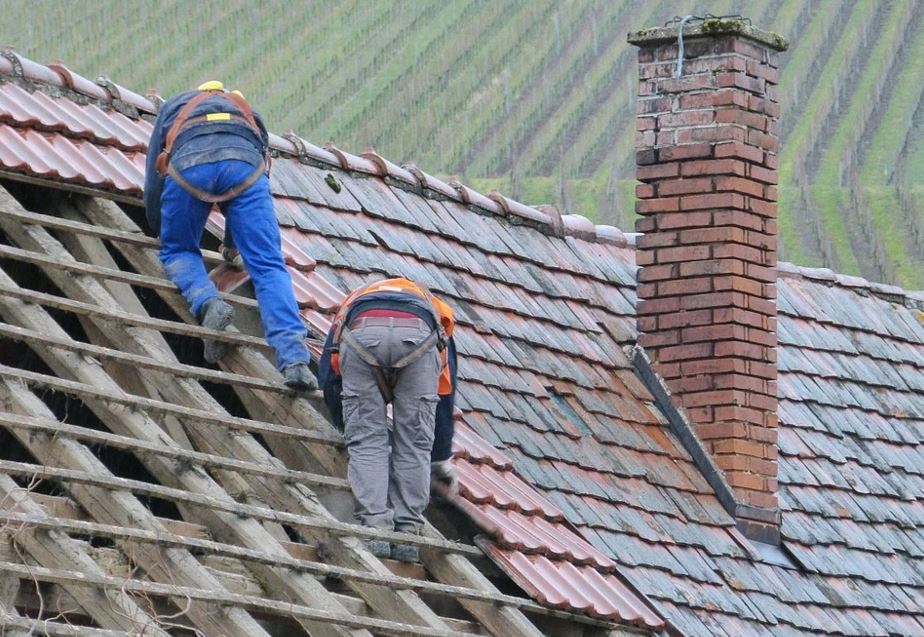 Construction work of any kind can be dangerous, but roofing jobs are among the most perilous. That is, of course, because of the risk of falling off of the roof since a fall from even a one-story building can cause serious injuries. There is also the risk that an object that is dropped or falls from the roof could hit someone on the ground, which could cause an injury even if the person on the ground is wearing a hard hat.
While the greatest risk is to the people on the job, there is also the risk of damage to equipment as well as to the property on which the contractor is working. All these reasons are why roofing contractors need to have substantial insurance coverage; they need to be able to take care of any of the possible problems that could occur while they are on the job. The insurance policies detailed below are ones that any roofing contractor needs to have.
Business Owner's Policy
This type of coverage actually bundles three different types of coverage:
General Liability Policy

– This policy protects roofers from third party bodily injury. That means if someone who is not an employee gets injured the policy will cover all the injury-related expenses.

Commercial Property Insurance

– This policy covers damage to property and equipment that is owned or rented by the roofing company. That includes offices, storage facilities, and any content found on the property.

Business Interruption Insurance

– Also called loss of income insurance, this policy reimburses the business for its income and operating expenses if it needs to shut down for up to a year.
 A large construction company will have to buy these policies separately, but a smaller company that has less than 100 employees and generates less than $5 million annual revenue can bundle these policies in a BOP to save money.
Workers Compensation Insurance
This kind of coverage is essential for roofing contractors and indeed all contractors because the health and safety of the workers are of vital importance. Workers compensation will pay for any medical bills caused by injuries they suffered on the job. It will also cover their lost wages that they will not be able to earn while they are recuperating. In the unfortunate event of a disability or death, workers comp will pay for that as well. Since roofing is a high-risk job the worker's compensation insurance for roofers tends to be higher as well.
Commercial Auto Insurance
If a business uses trucks, vans, or any other type of automotive equipment to haul its equipment from one location to another, then it will need commercial auto insurance. That is because personal auto insurance does not cover work-related damages. Commercial auto insurance will take care of the medical payments for any employees who are injured while operating a work vehicle. It also covers third party injuries for anyone who is injured in an accident caused by an employee driving a work vehicle.
Commercial auto insurance also offers collision coverage, which takes care of any damages to the vehicle when it collides with another vehicle. Commercial auto insurance should also provide gap coverage, which covers the payment owed on a leased vehicle if it gets damaged and needs replacing.
Professional Liability Insurance
This type of policy is uncommon among roofing companies, but it can be necessary if people from the company regularly offer consulting and recommendation services for roofing products or materials. If the advice or recommendation given ends up causing customer financial damage, then professional liability insurance coverage protects the contractor from any legal claims involving the dissemination of said advice or recommendations.
Surety Bonds
Surety bonds are not an insurance policy, but they are important for roofing contractors. A surety bond is a legal contract between two parties that gives protection for financial loss to one party in the event that the second party fails to fulfil their part of the agreed-upon task. A surety bond is important for roofing contractors because when someone searches for a roofing company, they will want one that is licensed, bonded, and insured. The surety bond gives potential customers a guarantee that the company will finish the job, which increases the likelihood that they will hire a company that has such a bond.
Inland Marine Insurance
This type of insurance is only necessary if a roofing company takes jobs in distant locations and needs to have its equipment shipped to those locations. If a business needs to ship expensive and valuable equipment across the water, then inland marine insurance is necessary, especially if the business is using leased or rented equipment that is only in their possession temporarily. However, this type of insurance is unnecessary if the company mainly does jobs locally and has no need to ship their equipment.
Make Sure Your Roofing Company Has The Necessary Coverage
Whether you are starting your own roofing company or just hiring a roofing contractor, you need to make sure that they have all of the necessary insurance coverage. The coverage a roofing company needs to protect its workers, their equipment, as well as third parties who do not work for the company. The insurance does not just provide protection, it also gives customers assurance and confidence in the company if it has all of the necessary protections. So be sure to get all the coverage you need for your roofing company; it is not just good for you and your workers, it is also good for business.
Ref number: THSI-2055