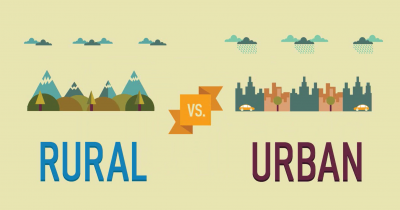 When finding a new home, whether you're moving out and setting off on your own path or moving in with friends or a significant other, there are lots of things to think about, the most prominent being the area you'd like to move to. The big question is: are you going to go sweet country rural or big city urban? Here are some pointers to help you decide what's right for you.
First things first, let's discuss the setting itself. While it's true that people with fast paced lives are better suited to being in densely urban areas, depending on whereabouts in the country you're looking, there are places that are within city limits without being too loud. On the other hand it's easy to envision an idyllic country setting for raising children but there is more to rural life than that. In this respect it is crucial to factor in local amenities and communities. For example, if you have to commute to work in a city but prefer the countryside, it may benefit you to look into properties that are on the outskirts of a city, therefore you can gain easy access to work and for your shopping needs without being in the centre of a bustling city.
Living in England has the perk of having plenty of open spaces but also an incredible amount of large cities dotted all over the country. In every county there is a balance of urban and rural spaces that makes your choice a little easier. Take Yorkshire for example, a very green area by popular conception, however it is also the home of many grand and traditional cities like York. In addition to this, there are cities that are more modern cities such as Leeds and Manchester. Within driving distance, one can find open spaces in every direction, as well as quaint villages and towns woven in and amongst the greenery. A selling point of living in Yorkshire is the fabulous architecture, which is especially seen in the viaducts that can be found in both kinds of area.
Rural life usually consists of smaller populations, which is a good thing for community but can be a downside for shopping. As a general rule, housing in the country is slightly more expensive, but this is dependent on the area in which you are looking. That being said, of you are looking for a tranquil environment away from traffic and pollution, it is well worth it. If you find that while you enjoy the quietness of nature but can't bear be so far from the high street, another option is to look into suburban houses in relatively large towns. However, if you need ease of access in your life, it might be better to look into getting an apartment in a city. One of the most important factors is if you'll be living alone or with family, as if you live in the heart of a busy city, space can be cramped.
To conclude, in order to decide what is right for you, you must consider the following factors; the dynamic of your lifestyle, who you intend to live with and local amenities. Remember, you should always think about what is right for you before buying!
by Zaenab Younus