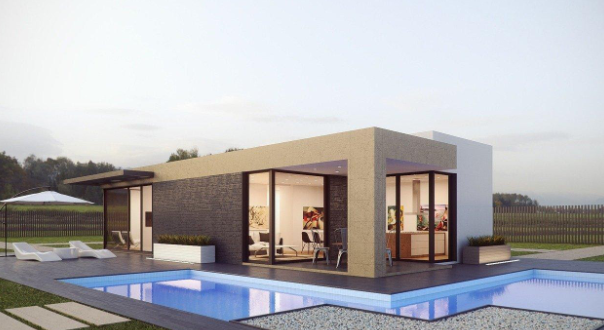 Do you want to buy a house with a swimming pool? The idea of having a cool and nice place to beat the summer heat can sound great and tempting at first. However, before you decide on taking the plunge, there are a few things you need to consider. 
Although having a home with a pool can offer several benefits, it can also have some serious drawbacks. There are many things to consider when acquiring a house with a pool- from the high insurance premiums to the maintenance costs.
Here are a few things to remember before buying a house with a swimming pool.
Who Buys Houses With A Pool?
When it comes to purchasing a home with a swimming pool, most home buyers often fall into three categories:
Homebuyers who don't look at homes without a pool

. These buyers consider a swimming pool as an essential feature of a home. Swimming pools are well-known in areas with warm climates year-round. 

Homebuyers who don't look at homes with a pool

. Homebuyers with small kids are usually concerned and worried about accidents that can happen around a pool. Additionally, other buyers don't want a pool's expense or upkeep.

Homebuyers who haven't thought of owning a pool

.

These home buyers may face a decision they hadn't expected if a house has everything they are looking for yet comes with a pool. Some buyers may purchase the property and use the pool for something else. 
Swimming Pools Require Regular Cleaning And Maintenance
Pools need regular upkeep. From cleaning the surfaces to using the right chemicals, the maintenance of a pool takes so much effort and time. Otherwise, problems like bacteria and algae could arise, and the PH levels could become imbalanced. 
All of these potential issues can wreak havoc on your and your family's health. The good news is that if you don't have the energy or time to take care of a swimming pool, you can call a pool service company to maintain it. 
Most pool cleaning services cost around 50 to 150 dollars every week. Aside from the maintenance costs and numerous upkeep, pool energy use can cost you at least 100 dollars monthly. 
Swimming Pools Can Improve Quality Of Life
Acquiring a home with a swimming pool has its fair share of advantages. For one, homeowners can access their private pool whenever they want. Also, swimming can boost flexibility, cardiovascular health, and the overall well-being of a person.
What's more, swimming has been proven to boost a person's quality of life and mental health. Having a swimming pool can also improve the social life of the homeowner. Besides, who does not like throwing a pool party with their family and close friends?
May Or May Not Increase The Value Of The Property
Do you want to reside in a place with a warm-weather climate? If yes, then having a swimming pool can significantly boost the property's value. It is wise to buy a house with a pool if you live in Southern California, Arizona, Florida, or other warm-weathered countries.
Homebuyers in these areas sometimes list having a swimming pool as their number one priority. However, it might be best to skip the pool if you reside in the Midwest or England. House hunters who reside in cold weather countries or cities usually consider having a pool as a hassle or hazard. 
Requires Space For The Pool
When the property you want to acquire is quite small but comes with a pool, you might want to reconsider going through the buying process. Keep in mind that not only will the deck and pool take up lots of outdoor space, but it also requires more room to keep pool accessories and pieces of equipment, such as:
Cleaning supplies

Towels

Skimmers

Pool vacuums. 
With that said, ensure that the property you wish to buy has enough outdoor space to shelter your pool needs. 
Can Increase Your Utility Bills
Be ready to increase your utility bills if you are planning to buy a home with a pool. According to HomeAdvisor, homeowners usually pay at least 300 dollars yearly in electricity only to make their pool pump work. 
The pool pump controls the pool's filtration system, which is important to maintain. Aside from the electricity bill, there will also be an increase in your water bill because a pool takes up at least 30,000 gallons of water. 
Takeaway
While a pool can be an excellent feature in your home and can be great fun for your entire family, swimming pool ownership is not something to be dealt with lightly. There are several things to consider to know if it's right for you. Also, keep in mind that having a pool is expensive. Weigh these factors carefully before deciding to buy a home with a pool.