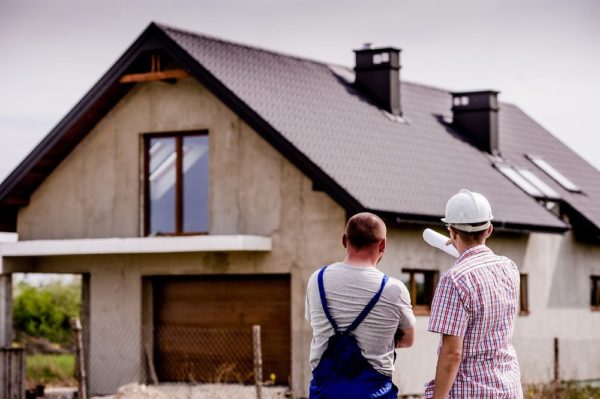 When buying a new home, many people have a wish list based on the type of property they'd like to live in. One of the primary considerations usually centres on choosing a traditional or new build, which each presents different benefits – and downsides.
Marion Ellis, the founder of Love Surveying, The Surveyor Hub Podcast and a fellow of the Royal Institution of Chartered Surveyors (RICS), says, "The first question most buyers ask is, 'Will my sofa fit?' The answer is, more likely, in an older property. New isn't better than old, it's just different, and that makes pros and cons very difficult because it's subjective when we think about the various types of buyers and their reasons for buying."
The green factor 
Energy efficiency is an advantage in newer homes, says Marion, as running costs are lower, and you can ask for proof of just how 'green' a property is. But she warns that many new builds are still being fitted with gas boilers despite the government's commitment to phase them out by 2035 (1).
It comes with character – and some building challenges. 
George Clover, a partner at Helmores, the UK's oldest estate agency, says, "An older property will no doubt have heritage, original oak beams, wide elm floorboards, hidden fireplaces and quirky room shapes in idyllic settings. For many, this sounds wonderful, but a modern house should be worry-free, straight lines, matching décor, warm, energy-efficient, with parking and defined boundaries – easy to compare to other properties when committing financially."
Older properties are more likely to be in a conservation area or listed with English Heritage, which can mean attractive historical character, but specific alterations – say, replacing a rotten window or moving a doorway – may require listed building consent and planning permission with a conservation office.
"The restrictions can stretch to practical reasoning too," says George, "it's much harder to make an older property energy efficient if it's listed due to the material or visual changes often required – think solar panels, floor and wall insulation and uPVC double glazing."
That said, more than half (54%) of Brits surveyed by Aviva 2 prefer a traditional style house, with the remainder happier with a modern build. And, when it comes to building quality, 62% favoured the build quality of a traditional home, with 22% of modern home-dwellers saying they were unhappy with the build quality and wished they had a more traditional house.
New builds still need a refresh. 
"A new home will still have maintenance responsibilities, and you need to ensure they're met, and you don't ignore them," says Marion.
She says potential buyers' primary considerations should start with money – assess whether you can afford to maintain and repair the property. For instance, older homes with wood-framed windows need regular servicing. And while new homes with plastic windows won't need traditional painting, they nevertheless need to be checked to ensure they work efficiently.
"Repairs don't have to be done all in one go, and maintenance is cyclical, so you need to assess how urgent it is to repair something – that's why RICS surveyors often use 'condition ratings' to determine how urgent, or significant the problem is," says Marion. "Just because something is old doesn't mean it will need replacing anytime soon if it's functional."
Potential for negative equity 
Speaking about newer build properties, George warns, "There may be a higher risk of negative equity with the use of small deposit mortgages being combined with developer incentives, which could lead to more risk should there be a rate rise or change to the housing market."
Are you looking for your forever home? Perhaps a new build isn't for you. 
"There's less opportunity to create a personalised property in a new build – you buy it because it suits your needs at the time, but newer properties can't often grow with families' needs due to the smaller plots and maximised areas," says George, "so it could be that new properties change hands quicker than older ones.
"It's not cheap to move, by the time you factor in legal and professional fees, mortgages and surveys, not to mention stamp duty – the cost soon adds up."
Spik and span before glitz and glam 
Property maintenance helps to keep value and helps with saleability, says Marion. She warns many homeowners to prioritise decoration, but a surveyor and valuer examine condition. For example, a clean, tidy house in good repair is worth more than a lavish home with issues that could result in damage, such as overflowing gutters that can cause dampness, or a lack of working extractor fans in the kitchen and bathrooms, that could cause causing condensation and black mould.
It all comes down to one question – can you see yourself living there?
There's never a right or wrong answer when choosing a new versus the old home. George says the personal choice is critical – but always factor in lifestyle, budget and character. 
"There's no doubt that an older property will require a bit more looking after, and this may cost a little more, but this can be rewarding in itself.
"New or old, the main thing is, if you can imagine pulling up outside at the end of the day, looking at your property, smiling and thinking, 'I'm home,' then that's the one for you."
Old, new, big, small – every house should have insurance 
It's essential to understand what kind of insurance you have and what it will cover, says Marion. With older properties, beware of any fire risk, and put in place a buildings reinstatement cost that reflects that property and its period features – this can be obtained from an RICS registered valuer.
"When it comes to new builds, there are a few things to be aware of," she adds. "An NHBC warranty only covers the structural elements of the building. If you find the fittings, such as bathroom and kitchen, have been incorrectly fitted and it causes, for instance, significant water damage, you will not be covered, and that can be expensive. It's why many people look to obtain a snagging survey – a check of a new home to make sure it's to a good standard."
As George says, the reason that anyone with a mortgage is required to have home insurance is that things go wrong, often through no fault of the owner: "So however careful you are, you need to be protected. You will need to advise the insurers of the ins and outs, especially of an older property, to ensure that you're covered, and in the event of a claim, you'll be able to get things fixed and continue to enjoy your home." 
It is recommended to carefully read your insurance policy documents so you're clear that it covers your needs.
References
(1) Heat and Buildings Strategy, Presented to Parliament by the Secretary of State for Business, Energy and Industrial Strategy by Command of Her Majesty
(2) Censuswide Survey completed on behalf of Aviva. Censuswide surveyed 2,009 nationally representative consumers between 19.08.2021 – 23.08.2021.