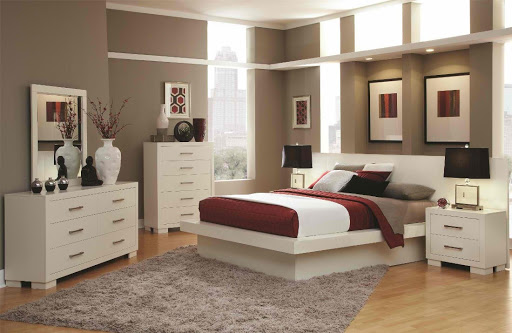 Your bedroom is your haven. A special place wherein you can recharge your tired body.  A cramped and topsy turvy room, however, isn't definitely appealing and conducive. This usually happens if you have a small bedroom space.  Small bedroom furniture is what you need to make sure that you can get that space you need.
These furnishings will not just give you the space you need but they can also provide an aesthetic look to your bedroom. Having these furnishing can give you the opportunity to turn the space into something more functional and useful.
Careful planning with a sprinkle of creativity and inspiration is important to maximize the potential of your small bedroom. Here are the furniture ideas for the small bedroom:
1. Storage Beds
A storage bed is certainly the best option that can maximize the space in the bedroom. This is the best solution if you are already tired of the clutter of your small space. An incredible solution for you to keep some of your things just within your bed without the need to buy or install another cabinet.
Storage beds are available in two types, ottoman divan beds or divan beds with drawers. The kind of storage bed that you will need actually depends on different factors such as the size of the room, items you would like to put in the storage as well as your budget. Storage beds are also ideal for guest rooms wherein you can store spare beddings and blankets.
2. Nightstands
Another essential piece of furniture that is ideal for small spaces is the nightstand.  It is essential furniture that is very useful especially during the night. They are perfect for items such as reading materials, cellphones, desktop intercom, eyeglasses, a glass of water, or medicine.
Nightstands are perfect home furnishing that can ensure that you can have that storage for all of the necessary items you need for everyday needs. They are cute and functional furnishing especially if you have the best size of this fixture. They are also available in a myriad of designs and styles.
3. Small Bedroom Vanities
A small bedroom vanity table is one of the best furniture accessories for the bedroom.  You don't have to purchase that huge vanity for your room if you have limited space.  These small vanities are designed to provide you with the right table usually along with a mirror. This is a piece of fine furniture for you to put and keep necessities such as perfumes, combs, beauty creams, and others.   Vanities are typically available in sets and usually applicable for girl's bedrooms.
From dark walnut, solid wood, expresso finish, traditional vanity, two-piece vanity to three drawer vanity.  When selecting a vanity for your bedroom, it is a must to do your research well in order to find the perfect vanity that can provide what you need. You have to consider your spaces first by measuring the available space to get the exact measurement.
4. Small Dressers
Dressers or also called a chest of drawers is definitely one of the most significant elements of any bedroom. This home bed furnishing serves as a storage and an ornament. Dressers are perfect if you only have a small space. When you have this furniture, you can be sure that you can have that right space to store your belongings.
There are three types of drawers. These are horizontal dressers, double dresser, and combo dresser.  Horizontal ones are the standard kind of dresser with several tabletop space ideal for storing or displaying. Double dresser, on the other hand, is a wider and spacious type of dresser. Ideal for people sharing a  large room.   Combo dresser is a perfect option if you want a dresser with different sizes of shelves and drawers.
5. Storage Benches
Storage benches are ideal for bedrooms with small space.  They are home furnishing that has a dual purpose.  They can be used as additional sitting furniture in your room and at the same time to store items or blankets in an organized manner.  Since they are available in different types and materials, make sure to select the one that can be a good match for your room's overall look.
With the aforementioned home furniture, for small bedrooms, you can now be able to maximize the space of your room. 
Ref: THSI-1851