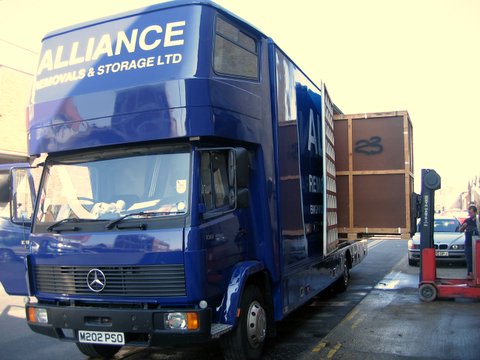 When it comes to making a small move, collection or drop-off there are two main choices out there: removal service or self-drive hire. Naturally both incur costs, but when it comes down to value for money, there are several factors to help you decide which service is the best option for your particular needs.
Cash and cost
Although the usual thinking is that "it's bound to cost less" to self-hire a van for a DIY removal for a small load, than to hire the services of a man and van or small removals company, it's still necessary to factor in:
Insurance (including the fact that the general excess amount in the event of an accident is around £1,000).

Deposits (and the possibility of losing yours, even temporarily if there's a problem or accident with the van).
And of course, there's also the hire rate to consider. Self-drive hire costs are always calculated based on:
The size of the van (typically from £40 for a small van to £85 for a standard Luton or over £170 for a specialist removal Dropwell Luton, per day);

The length of the hire term, usually calculated daily or weekly. Daily hires may also incur additional overnight charges if the van needs to be picked up or returned 'out of hours'. These circumstances are usually arranged at the hire company's convenience: not the hirers!

The distances (and locations involved), for example the van hire costs for overseas moves will be more expensive per day / week than internal UK moves – anything from £70 to £140 more per week.
Contrast this with the small load or small move rate offered by removals companies and you could be pleasantly surprised. Quotes can be tailored to requirements and will take into account the distances involved as well as the size of vehicle needed, creating an all-in quote with no hidden extras or nasty excess in the event of a problem. For small moves, removals companies are even more amenable to personalising the quote, so it's always worth asking if there's an alternative to the large-scale move price.
If you want to get a quick idea of the cost of a small move checkout Alliance Removal's small move price estimate form.
Time and trouble
Another thing to factor in is the extra time it takes to hire a van and do your removals yourself. From the additional time taken on moving day to pick up and return the hire vehicle, to time spent at the petrol station ensuring there's enough petrol in the vehicle to make the move, all of these things add to the time-scales you need to factor in on what's likely to be a busy enough day already.
The small removals service equivalent can offer much better use of your time. Instead of dashing out for a van pick up, you can continue any last-minute packing, confident that your small removals company will be arriving (complete with a van) ready to make a timely start. Likewise, once the move is completed, the company will drive away, leaving you with the time to unpack and settle, rather than having to rush out to return a van before a deadline which will possibly incur an extra charge if you miss it!
And your time isn't just important to you! Because a professional removal company is used to the routines and rigours of packing, transportation and unloading, they're likely to complete the task in a much more efficient and timely manner than is usually the case in a DIY move, where your volunteers are all trying to be 'helpful' at the same time and causing chaos!
Effort and energy
A deciding factor for many when it comes to value for money is the extra capacity (and muscle) that comes with hiring a small move removal service. No need to beg favours from family and friends to assist with lugging boxes and furniture, the removal company will always have enough professional staff on hand to complete the loading and unloading for you – invaluable for anyone who doesn't have the personal physical strength or enough family and friends living nearby to ask.
Is it worth it?
Finally, remember to consider your actual load. For the small load of a single but bulky item such as a sofa or fridge-freezer, it's easy to think that the DIY route will be a doddle … a van, a mate's help for an hour, what could go wrong? Unfortunately, this is just the scenario which usually ends up with the bulky item stuck fast in a doorway.
The alternative of hiring a removal company for a small move like this can be incredibly effective at removing the stress and struggle of trying to successfully get your new item into your home (or an old item out), without damage to the item or the property!