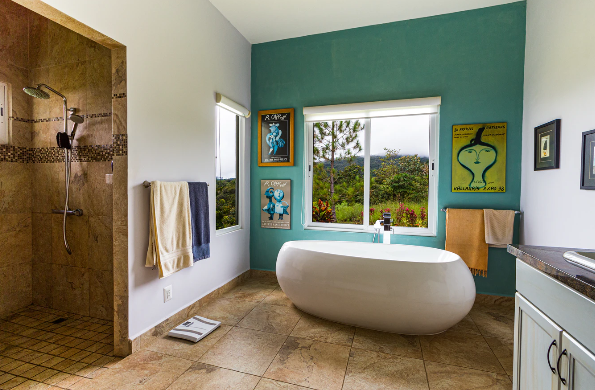 Among all the spaces and zones in your house, the bathroom can be one of the most dangerous ones, apart from the kitchen. Bathrooms are frequently used during the day, and so they need to be kept clean, and more importantly, safe—even more so if you have kids in your house that are always fidgeting around and are the least bothered to be careful. There are a few ways through which you can keep your bathroom, safe for your kids and the entire family. We'll be sharing some of them with you.
Use anti-slip flooring
Slippery floors are a big no-no around zones surrounded by water and moisture. Your bathroom should have a type of flooring that is non-slippery and non-glossy but textured and slightly rough. Choosing smaller tiles over larger ones can also mean more grout lines, which increases the grip of the feet on the floor. Using anti-skid strips for the most hazardous spots and the bottom of your tub will further prevent anyone from slipping and getting hurt. 
Always check the water temperature
Some water heaters, if excessively used, can cause the water temperature to rise. It is also possible if your heater is damaged. Keeping the temperature a bit lower than what is considered 'hot' can save your family members from being burned while taking showers. Children have more sensitive skin and thus require more attention. Avoid using water heaters completely during summer, which will also save a lot of energy. If it's absolutely necessary that you use the heater, you could also ask your plumber to fit an anti-scald valve or any other compatible device that stops the flow of water once it has reached a certain temperature.
Prevent shocks and electrocution
As mentioned above, bathrooms are zones in your house that retain the maximum moisture and thus could result in potential shocks or electrocution, which is life-threatening. To prevent this from happening, use safety covers to completely seal the electric outlets and have them fixed away from the showers and faucets if you are building a new house. GFCIs, also known as ground-fault circuit interrupters are devices fixed over the power outlets and used to prevent shocks in the bathrooms. 
Another important tip is not to use any electrical devices such as hair dryers or curling irons in the bathroom. If there is an absolute need, you should make sure that you have turned them off properly and stored them away from the reach of your children. Other bathroom appliances, such as water heaters, if installed in the bathroom, need to be rechecked. Never forget to turn them off and get them checked once in a while, especially when suspicion arises.
Use safely built bathroom stools
Toilet and shower stools are commonly in use nowadays, but not all of them are entirely safe to use. If they don't seem sturdy enough or don't have stubbed feet that give a good grip, do not use them. Your bathroom needs ideal shower stools that are light in weight yet have a powerful grip. They need to be adjustable, and most importantly, shouldn't give the scare of toppling over. You can find a number of ergonomically designed shower stools online, which not only increase the safety of your bathroom but also look like an elegant commodity.
Proper illumination in every corner
A well-lit bathroom can prevent multiple hazards such as saving yourself from tumbling over, stepping out of the tub more carefully, taking notice of any spilled water on the bathroom floor, and looking at where you are going. It is best to operate all the lights with one main switch placed just inside or outside the entrance, which will make it easier to access the bathroom during night time. 
No sharp corners
Sharp corners are something that both the kids and adults are careless of. Sharp corners of drain openers, basins, faucets, or walls in the bathrooms may result in multiple small and random bruises. Baby proofing the corners for your kids can also prevent the adults in your family from hurting themselves.
Childproofing
We talked about baby proofing and covering the sharp corners, but the kids in your family would be utterly curious when they see a bizarre object, and they'd start nosing around. This is why bathrooms in your house need to be made safer for your kids. Sharp objects such as razors or scissors in your bathroom drawers could hurt them if they decided to play with them. Childproofing your cabinets with locks could prevent them from opening the drawers and cabinets, and also protect their fingers from being smashed. Avoid keeping your medication or other unsafe objects in the bathroom, especially within reach of your kids. You can choose from a wide range of child safety locks to go with your bathroom.
Sidebars and walk-in tubs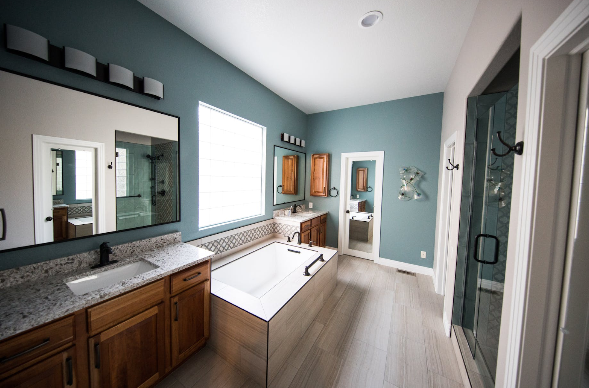 This feature can be added to your bathroom if you have any elderly people in the family. Sidebars can be attached to the walls adjacent to the tubs, in order to be easily reached. These are useful to older people, assisting them in getting out of the tub and walking toward the dry area. 
If the older family members have difficulty in standing for a long time, you can invest in a walk-in tub or shower. A walk-in tub would have a slit cut out, which would allow them to pass through and access the shower without having to step in and out of the tub. You can close the slit through a glass panel to avoid water spillage outside, further reducing the chances of slipping while getting out. Some designs also have a waterproof seat that can be used while showering, hence preventing falls and sustaining injuries. 
A few of these safety features would incur some expenses, but it is always better to invest in preventive measures than having to pay huge medical bills multiple times. Your family's well-being is priceless, so it's a good idea to consider revamping your bathroom to incorporate ultimate safety. Most of these tips can also provide it with a new and modern look, so it's really a win-win situation.