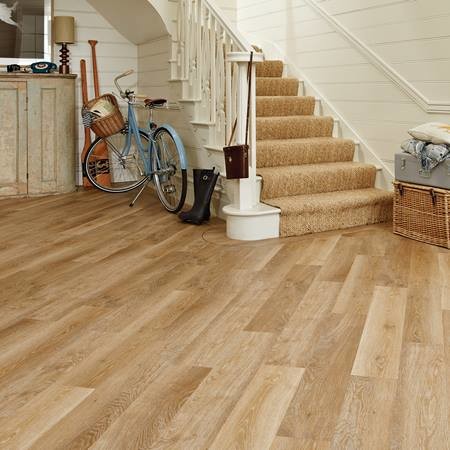 If there's one thing we know about Solid Wood Flooring it's that it can absolutely transform your home, but have you ever questioned the other benefits of it? In fact, have you ever questioned what it can do to your pocket when it comes to selling your property?
It's no lie that Solid Wood Flooring can be quite pricey, but trust us, it's worth it. Solid wood floors are a fantastic addition to any home, they can last for decades if cared for properly, so when it comes to purchasing it and feel like you're going over and beyond what you would normally spend.. Remember that this is an investment and in the long run it will work out much cheaper than a carpet that you would normally have to replace after 8-10 years.
Another wonderful quality about Solid Wood Flooring is the fact that it can be sanded and refinished numerous times (although we do advise checking with the manufacturer at the point of purchase), which is great if you have a busy home and it starts looking a bit worn. This means that even if you have enjoyed a number of years with your flooring, you can bring it back to its original state, or perhaps make it look even better than it did in the first instance!
It's difficult to predict the exact figure that wooden flooring can add to your property value, since it relies on a number of variables. However numerous experts have praised solid wood flooring and the effect that it has on the home, including renowned Location, Location, Location presenter Phil Spencer. In an article featured in the UK Telegraph, Phil mentioned how the longevity of solid wood floors really appeals to him when it comes to picking out homes for potential buyers, especially those with families.
Solid Wood Flooring and Tenants
So, now that we have the homeowners covered what about landlords and their tenants? How does solid wood flooring affect a rented property? Let's face it; if you're a landlord then naturally one of your biggest worries is your tenants damaging the property/features within the property.
We think that this attitude is why over the years there has been a massive decline in the installation of carpets in rented properties and an increase in solid/engineered wood flooring. The beauty of having this material in your home is mentioned previously, it is durable, meaning that if you are unlucky to have tenants who don't necessarily look after the property you can be assured that your flooring will be able to withstand it.
Should the unfortunate event happen where your floor is damaged, it is incredibly easy to restore it by yourself, which can help cut costs of A) having to splash out on a new floor and B) having to hire someone to repair/refit it.
From a tenant's point of view, wood flooring is a lot easier to maintain and clean than carpet and appears cleaner for longer. More often than not tenants are required to have their carpets professionally cleaned to adhere to rules/guidelines set by the landlord themselves, as you can imagine, this can be quite pricey for the tenant.
When the time does come to sell/rent the property, a prospective buyer or tenant will be focusing on the features of your home that will stay behind when your possessions are no longer in residence. Your flooring is of course one of the most influential of these elements, and by treating viewers to the wow-factor of solid wood flooring you can expect their imagination to run away with them as they picture their future home.