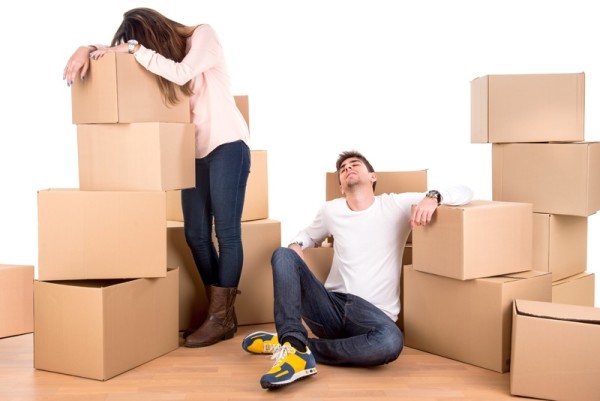 Whether you are moving within 50 miles or across the country, moving is stressful, time-consuming and expensive. Thankfully, there are ways to save money on your move and get organized. This way when you arrive at your new home you can unwind and unpack at your leisure.
Before hiring movers
Hopefully, you have at least several weeks to plan your move. If this is the case then the first thing you want to do is create a concrete plan for packing up your home. This means that you are going to need to go room by room, including the attic, basement and your garage and make a list of the large furnishings, appliances, tools and equipment you plan to take. Then you'll need to come up with an estimated number of boxes that you'll also need to hold your supplies.
Deciding whether to hire movers or drive the truck yourself
Once you have a list of the things you plan to bring it's time to make the big decision and ask yourself should I hire a moving company near me or rent a truck and drive it myself. There are pros and cons to each one. First, if it's all about saving money, driving a truck yourself is less expensive. However, just make sure, especially if you are traveling a long distance that you are up for the task. In addition to driving for hours, you'll also have to load it up and then unload it when you reach your new home. If you hire movers you scratch those two things off your to do list and just worry about the packing and unpacking.
Get organized
With just several weeks in front of you before the scheduled move date, there's no time to waste. Packing is a tedious and time-consuming task that most people would rather avoid. However, this is an area that you want to stay focused and remain organized. On the bright side, by emptying each room you are bound to find misplaced things that now you can pack up in the boxes for the room they belong. Since you will have to move the boxes to the rooms at your new destination try and avoid making them too heavy. This way most any member of the family can assist at the other end. Pack fragile items in bubble wrap. Or, if you want to save more money, wrap them up in towels, linens, and newspaper. Make sure that you seal the top and the bottom of each box so that the items remain secure during transport and that you identify the room and the contents of each box with a permanent black marker. Lastly, make sure that you pack up important papers separately in a small box and bring them with you.
Whether to keep your furniture or buy new pieces
Moving into a new home comes with many decisions, many of which derive from the cost involved. In the case of your furniture, it may sound less expensive to bring it along. However, of your furniture is a bit older or doesn't really fit in with the new environment, or simply is too big to fit correctly, then you may end up buying new pieces anyway and then you spent money you could have used in other ways. You need to decide if it's worth the cost to add it to your written estimate or whether it's best to sell it privately to a family member, friend or at a garage sale. In the end, you want to make the unloading of your furnishings easy.
Taking care of turning on your utilities, phone, the internet, and cable
Once you have your things just about ready for pickup it's time to contact the utility companies, cable services providers and the phone company to arrange for a date to turn them on. The best way to find the local providers is to contact the realtor you used to buy the home. They live in the area and generally know the best places with the best offers that will benefit you and your budget. Also, many companies offer more than one service and if you bundle them together you can save even more for loyalty.