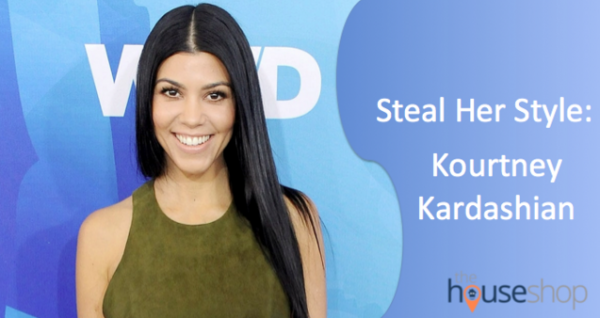 It's no secret to anyone that knows me that I love the Kardashians and Kourtney may actually be my favourite. One of the things I love about her interior design style. I can't watch an episode of the Kardashians without admiring her house (along with her lifestyle in general!).
My favourite thing about her style is that her home is practical (it has to be as a mother of three!) but everything seems to blend together so well.
She does bold textures and patters really well and puts together things I would never think of pairing to form a bold yet chic look. I especially love the use of a simple colour pallete as the simplicity of colours allows for mixtures of patterns to create a fun and interesting look that isn't too busy.
Recently, Architectural Digest wrote a piece about 87 items from Kourtney's home and this included a video of Kourtney and her designer Martyn Lawrence Bullard discussing some of their favourite pieces from her house (see video below).
I will be taking a few of these items and finding them for you on a budget so you can get Kourtney Kardashian's elegant style for a fraction of the price.
1) Silver Teapot, John Lewis, £109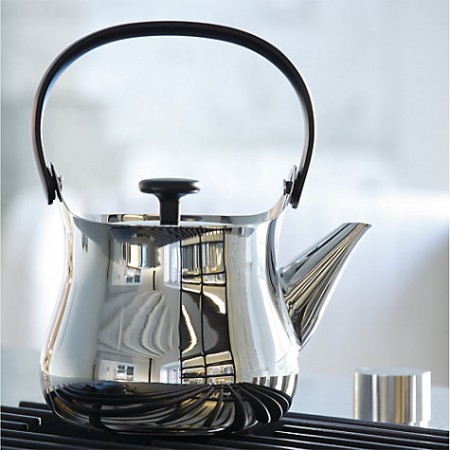 Source: John Lewis
Whilst this may not be an exact replica of Kourtney's teapot, the silver colour and the handle make it a pretty good match. This is fairly expensive at £109 but my guess is that its a lot cheaper than Kourtney's! I love the modern and shiny look of this teapot and the shape and style means it will be a great addition to any kitchen stovetop.
2) Wooden Salt and Pepper Pinch Bowl, Makemesomethingspecial, from £29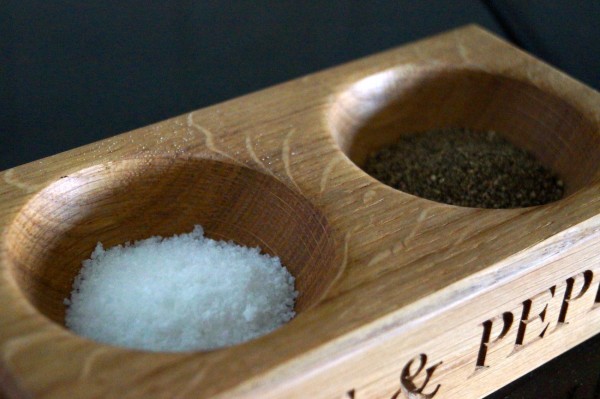 Source: Makemesomethingspecial
Kourtney has opted for two separate salt and pepper bowls but I think this one looks just as good. Using wooden items is an easy way to add some texture to the kitchen without being too overpowering. The pinch bowl above comes in a range of sizes and styles and can also be personalised so would actually be great as a gift too. It will add some spice to any kitchen!
3) White Serving Bowl, Crate and Barrel, £14.63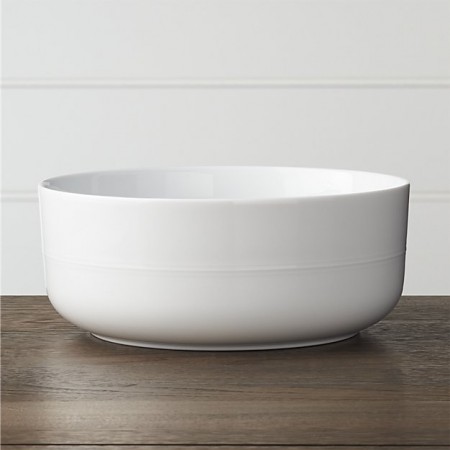 Source: CrateandBarrel
Kourtney uses plain bowls like the one above to display fruit and vegetables. It would look especially great with contrasting bright oranges or shiny apples. This bowl is brilliant as it is so simple it will work in any room in the house and is so practical. So ditch your old patterned fruit bowl and choose a simple and elegant white bowl like Kourtney.
4) Pendant Light, Nest, £191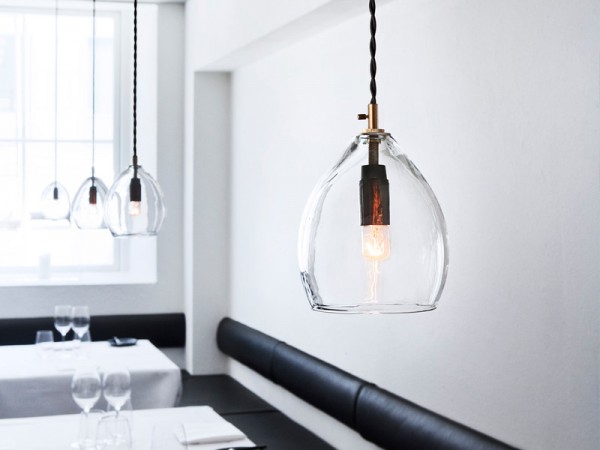 Source: Nest
I love all types of pendant lights. There is just something so elegant about them but they also have an edge; which I love. Kourtney uses hers throughout her kitchen but with these lights you can use as few or many as you want. I like the idea of having three above a worktop island or one directly above the kitchen table. Whichever way you use these lights they are sure to add style to any home.
5) Glass Cake/Display Stand, Notonthehighstreet, £38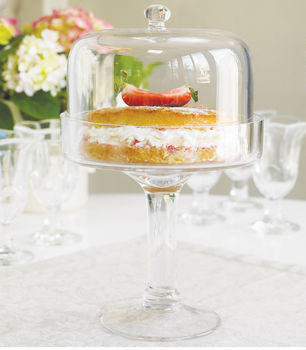 Source: Notonthehighstreet
Kourtney uses her glass stand to store marshmallows in a clean and simplistic way. Whilst I'm not sure I would go to the effort of getting a glass stand for marshmallows, I would definitely use it for cake or other sweet treats. The best thing about this item is that it gives you an excuse to always have cake in the house!
6) White Chaise Longue, Multiyork, £629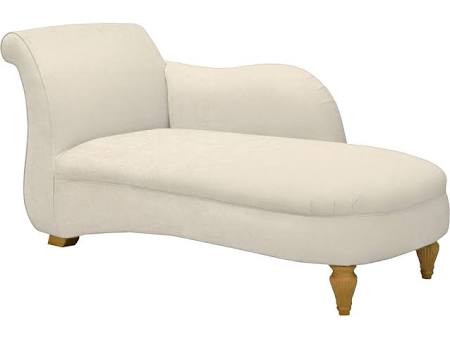 Source: Multiyork
Whilst this chaise longue may not exactly be a budget buy, I think it is probably a little bit cheaper than the sofas Kourtney has in her living room! She styles hers with some simple cushions and they fit perfectly into the simplistic living room. I think Chaise Longue's always add a touch of luxury to any house so this is the perfect way to steal the Kardashian's style.
7) Bronze Lamp, Pagazzi, £49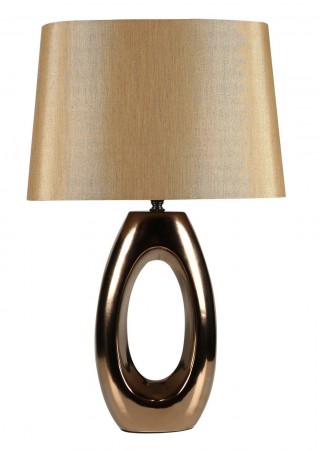 Source: Pagazzi
Kourtney uses two bronze ribbon detail lamps in her living room. Those lamps will set you back over £1000 each so this is the perfect style steal at only £49. The warm golden tones will bring elegance and warmth to any room. Although they look brilliant in Kourtney's living room, I think they would actually look even better in a neutral coloured bedroom.
8) White Planter, Wayfair, £159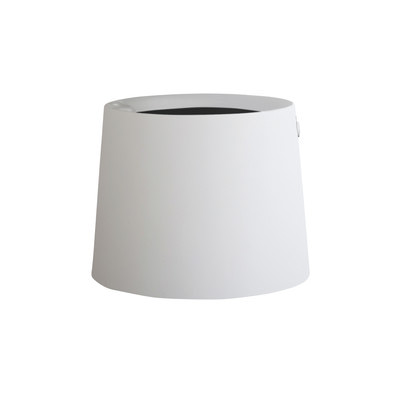 Source: Wayfair
Kourtney adds a touch of greenery to her living room with a huge potted plant in the corner (that actually looks the size of a small tree!). If you have enough room in your home you can add this planter to a spare corner of your house and copy her style. The contrast of the white planter with a green plant gives a fresh look.
9) Beige Tile Rug, House of Fraser, £55.20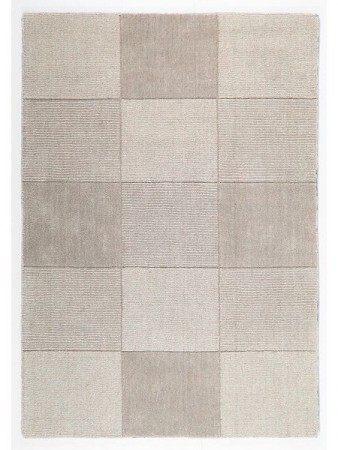 Source: HouseofFraser
Since Kourtney has a lot of accessories in her living room, I think the choice of a simple and toned down rug really ties in well. This rug is a pretty good match in terms of style but a steal in terms of price. This rug will fit in with most rooms and will add warmth both in terms of temperature and in colour tone.
10) Aubrey Hepburn Photo, B&Q, £15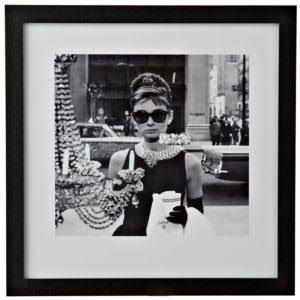 Source: B&Q
Black and white photos seem to feature a few times in Kourtney's home and I think it ties into the minimalist style she's gone for. You can either choose a celebrity such as in the Aubrey Hepburn picture above or you can print your own photos in black and white and frame them for a more personal touch.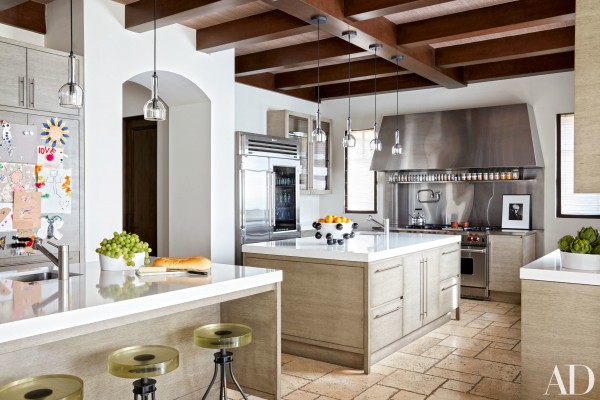 Source: Architectural Digest
That was my run down of how you can copy Kourtney Kardashians style on a fraction of the budget. I think the main factors that make Kourtney's home décor style so great are practicality and simplicity.  She keeps things simple but has interesting pieces throughout that give each section of her house a slightly different vibe. She also mixes minimal colours tones with different textures and patters such as the rug and the game boxes to give the rooms an edge.