It's that glorious time of the year again and somehow England has actually remembered how summer works – ignoring the recent thunderstorms of course. But lets not shout and cheer too loudly incase we scare the sunshine away. Instead, why not get out the barbecue and grill up some tasty summer time treats? Here are some recipes for a great get-together with friends.
Mains
Homemade burgers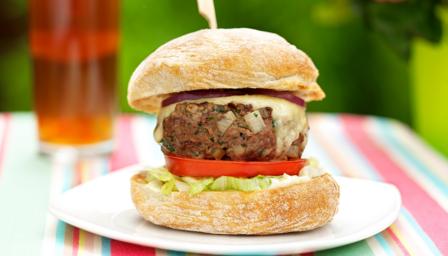 Sure, you can buy them from any supermarket but part of the fun when having a BBQ is frying up your own creations. Homemade beef burgers are a cinch to make and are much healthier than shop bought. All you need is:
540g minced beef
25g chopped coriander
1 onion, finely chopped
1 tbsp Dijon mustard
1 egg yolk
1 tbsp olive oil
Salt and pepper
Simply chuck all the ingredients into a large mixing bowl and stir until it's all combined. Then, using your hands, separate the mixture into 4 even patties, or create smaller ones if you're making sliders. Cook them for 10-15 minutes on the barbecue and top with all your favourites in a toasted bun.
Spicy Bean Burgers
For the vegetarians out there here is a burger that is 100% meat-free but still full of flavour.
800g tinned kidney beans or pinto beans, rinsed and drained
2 tbsp salsa
100g bread crumbs
bunch fresh coriander
2-4 tsp mild chilli powder (add to taste)
1 medium egg
Blitz the beans in a food processor or mash them up in a large bowl. Add the salsa, bread crumbs, chilli powder and egg and mix together. Divide into about 8 individual patties and grill for 5 minutes either side until golden and crispy.
Chicken Tikka Skewers
These tikka skewers will add a touch of warmth to your bbq and a lot of flavour. Heres what you'll need:
150g pot low-fat natural yogurt
2 tbsp hot curry paste
4 boneless, skinless chicken breasts, cubed
250g pack cherry tomatoes
Mix the yogurt and curry paste together in a bowl and marinate the chicken pieces for one hour. Alternate threading the chicken pieces and tomatoes onto the skewers. Cook on the grill for 15-20 minutes until the chicken is cooked all the way through. You can try doing more with this recipe by adding slices of peppers and courgettes to the skewers. For a veggie alternative, omit the meat or use your preferred meat substitute.
Sides
Sweet Potato Salad
Image from: www.bbcgoodfood.com
The key to any great salad, potato or otherwise, is a good dressing and they couldn't be easier to make. For this twist on the classic potato salad, all you need is:
1.2 kg sweet potatoes, peeled and chopped
1 tbsp olive oil
2 shallots, finely chopped
4 spring onions, finely sliced
Small bunch chives
5 tbsp sherry vinegar
2 tbsp extra-virgin olive oil
2 tbsp honey
Heat the oven to 200C/180C fan. Toss the sweet potatoes in the tbsp of olive oil and season. Roast for 30-35 minutes until golden and then cool. Mix together the remaining ingredients for the dressing and gently toss the potato chunks through. Serve chilled.
Mexican Tomato Salsa
No BBQ is complete without a salsa to accompany those burgers and hot dogs so heres a really simple recipe. All you need is:
4 large tomatoes, skinned and deseeded
1 fresh green chilli, finely chopped
medium red onion, finely chopped
2 heaped tbsp chopped coriander
Juice 1 lime
Salt and pepper
To start, chop the tomato into inch cubes and place in a bowl. Throw in the chilli, onion, coriander, lime juice and seasoning. Mix it all together and chill until needed.
Desserts
Eton Mess
What better way to celebrate the British summer than to indulge in a classic British summer time dessert? Eton Mess could not be easier to make and, as the name suggests, it doesn't involve any time-consuming decoration. Here's what you'll need:
500g strawberries, hulled and chopped
2 tsp caster sugar
2 tsp pomegranate juice (optional)
500ml whipping cream
4 small meringue nests
Put the chopped strawberries in a bowl, add the sugar and pomegranate juice, and leave to marinate. Whip the cream in a large serving bowl until it forms stiff peaks. Roughly crumble in the meringue nests, keeping chunks for texture and ladle in the strawberries. Fold it all together, retaining some of the strawberry mix to decorate the top.
Grilled Banana Boats
Ripe bananas
Chocolate Chips
Miniature marshmallows
Chopped pecans
Make a length wise cut along the inside curve of each banana without going all the way through. Open the slit to make a pocket and fill each one with some chocolate chips, marshmallows and crushed pecans. Loosely wrap the bananas in foil, place them on the grill and cook for about 8-10 minutes until the marshmallows soften.
For more great recipe ideas, checkout the Guardian's 10 best barbecue recipes.
For tips on keeping your home cool this summer take a look at our blog.