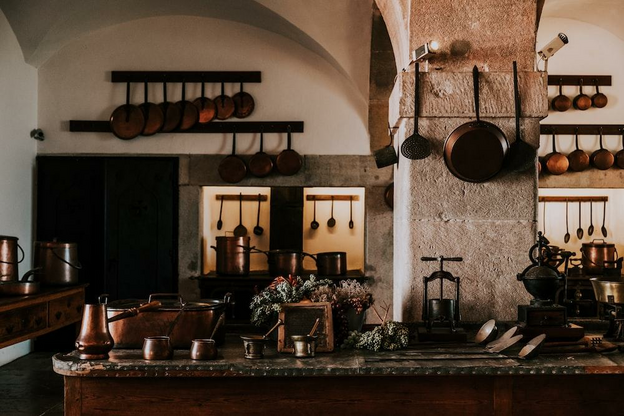 Having a vintage and dreamy kitchen is every person's dream. When entering such a luxurious room, you feel like royalty while spreading your favourite cream cheese on toast. However, maintaining and cleaning a vintage kitchen can be challenging since the appliances are not that functional and the design is complicated, hindering the cleaning process.
But if you saw what Cameron Diaz's kitchen looks like, you may want to redecorate yours in the same greenish tones with gold silverware and unlacquered brass sink fittings. What's best about this type of design is that you can use your kitchen as a room for spending time with your guests or just chilling, watching your favourite show.
So, let's get to the designs!
Vintage wallpapers
You may remember those old, rusty and coloured wallpapers from your grandparent's house. They are trending right now, but the design is quite different. Today's products for applying vintage wallpapers allow you to customise them according to your liking and use them more efficiently to ensure they're long-lasting.
The wallpapers we're talking about have a damask pattern that blends perfectly with the antique colours. Some of the most known (and accessible) wallpaper designs you can find online are:
Green and gold diamond print. The muted colours of this model aren't too flashy, while the soft green and colour complement the natural look of the wallpaper;
Feminine floral pattern. If you're into bolder colours with a floral print, this design is not too outdated but still maintains the vintage vibe;
Victorian-inspired stripes. This classic, timeless design is what will make your kitchen look luxurious. The pale colours and the traditional flower designs will be perfect for a rustic or traditional kitchen;
Black and white muted floral. The gentle tones of this wallpaper will go well with a minimalistic design since it's pretty simplistic;
Classic woodland animal print. On the other hand, for a maximalist's kitchen, this fun and complex structure is what fits the whole arrangement;
Shaker kitchen doors
The shaker style is known for simplicity and practicability. It is one of the oldest designs for kitchens that helped families manage the usual kitchen clutter in a better way. A shaker kitchen always has cabinets with squared edges, minimal detailing and earth tones. But when it comes to shaker kitchen doors, you can find more designs that are just something traditional-looking.
In a modern shaker kitchen, you'll notice sage green and light grey kitchen doors that look clean and stylish, even if designed in a minimalistic way. This modern twist makes the shaker design timeless since it can be adopted by both minimalists (who need to own less) and maximalists (who want complex designs and many appliances around the kitchen). What's best about today's shaker kitchen doors is their durability. No matter the price and the design, the materials they're made, such as MDF, will help any house owner have a long-lasting and beautiful home.
Plate racks
A plate rack is best for holding your utensils rather than placing them into endless drawers. So, it looks vintage and calm and allows you to see all your tableware in one place and put it right back somewhere accessible.
Vintage plate racks are usually made of wood (oak, walnut, pine). They might need special care since the materials are susceptible to cuts and other imperfections, despite the wood's durability.
This happens because such pieces are found only in outlets and online vintage shops. However, you may discover new plate racks with the same vibe but different from old ones.
Remember that vintage furniture needs to be polished with wax to bring out the colour and provide protection. At the same time, a vintage plate rack needs to be cleaned with a soft, damp cloth, and when you want to clean it more thoroughly, use only a solution of vinegar diluted in water.
Stained Glass Windows
We're so used to seeing stained glass only in churches that we wouldn't believe they'd make an excellent design in our homes. Despite being challenging to clean and maintain, they're worth having since the light that'll pass through them will make your kitchen emanate an expensive atmospheric diffusion that will impress anyone visiting you.
Again, such a piece of art must be cleaned a certain way. If you want the glass to last long, you need to use a non-toxic cleaner and avoid products with alcohol and ammonia since they can damage the window. The best product would be a foam cleaning spray and gently wipe it with a microfiber towel to ensure you remove all the residue without harming the glass.
A vintage hutch
Instead of a boring built-in cabinet, you could install a vintage hitch for your furniture. Besides its practicability, it can be used as decoration too, since some models have glass doors (you can even change them into stained ones). However, there are some aspects you need to consider when looking for such a piece of furniture.
First, decide on the purpose of the hutch. Do you want to purchase one as a decorative piece, or will you use it to organise your tableware too? Then, analyse the value of the material used in the final product because if you're not paying attention to this detail, you might overpay for an item that might not be worth it. Therefore, you should look for antique stores with all the details regarding the hitch you need since they're professionals. Finally, make sure you have all the required space since such pieces tend to be bigger than the modern, regular ones.
Final thoughts
Decorating your kitchen in a vintage way, with elegant furniture, cutlery, or appliances, is one of the most fun things to do for your house. Still, you must be aware that such pieces require special care and sometimes reconditioning, so you must be prepared for this responsibility.
Ref: 3135.27363