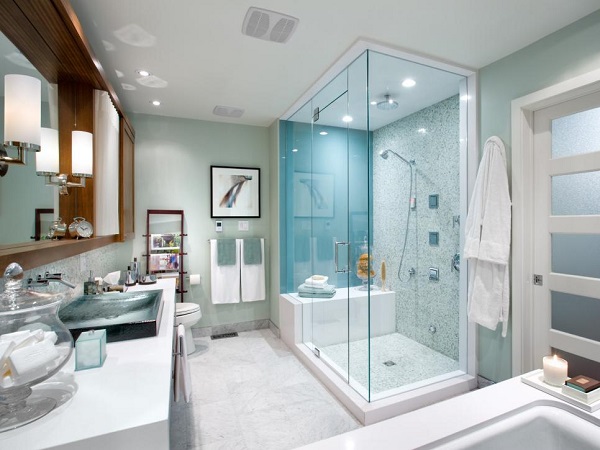 When it's time for bathroom renovations, there is usually some excitement in the air. The excitement stems from knowing that you can now finally spruce up the space to your standards as well as knowing that you are adding to the value of your property. However, the process is rarely straightforward as there are several decisions that must be made. What should you do about those worn out walls? Should you rip up the current flooring material for something more modern or maintain status quo?  Here are super tips you can work with.
Shower
Changing the shower system can significantly improve the experience in your bathroom.  Spa jets, walk-shower or a tub are some considerations you have to make but it should ultimately come down to what works for you.  "If you have children sharing the bathroom, it makes sense to have a bathtub" says Tony Cavallaro at Traditional Bathrooms Bathroom renovation specialists. "If you want a luxurious appeal, then you should consider installing a walk in glass enclosed shower"
Decor
When settling on the décor for your bathroom, you need to go with a specific theme. Do not combine elements as it would take away rather than add to the overall appearance.  Top options to consider are minimalist themes, beach themes (with pebbles on the bath floor), a wooden theme (flooring doesn't have to be wood) and a contemporary theme. If you need motivations before settling on an option, a quick search on Pinterest and similar social media sites for designs will nudge you firmly to one direction.
Wall
Regardless of how great the flooring and fittings look, old and defaced bathroom walls will always emit an air of uncleanliness for anyone that comes calling.  Chipping paint, crayons, dents and so on are perfect reasons to replace the bathroom dry walls. Depending on the architecture of your home, you may be able to remove the drywall to expose the framework of the bathroom. This will allow you to effect other major changes like changing the bathroom layout for more space.
Painting
When the wall has been sorted, you need to paint it properly. Using paint that is water-resistant is non-negotiable as it is the only way to avoid streaky water lines a few weeks after your renovation. On this point, Tony Cavallaro at Traditional Bathrooms says "eggshell finish in minimum sheen and semi-gloss should be top on your list for bathroom painting that adds value, because they are easy to clean."
If you are looking to rent or sell the property, stay as neutral and modern as possible with your painting.
Toilet
What is the privacy like when on the toilet? If it has always been an issue (with people able to see you from the outside), you can have the toilet moved. It is also a good idea to upgrade your toilet if your current one isn't dual flush and efficient.
Bathroom renovations look costly and time consuming but when done properly, you can increase overall comfort and improve experience while adding value to your home.