1. This guy has no intention of moving out. Despite the huge parking space he may benefit from the surrounding area, he may find living here a little lonely.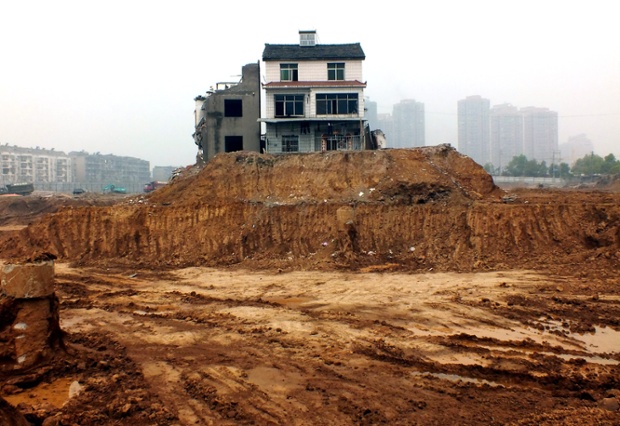 Image From: http://static.guim.co.uk
2. This owner must have confused reality with fantasy. Unless this fancy
house
belongs to Ms Hello Kitty herself.
Image From: http://blog.metrobrokers.com
3. Are you addicted to shoes? Why should you only wear them when you can also live inside of them? Make certain, though, to spray plenty of air freshener before welcoming guests.
Image From: http://iblogcolumbus.files.wordpress.com
4. The perfect house for those whose world has been turned upside down. Your ideal construction if you're fed up of walking on the
floor
but feel to walk on the ceiling, defeating gravity.
Image From: http://www.963jackfm.com
5. Hail Caesar! Who said the Roman Empire ceased to exist in the 5th Century? Characterised by Roman-style columns on the outside, there might still be all members of the Senate inside the house willing to prepare dinner for you after a day of work.
Image From: http://asset2.itsnicethat.com
6. Minimalist is definitely not their thing. These owners have a great imagination and, perhaps, still live the 70's hippie dream. Hippie is cool, but we're 40 years later…
Image From: http://1.bp.blogspot.com
7. Have we just discovered the Smurfs hidden village? Just smurf a bit of colour around, and you are smurfing in one of the most happy
villages
where everything is just…smurfy!
Image From: https://www.woonservicedenbosch.nl
8. Why have a house which looks the same on the whole, when you can actually have three different styles and make your wife and daughter happy?
Image From: http://www.openingceremony.us
9. You might not impress your friends with this house, but at least you have a roof above your head at a low cost. Mind the wind, though. You may loose the roof if you didn't nail it properly.
Image From: http://www.forfur.com
10. In need of a spirit level? B&Q might be the right place to get one.
Image From: http://freacpics.ru