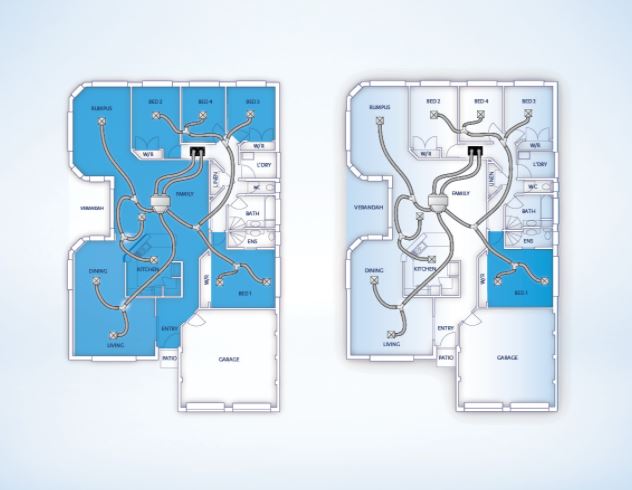 Choosing between a ducted and conventional system is perhaps the biggest question you'll face while shopping for an air conditioner. While each has its fair share of pros and cons, a ducted air conditioning system almost always comes out as a better choice due to multiple reasons. Read on to find out what those reasons are and why it makes sense to invest in a ducted air conditioner over a conventional one.
But before we get into the advantages of ducted air conditioning, let's talk briefly about what it is.
What is ducted air conditioning?
Ducted air conditioners are discreet systems that work by distributing cool air to multiple rooms through a series of concealed ducts that run from a central compressor unit, which is usually installed in the roof space of your property. With such systems, you have the ease of cooling the entire house, while you can control the temperature of each room – called zoning — with the use of a thermostat.
Now with the basics out of the way, let's dive into the benefits of ducted air conditioning systems.
They offer uniform cooling everywhere in the house
A conventional split air conditioner cools the air in a single room or zone where it is installed, so only those in the vicinity of the unit can feel its effect. Moreover, in order to get the most out of a conventional system, the room must be closed off. This defeats the purpose in houses with an open plan.
Conversely, duct air conditioners uniformly cool your entire home, so you're not restricted to any specific zone when you want to enjoy a cool, comfortable environment in your living space. This is a great solution for Aussie homes where weather fluctuations can often be a big issue.
More control over the temperature in every zone
Ducted air conditioners allow you to control the temperature of every nook and space from anywhere you choose. So you can crank up or down the temperature in your bedroom while sitting in your living room.
The ducted air conditioning unit's control can be split into multiple zones and each of the zones can be manipulated from a single controller.
Much ducted air conditioner these days are designed with a smart sensing technology where the controller automatically adjusts the cooling by sensing the presence or absence of a person in that particular zone. This greatly cuts down your electricity bill.
Lessen your energy consumption
The energy consumption that comes from using a ducted air conditioner is way less than the all the split air conditioners you'd have to install to cool all the areas of your home. Besides the point about smart sensors that we mentioned earlier, ducted systems run on 'Reverse Cycle' which works to cool as well as increase the temperature, so it's two systems in one, thus reduces your energy consumption.
Seamless with your aesthetics
Unlike a split air conditioner unit that's visible in your room and can stick out like a sore thumb, interrupting its aesthetic flow, ducted air conditioning units are hidden from sight except for the duct at the ceiling, so they mesh nicely with your décor. Also, ducted units are comparatively less noisy than conventional units, so they cause less disturbance to the residents.
More cost-effective
Installing a ducted system might be more expensive upfront than installing a single split unit. But for a large home with multiple rooms, the installing individual split A/Cs will turn out to be costlier. The maintenance and servicing costs of multiple units will also be higher. Ducted air conditioning is not only cheaper to install and maintain in these cases, but also add value to your property.
Summing it up…
As you can see, there are numerous reasons for choosing a ducted air conditioning system over a conventional split one.
If you're looking for a complete air conditioning system that will keep your entire house cool and comfortable, is easier on your pocket as well as maintenance, blends in with your home's décor, and raises the value of your home, then ducted air conditioning is the one you should go for.
Ref number: THSI-2040