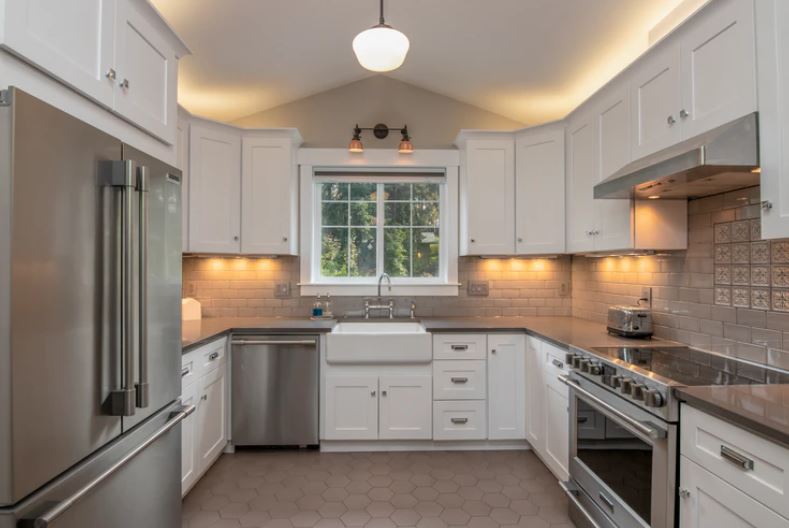 Homeowners are investing more in their kitchens now that we're spending more time cooking meals at home. According to recent data, kitchen remodels saw
 a 40 per cent jump in demand
 in 2020 compared to previous years. With the kitchen being re-established as the centre of family life, it's no wonder why many people are choosing to do a complete overhaul of their cooking spaces, or are doing a mini refresh by swapping out their kitchen appliances. If you're planning 
to makeover your kitchen
, here are the best appliance trends to take your cooking space to the next level.
Smart refrigerators
Getting a new refrigerator is one of the easiest ways to give your kitchen a brand new look. This appliance comes in many colours and sizes, but in recent years, appliance makers have also started churning out 
refrigerators with smart technology
, that enables you to take a peek at the contents of your fridge even while you're away from home using a smartphone and internal cameras. Some models even have a screen integrated right in front so you can create a shopping list, find recipes, and watch TV series or YouTube cooking tutorials while you're cooking.
Since it's one of the hardest working appliances in the home, it's advisable to take your time and do your research when 
selecting a fridge for the kitchen
. First, choose the right size based on the size of your family. If you live with a partner, a 13 cubic feet refrigerator can keep your food properly organized. Meanwhile, if you have three to four family members, a 13 to 18 cubic feet model should fit your needs. You should also consider getting a child-friendly unit that has lockable compartments if you have little kids living with you, and don't forget to choose a style and colour that would go well with your kitchen design.
Multi-purpose cooking appliances
Cooking ranges are getting upgraded to include multi-purpose features to make healthy cooking easier. Nowadays, there are ranges that have cooktops with gas, sous vide, and induction cooking features, as well as a regular and steam oven below. Some new gas range hood models also have eco-friendly and health upgrades such as a built-in air purifier, as well as hoods that can accommodate a small container garden with herbs, small indoor flowering plants, and vegetables.
Meanwhile, small multi-use appliances can help to prevent clutter as they do the work of two or more devices. The new generation of waffle makers not only allows you to make perfectly crisp waffles with fluffy insides, but you can also make paninis and cook eggs with them. For those who don't have a lot of space in their kitchen, an electric or smart pressure cooker can replace up to six of your appliances. Use it to make everything from rice, hearty soups, stews, pot roast, hard-boiled eggs, or cheesecake.
Voice control devices
Voice integration with connected appliances can help improve your time spent in the kitchen as it can simplify meal prep and cooking. Consider swapping out your old microwave with one that connects to Amazon Alexa so you can control it with your voice. For those who love drinking coffee but hate getting out of bed to make it first thing in the morning, there are smart coffee makers that you can connect to Alexa or Echo so all you have to say is "Alexa, make me a coffee" and you can have a hot, freshly brewed pot of your favourite beverage even before you get out of your bedroom. If you're a tea drinker, you can add a voice-activated electric kettle to your kitchen so you'll always have hot water whenever you need it. To add more voice-activated features to your kitchen, why not install a voice-controlled light bulb in your cooking space? Some light bulb models can recognise voice commands from up to 20 feet away, making them highly useful for elderly adults or those with mobility challenges.
Touch controls
Another kitchen appliance feature that is sure to become popular in the coming months is the touch control function for major appliances. Cooking ranges will look sleeker as knobs will be replaced with a touch control panel that allows you to control the heat or intensity of the flame with a tap or swipe of a finger. Other appliances that have touch control features include smart toasters, which has smart cooking sensors to perfectly toast bread, waffles, bagels, and pastries to your liking. Wi-Fi air fryers have also integrated this feature so you can control them without having to be in the room.
Meanwhile, having a touch-on, the touch-off faucet allows you to activate your faucet with the touch of your wrist to avoid cross-contamination. Pair it with an automatic touchless soap dispenser to get clean hands without having to touch a bar of soap or a soap bottle– simply place your hands beneath the sensor, and the gadget will dispense the proper amount of soap for you. Including these items in your home will prevent the spread of bacteria in your kitchen and will help to keep your family healthy.
Modernise your kitchen with these appliance trends to improve your space's aesthetics and make it more functional. Do your research to know which appliance models and styles will suit your lifestyle and budget the most so you'll enjoy spending more time preparing and eating meals at home.
Ref number: THSI-2249