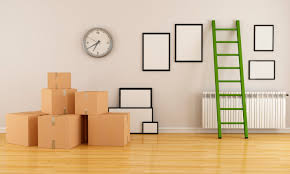 Moving on a budget is a challenge… Challenge accepted. There is no denying the fact that moving is a pricey affair and certain costs are unavoidable but, if you're shrewd enough, there are always opportunities to trim the fat. In a world where it costs 5p for a carrier bag and, in some underground toilets, 20p for the privilege of relieving ourselves, saving pennies wherever possible is about survival and principle. It's like a hobby, a thrill-seeking sport… You know you get that underlying, quiet sense of success and achievement when you find a bargain online or when the self-checkout malfunctions and spits out an extra fiver. Saving money on the cost of moving house is all about thinking ahead and thinking smart.
Hiring a professional mover is often viewed as an unnecessary cost but if that's what you're thinking then, think again. Moving house is usually listed as one of the most stressful times in a person's life… Well, this opinion tends to come from those that attempt to move without help. Removal companies are pros and they make house removals look easy. The cost of a removal company is, of course, subject to a tonne of variables. The size of your current home, the size of your new home, the volume of your belongings, the package you choose… packing materials, packing services, disassembling, unpacking yadda etc. etc.
Tips for Cutting Removal Company Costs:
1) Compare Removal Company Costs
Anyone looking to save money on any service these days will do well to shop around. It would be daft to just go with the first removal company you come across. Price-comparison is key and when you compare the cost with Compare my Move, you will get up to 6 competitive quotes. The removal companies want the work so they will be looking to outbid one another.
2) Declutter
A removal company will usually conduct a free home survey to assess your needs and requirements. This final cost will depend on how much stuff you have so…. Get rid of it. Do you really need the old Steps albums and the broken bicycle? Nope. Why pay more to move things you don't use or need? A declutter is an absolute must before a move and if you are looking to save money then a cut-throat approach is needed. Try the 6-month rule. If you haven't used it in 6 months then toss it… or sell it, but whatever you do, don't let it make it on to that removal truck.
3) Book Early
As with most things, booking in advance can save you a shiny penny. Removal companies do book up so thinking ahead is always good. If you get booked up in plenty of time you may save a little off the cost and have all that time to plan and stay organised which decreases your risk of running into last minute, unexpected costs.
4) Move Outside Peak Time
Just like it will cost you mega bucks to go to Disney World in the school holidays, removal companies have been known to charge more during peak removal times. The summer is a busy time for home movers. It often makes sense to move in the school holidays as families with children will be mindful of the disruption in term time and also, people have a worry of moving in the rain so they tend to wait for summer… But really, in this country, there's no accounting for the weather…. You could move in the height of summer and the odds are, you will still get rained on. Weekends are also busy for moving… If you can book the time off work and aim for a weekday move, you might save that smidge of money again…. It all counts.
5) DIY Packing
Professional moving companies offer part or full packing services. These are great, they really are life savers but naturally, they will add to the cost of your removal. If you feel like you can do all or at least most of the packing yourself then you will certainly save a bob or two.
6) Recruit Friends and Family
Moving home is something that requires help. Whether you will be budgeting for a full packing and moving service from the removal company or if you are going to be doing the packing yourself… It's not a one man/woman job. It'll be time to recruit your friends and family. Remember that time you took your Mum shopping or when you picked up your mate when his car broke down?…. Time to call in those favours.
7) Free Boxes
If you opt for packing services then the removal company will take care of the materials. You can sometimes just pay a little extra for the packing materials from the company but still pack yourself… but there will still be a charge. If you want to spend zero quid on the packing then you should aim to use all second hand and free packing boxes. Get onto forums and Facebook groups. Often, someone in your community will have recently moved and have a load of boxes they want rid of, and call up local supermarkets and warehouses. It will take some running around collecting all the boxes but it's worth it if you save some pocket money.
8) Pack Smart
Don't just rely on cardboard boxes, you have plenty laying around the house that can be used as a makeshift box or receptacle for moving day. Laundry baskets, rubbish bins, suitcases. Anything that can hold items should be filled. Another great tip is to make use of what you have in terms of padding. Don't worry about getting hold of tonnes of paper, bubble wrap and packing blankets, use linen, towels and clothes. This is a great way to save on the cost of packing materials.
Extra Money Saving Tips – Moving House
OK, so we have established that a removal company is a must. This article may be all about saving you money but although it's easy to advise you to do the whole thing without a removal company to save money… that would be counterproductive. The amount of damage that occurs when people move house themselves is more of a hassle than the initial fee of a professional mover. Think about how many things could be broken if not moved correctly, not handled properly, not loaded into the van properly. Also, think about all the marks on the walls where you've been trying to 'PIVOT' the sofa around the stairs or bashed the dining table into a doorframe. It's just not worth it. Despite the unavoidable costs of using a removal company, agency fees and the other inevitabilities that come with a relocation, there are some clever ways to save money when moving house:
1) Get Intel from Previous Owners
Moving house is a great way to turn over a new leaf, so it's a good idea to think about how you can start saving money in your new place from the get go. Glean some info off the previous tenants of your new house before they leave so you can be savvy with your savings. Make sure you know where the stop cock and the gas and electricity meters are, find out who currently supplies the energy, broadband and phone line. It's also worth knowing if they have any warranties on fitted electrical appliances or even leftover paint that matches the walls.
2) Redirect and Register
Change your address in good time before you move. You'll want to let the bank and utility companies know where you're going so you're not stunned and devastated by a backdated bill in a few months. Tell the Local Authority too because you will need to register to pay council tax… You can't put it off because the buggers will backdate so you're only delaying the inevitable. It's worth considering redirecting your mail so you don't forget about any bills. This could be considered an unnecessary cost so it just depends on how confident you are that you've changed your address on everything that matters. Really, you're weighing up the cost of the redirect with the potential cost of any missed bills and the risk of damaging your credit record. Registering to vote will boost your credit score too so remember to do this at the new digs.
3) Free Furniture
Money may be tight after you've moved. Check out local community pages, Facebook groups and sites like Gumtree, Freecycle and Freegle. You'd be amazed what people are giving away for free… Just for the convenience of getting it shifted for nothing.
4) Change Energy Suppliers
Shop around. Don't just stick to whatever energy supplier the previous owners were with. For all you know, they were getting ripped off. It's always good to do a bit of a price comparison and see what deal you can get.
5) Free Insulation
Did you know that, depending on your circumstances, you might be entitled to up to £300 in free insulation at your new house saving you loads on your central heating? You can call the energy saving trust to find out what the criteria are.
6) Cash in on Spare Room
If you want to make some money back after your move, you could think about renting out your spare room. This isn't for everyone but if it works for you, it could be worth considering.
7) Negotiate Fees
Moving house means paying out a lot of money to a lot of different people. It's time to be precious about your pennies. Don't just accept all costs… negotiate, look for wiggle room and opportunities to save. Conveyancers, agents, movers, it's time to haggle like you're Del Boy!
8) Cut Off
If your billing schedule doesn't match up nicely with the date you will be moving then it's worth considering cutting off things like Wi-Fi, satellite or cable TV and your landline early. It will mean you go the last week or two without your Netflix but surely that's better than paying an extra month of bills at the old place as well as at your new place.
So, there you have it. Moving is a pricey game but if you're clever, you can do it on a budget and that shouldn't mean surviving on packet noodles and tap water… Although, that could be an option!…. Good Luck.