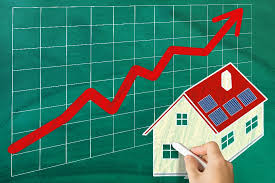 While there is no doubt that the housing market in many parts of Canada remains robust, things are changing. That has some potential homeowners wondering if they will find themselves left in the cold. In fact, the activity during the first quarter of 2017 indicates that the opposite will take place. If you have some credit issues and think that the chance to buy a home has passed you buy, think again. Here is some information about what is happening in the market right now.
The Number of Listed Homes is Shifting
In some areas, the number of homes that are listed and stay available for longer is shifting. Overall, the average number of listings in the Kitchener area March 2017 was slightly over the same period in 2016. However, the number of homes still actively listed at the end of March was lower.
What is happening is that homes are being purchased sooner rather than later. The demand in the area has also driven up prices. Even so, homes in Kitchener and similar communities remain more affordable than their counterparts in Toronto.  Even if your credit is not the best, you could still find yourself able to obtain financing for a condo, semi-detached home, or some other type of residence.
The Impact of the 15% Tax
During 2016, a 15% tax on internationals who were purchasing real estate in Canada was imposed in Ottawa. One of the goals of the tax was to slow the impact in terms of price and availability that this activity was having. It seems to be paying off. Listings are settling into different pattern in terms of volume. Prices are also not rising as quickly as before.
This has helped those who would rely on a poor credit mortgage Ottawa to realize the dream of becoming homeowners. With prices remaining steadier, there is more motivation to check those listings and see what sort of homes are available. The fact that the tax would not apply to citizens also helps to allow those with less than perfect credit to compete in a market that was beginning to shut them out.
Seeking Properties in Outlying Areas
One of the factors that is driving the market changes in area like Kitchener and Waterloo is Toronto homeowners selling their properties and moving to other cities and towns in the GTA. Some of those buyers are able to purchase homes outright using the funds generated by selling their homes in Toronto.
To what degree this will impact first-time buyers who don't have perfect credit remains to be seen. At present, obtaining a poor credit mortgage Kitchener is still viable. There are those who recommend moving forward with a purchase now, continue working on increasing the credit score, and consider the idea of refinancing at a later date.
While the market is changing, don't assume there is no way for you to become a homeowner. Check what is available in the area where you want to live. Talk with lenders who have plans suitable for people who have some past credit issues. Now could be the perfect time to buy a residential property and turn that house into a real home.