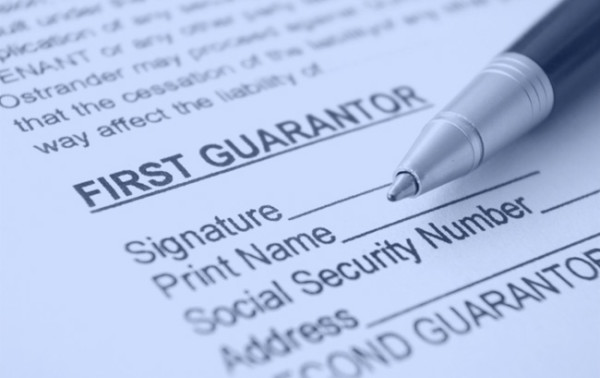 So, your relative, friend or business associate has asked you to be a guarantor. Naturally, you want to help, but it is important you understand fully what it is you are taking on. Being a guarantor is a big responsibility and you need to know the implications before you commit.
Agree to be a guarantor and you will be signing up to take on the liability of someone else's debt. It means if the person you are guarantor for can't pay, you will be responsible for making the loan payments or meeting the contractual obligations.
Before you sign on the dotted line, here are the most important things you need to know about being a guarantor.
What is a guarantor?
A guarantor is a third party (such as a close friend or relative) who agrees to pay a loan or credit contract if the borrower can't pay it. A lender or landlord may ask a person for a guarantor if they are concerned about that person's ability to pay back the loan or keep up with payments on the tenancy or credit agreement.
What types of situations require a guarantor?
It's a misconception that guarantors are only required for certain types of personal loan. There are many different situations where a guarantor may be required. Guarantors can be a requirement in certain situations for tenancy agreements, mortgages or business loans and many other forms of credit contract, such as mobile phone contracts and car finance agreements.
Any business offering credit may ask for a guarantor in certain situations. Different lenders and different landlords have different requirements, so not all will necessarily ask for a guarantor. A relatively new product on the lenders market is guarantor loans. These are loans designed for people with low credit scores and require a guarantor. Find out more about being a loan guarantor in GuarantorloansUK guide (they are a broker for guarantor loans, not a lender).
Many private landlords also require a third party to act as a guarantor before they will agree to let a property. This is becoming more common in the private rental market, particularly with tenants who are students. Find out more about your responsibilities as a guarantor for student tenancies here.
In fact, most 'young' first time renters will need a guarantor, whether or not they are a student.
Why does someone need a guarantor?
Someone may need a guarantor if they are a high-risk borrower, have a low credit score, or fall into a certain category deemed to be riskier. A credit score, for example, predicts how likely you are able to repay what you borrow. Your credit score is based on how well you have repaid things in the past.
If someone has a bad credit score, there are some things they may be able to do to improve it. Find out more about credit scores and why a person may have a low credit rating here.
In addition, people deemed to be high risk can include students, unemployed people, those in receipt of welfare benefits and people in low-paid or part-time jobs.
Who can be a guarantor?
Requirements for being a guarantor may vary between lenders or landlords. Usually there are certain criteria. These can include:
You will need to be over the age of 18 (some lenders stipulate 21)
Be resident in the UK (this is sometimes a problem for international students)
Homeowners are more likely to be accepted as guarantors
Have a good credit history and be able to prove a regular income, usually above a certain amount
Be financially independent of the borrower
Have a UK bank account and debit card
Guarantors are commonly parents helping their children, or a close family member who knows the borrower.
What should I consider before agreeing to be a guarantor?
The most important thing to consider when you are asked to be a guarantor is 'can you afford to repay the loan or cover the payments' if the person asking you to be a guarantor defaults on their payments? Questions you need to ask yourself are:
Why does this person need a guarantor?
Do you trust this person to make the payments on time every month?
Is the monthly repayment something that the person can afford?
Are you comfortable making the payments on this person's behalf if for any reason they can't pay?
What would you list as security for guaranteeing the loan (i.e your home) and are you willing to risk repossession if the money can't be paid back?
How liable am I?
Very. Guarantors are legally bound to pay off the remainder of the loan, mortgage or rent if the borrower (or tenant in the case of property rental) fails to pay. For rental property you may also be liable for any damage, cleaning costs, outstanding bills and any other obligations as outlined in the tenancy agreement.
Becoming a guarantor is a big responsibility, so it is really important you understand your obligations and read the terms carefully before you sign anything. It's perfectly acceptable for you to ask questions and get them answered satisfactorily before you agree. Always seek appropriate advice if you aren't sure about anything and be clear on the risks involved.